Juanita's Foods was founded in 1946 and began its legacy by making menudo, a popular Mexican stew, it says. The company today is the world's largest manufacturer of prepared canned menudo, and it also makes chicken and pork pozole, meatball soup, Mexican-style hominy, hot and mild sauces, traditional beef and vegetable and chicken and vegetable soups, beef chile Colorado and pork chile verde stews.
"Now a third-generation, family run business, an ongoing commitment to innovation, authenticity and quality has allowed Juanita's Foods to be a leader in the Mexican food category," it says.
Refrigerated entrees – which it says are restaurant-quality – are some of the newest products the company offers, it says. Some of those entrees are carnitas, chile verde, barbacoa and chicken Veracruz.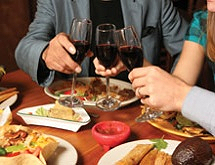 Chile Colorado is another new product the company is offering, it adds, and is similar to chile con carne. It's chile verde and beef in red chile sauce and is made with tender chunks of beef that are simmered in a sauce made with dried pasilla and guajillo chiles, jalapeños, tomatoes and garlic. It can be added to rice, beans or tortillas. Chile verde is similar to chile Colorado, except it's made with pork, the company adds.
Cocido de res, which is beef and vegetable soup, is made with tender chunks of beef, potatoes, carrots, cabbage, corn and authentic spices. It is one of the "traditional mainstays" of Mexican cooking, and Juanita's offered the first canned cocido de res ever in the market, it says.
George De La Torre Sr. and his nephew Albert Guerrero founded Juanita's Foods. The company was originally called Harbor Canning Company, and it packed fish for sport fisherman along with making menudo.
His son, George De La Torre Jr., took over after his father died, and he decided to focus the firm on creating authentic Mexican food. "He recognized the increasing popularity of Mexican food that offered convenience while maintaining a high standard of quality and authenticity," the company says.
In 1977, Juanita's Foods bought the Pico Pica Sauce brand. In 1984, it built a new plant and began canning products such as menudo picoso; albondigas, which is meatball soup; and Pico Pica Taco Sauce. "Shortly thereafter, Juanita's became the first to introduce authentic Mexican-style hominy," it says.
The company changed its name to Juanita's Foods in 1986. "[It] focused on the image of the Mexican lady who had become the symbol of authentic, ready-to-serve, home-cooked Mexican food," it says.
De La Torre Jr. had a big impact on the firm and its direction. "Under his leadership and guidance, Juanita's Foods became the world's largest producer of menudo," the company says. "His vision, passion and business acumen led him to recognize the increasing popularity of Mexican food in the United States, while becoming the leader in the Mexican food category." In 2007, his sons Mark and Aaron were named the co-CEOs of the company after De La Torre Jr. passed away. "[They] are fully committed to continuing George's impressive legacy," the company says.
Quality At Every Level
In stressing that quality is important, Juanita's Foods says it "prides itself in providing our consumers authentic Mexican products manufactured under strict quality and food safety policies and procedures," the company says. "Quality is instilled at all levels and is a part of Juanita's culture. It goes beyond products and processes to encompass people and their actions."
The company uses a series of manufacturing and quality processes that ensure best practices, it says. "We start with the freshest ingredients, followed by careful preparation, cooking and packing under strict quality assurance practices that meet all state and federal sanitary and health codes," it explains. "At Juanita's, we offer the best-tasting Mexican foods with the best quality."
It also ensures that all employees are trained properly. "Juanita's Foods' employees are highly experienced and participate in continuous training courses or practices in areas of quality control [and] thermal processing," as well as Good Manufacturing Practice, Hazard Analysis & Critical Control Points and statistical process control. "In order to exceed our customers' expectations, we are continuously improving the quality of the product and technology used to produce Juanita's brands," it says. "We have a team of scientists and engineers devoted to continuously seeking opportunities for quality and process improvements."
The company is also aware of its customers' needs. "We strive to respond to the nutritional needs of our customers and are continuously researching technologies that will help us deliver healthy and nutritious products," it says. "We watch what our customers want, buy and eat. We listen to our customers' voices and develop new products that will meet their needs while delivering the flavor and quality they expect."