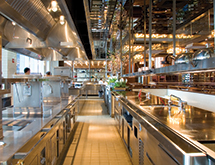 Julien has become synonymous with kitchens as its custom stainless steel products have made it a trusted name in homes, restaurants and industrial facilities. "Julien is a name that has been renowned for nearly 70 years and we are putting a lot of focus on getting closer to the customers by better promoting our branded products," Executive Vice President Carl-David Belley says.
Leo T. Julien founded the Quebec-based company in 1946 while he was selling kitchen accessories to restaurants and saw there was a need for customized equipment in the industry. "Quebec is an old city," Belley says. "There was a big condo project done recently that was in an old convent and I saw an original Julien kitchen in the basement with our old corporate logo and everything."
The company started by manufacturing stainless steel accessories for commercial kitchens, and over the years Julien evolved to manufacture everything needed to complete a kitchen, Belley says. "Our heritage really comes from the commercial side," he adds. In 1995, President Gilles St-Pierre acquired Julien and the company began integrating materials such as wood, marble, granite and slate into sheet metal products for its commercial customers. St-Pierre also gave birth to the company's industrial division in which it manufactures stainless steel components and assemblies for the appliance, pharmaceutical and medical industries.
Today, Julien's stainless steel division performs sheet metal processing for residential, commercial and industrial customers. The company launched its Home Refinements division in 2003 to offer stainless steel sinks, faucets and other accessories to the decorative plumbing and hardware industry. "With more than 440 point of sales in the U.S. and Canada, Home Refinements is a very important part of our business that's taking over," Belley says. "It was a good vision to have back then."
Custom Designs
Julien has been manufacturing custom kitchen equipment since its inception and today it also offers a unique 'a la carte' custom residential sink program, but it is also adept at high-volume manufacturing of standard inventory pieces. "As a manufacturer, I think the thing that sets us apart is our ability to exceed in custom work and really high-volume manufacturing," Belley says. "With sheet metal transformation, you typically see companies that are custom shops or that manufacture at high volumes. At Julien, we are able to do both, be competitive at both and are seen as a leader in both aspects of the industry."
For custom products in its Home Refinements division, with its 'a la carte' and 'Signature' programs, customers either choose from a range of 25 options to customize their sink or even send Julien a sketch of their dream sink and the company creates a design for final approval in one day and manufactures the product in three weeks. "It's possible because we have been doing custom work since 1946 and our heritage in commercial business made us really efficient at manufacturing really quickly," Belley adds.
Smooth Operations
Sheet metal processing begins the same for each project, Belley explains. Stainless steel sheets are fed into laser cutting equipment and are then bent, welded and polished. Products made for commercial use are integrated with other materials, such as wood or glass.
The company's workers perform quality control during every step of the manufacturing process. With large commercial projects, it is often required that Julien assembles the final layout to ensure every component fits properly. The layout is then disassembled and shipped to the customer. "It is a matter of having the proper structure," Belley explains. "We have dedicated managers and resources allocated to each of the areas and it's a matter of doing the proper engineering and training people on the different processes."
To ensure its 440 employees are knowledgeable on the manufacturing processes, Julien requires three to six months of in-house training. Most of its new hires are trained in welding and polishing techniques. "The company invests in automation for standard product manufacturing, but the work is still labor intensive because we can't have robots do a major part of the custom work found in the commercial and residential divisions," Belley says.
Julien has increased its workforce by 25 percent since January to accommodate the growing sales in its residential and commercial divisions. In both divisions, the company sees a growing demand for standard and custom products. "This means we must continue to invest in automation for our standard offering and also train workers for the labor intensive custom projects; automation is not a solution for all of our operations," Belley explains. "New employees will be allocated to operating the automated equipment because it requires less manual competencies. We are using our experienced resources for the custom work."
Growing Divisions
The residential division is growing fast due to the investment in sales and marketing, but also with the technological improvements allowing it to enhance quality and maintain its position as a leader in the market. Julien's new website for the residential division will be online in July and allow customers to design their own sink starting with its 156 standard models and a range of 25 options that can be added to any of them. "The end result is an extremely broad portfolio of products providing us an offering unique in the market to meet the needs of our customers at a level never reached before," Belley says.
Julien is focused on continued growth for the future and plans to invest further in marketing to increase its promotion of the brand and the company's competencies. "We want greater visibility mainly in the residential market, but also for our commercial division," Belley says.