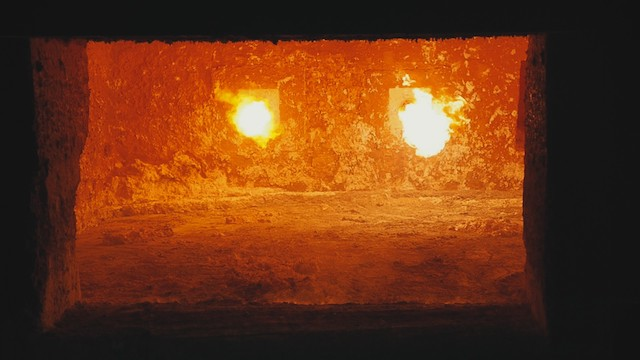 When Dietrich Gross founded Jupiter Aluminum 25 years ago, it wasn't the first time he had struck out on his own. He had already started Mercury Stainless Corporation in the 1970s, which grew from a personal investment to one of the largest privately owned stainless steel companies in America.
When he founded Jupiter Aluminum in 1992, it was on the remains of a bankrupted company.  His vision was to become a recognized player in the American aluminum market, with a product of high value. "The objective at the time was to revive the company," Gross recalls. "We wanted to work with the various teams to grow in the market it had served for years." At its founding, the company's volume did not exceed two million pounds per month. Fast-forward to today, and Jupiter Aluminum has grown to 10 times that capacity, and the arrow is still pointing up.
Dietrich Gross, CEO of Jupiter Aluminum, recalls the company's early days as "very humble with old and limited equipment. Like in a start-up, everyone had to pitch in above and beyond their respective roles. The buildings were in a bad shape, windows were missing and the power lines unpredictable. It took several years, a lot of money and a lot of determination to fix all these issues.
"25 years later, the company's debut is only a memory, but it reminds the senior employees of the amazing progress achieved."
Three Plants
The company has grown and its operations occupy three main plants. The first of these is in Hammond, Ind., where it performs melting, casting, cold rolling, annealing (heating and cooling to create toughness), tension leveling and finishing processes. About 90 percent of the raw material is aluminum scrap coming from street-collected and industrial scrap.
The Hammond plant produces aluminum coils and runs 24/7. The only time it shuts down is for its annual maintenance, which lasts for about 20 days. The facility sits on 25 acres and spans 600,000 square feet, all under one roof.
"There is something magical about transforming aluminum scrap into shiny coils," Paul-Henri Chevalier, President of the company, says. " Enormous pay-loaders grab specific series of scrap and charge them in the furnaces."  Each of the three melting furnaces accommodates 260,000 pounds of molten aluminum at 1,450F.
The liquid aluminum is conveyed through launders to a twin-belt Hazelett caster that solidifies the incoming molten flow of aluminum into a solid sheet – and at speeds that exceed 30 feet per minute. The aluminum sheet moves continuously through a hot mill, which reduces its thickness by 70 percent, and is eventually coiled on a rewind mandrel to become a coil. Two rewind systems alternate continuously as coils are completed.
According to Chevalier the entire process takes less than 20 minutes per coil. "There is a certain pride that visitors can read in the employees' eyes," Chevalier says. "That magic process continues through cold rolling, annealing to finishing and packing."
The company's other two plants are in Fairland, Ind. and Beech Bottom, W. Va. These two plants combined have three paint lines and coat roughly 65 percent of the coils produced in Hammond. Jupiter acquired the paint lines in Fairland in 1996 to be able to offer a full painted solution to its customers.
"Painting is a very difficult job," Chevalier adds. "Any mistake potentially turns the metal into scrap so every employee turns into a quality manager to ensure that each step of the painting process follows critical operating procedures."
The goal is to maintain quality throughout the production process and continuous improvements are made to guarantee the best possible product for Jupiter's customers. From the scrap purchased to the shipped coils, every employee takes pride in making sure that quality is not only measured, but also respected. The company has dramatically invested through the years in manual and visible quality controls as well as in automated control systems to continuously improve quality.
The volume at the Fairland Ind. paint lines has grown dramatically over the years to reach 12 million pounds per month and max out the capacity of the Indiana painting operations. The two lines operate 24/7, 12 months per year but the throughput could not suffice anymore during the high construction season.
The Beech Bottom facility was acquired in 2013, and brought Jupiter to a new development stage with various capabilities. The line can paint more complicated products with two coats. The line is also wider, allowing Jupiter to paint productions wider than what is cast in its Hammond facility. Last, the line can paint steel, which opens new markets for the company.
Several investments were made to ensure consistency of the painting jobs as well as regularity in the quality. Production started with one shift and is now moving toward a second shift, increasing the plant's capacity.
Jupiter Aluminum's success is based on these continuous investments, which allowed the company to grow from a few million pounds a month to over twenty million pounds shipped.
While the company has continued to expand its capacity, it has also remained very conscious of its responsibility to the environment. "The respect of the environment is a key component of Jupiter's positioning in the market," Gross says. Around 2000, the company developed an oxy-fuel based technology.
Chevalier explains that an air-separation unit was built on site to separate from breathable air the oxygen, nitrogen and argon. The separated oxygen is then mixed with natural gas to feed the furnace burners. The nitrogen is used in the annealing process and the argon in the furnace department with the dross processing equipment. This energy re-utilization technology means that nearly nothing is lost in the process and significant savings are realized.
Dramatic results are measurable: The technology speeds up the melting process, improving furnace efficiency. The oxy-fuel technology (oxygen mixed with natural gas with a high temperature flame) also considerably reduces natural gas consumption, reaching savings of about 70 percent without any damage to the furnaces. Additionally, the technology reduces CO2 emissions by about 70 percent.
At Jupiter Aluminum, the use of oxygen in its industrial melting furnaces has been improved since its implementation in the early 2000s. Research and development kept refining the system until it reached its current performance of about 900 btus per pound melted. Knowledge from these experiments led to a new technology for combustion and oxy-fuel burner systems running very close to stoichiometric conditions without ambient air.
Additional research was conducted to explore new uses for the technology and eventually expanded to the fossil fuel steam generators and power plants. Cooperation with the Department of Energy and its National Energy Technology Laboratory allowed to push Research and Development further into the capture and sequestration of CO2 emissions from fossil fuel power plants.
A test facility was built in Hammond Indiana to test oxy-fuel combustion with a 15-megawatt burner for advance carbon capture. The testing  verified on a much larger scale the performance of the high flame temperature oxy-fuel technology.
The focus was efficiency and emission benefits. The technology is now being licensed through a sister company, Jupiter Oxygen (www.jupiteroxygen.com).
That extremely beneficial technology helped Jupiter Aluminum weather market slowdowns as it considerably lowered its energy costs. A second oxygen plant was installed several years ago to accompany the growth of the company and its melting furnaces' increasing needs.
Jupiter Aluminum Markets
Jupiter Aluminum ships more than 100,000 tons of aluminum per year. About two-thirds of the volume targets the building and construction market Its products include rain wares (gutters, downspouts, hangers), soffit, fascia, screen frames for windows, patio systems, roof shingle applications and many other solutions visible and invisible in residential and non-residential buildings.
The company also serves government markets through products such as license plates. Chevalier says employees take pride in noticing cars' license plates because in many cases the aluminum originated in the Hammond melting plant and was processed in the Fairland coating plant.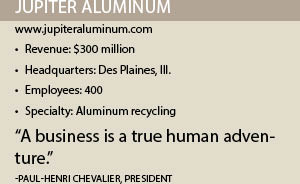 Many other types of products are also fabricated from Jupiter coils. For example, the farming sector irrigates its fields with welded aluminum tubes. Although the pipes on wheels that are visible over the fields are made of steel, the pipes on the ground are made of aluminum because they do not rust.
In the last 10 years, Jupiter started servicing the recreational vehicle industry and grew dramatically in the segment. "Think about us when you see a fifth wheeler on the road equipped with screen frames and a license plate," Chevalier says. "There is some Jupiter in it."
In addition to its products, Jupiter's suppliers can also be found all over the United States. The company sources its aluminum from scrap yards along with manufacturing plants, which sell scrap all year long. As for Jupiter's customer base, they are also everywhere in the United States and also in Canada. They range from organizations of a few million dollars to several billion dollars in revenue.
Courage to rebuild
The company has been on a mostly upward trajectory throughout its history, but it has not done so without challenges. The day after Thanksgiving in 2006, a fire ravaged the rolling mill facility in Hammond.  Though nobody was hurt, both the hot and cold lines were burnt to the ground. In fact, the fire was still burning when Dietrich Gross decided to rebuild. "The tension and horror were touchable," he recalls. "Even so, I said, 'Let's rebuild.'"
According to Gross, that decision formed a stronger team spirit within the company. The joined efforts allowed the company to be back on its feet within 10 months, and just as important the company continued to pay its employees despite the lack of work at the Hammond facility. The coating lines continued to paint as domestic and foreign coils were quickly bought to keep servicing Jupiter's customers.
The 2009 recession also proved to be very challenging for Jupiter because the building construction market was devastated. 70% of the demand dried up and everyone had to adjust to a new normal. The housing market plummeted: construction stopped and renovation decreased dramatically. Being so dependent on the housing market keeps Jupiter very close to the American economy and everyone could feel the hardship so many had to live through in the country.
Chevalier recalls how that experience actually strengthened the company. "The recession experience was team bonding," he says. "All employees stepped up to face the new market reality. We added new market segments to our customer portfolio, and improved our service to nurture existing customers. The strategy paid off and our volume was back up in a year."
The way the company pulled together during the 2009 downturn reflects one of its deeper, driving philosophies that distinguishes Jupiter from its competitors – one that emphasizes care and respect for both its employees and its vendors and partners. "A business is a true human adventure," Chevalier says. "The teamwork goes far beyond its employees. It revolves around suppliers, vendors and customers. Our respective successes depend on one another every single day of the year. Forgetting one constituency of this human equation endangers the whole business.
"People say that character is forged during tough times and at Jupiter we know it for a fact," he continues. "These two dramatic events, both the fire and the recession, were very difficult and challenging episodes in Jupiter's history. In both cases, everyone worked hard to surmount what seemed insurmountable at the time. And each time, people and the company came out stronger. "
Long-term view
There is another driving philosophy that makes Jupiter unique: Its long-term view of prosperity and growth for the company. One of the benefits of being a privately held company is that Jupiter's management team can have a long-term vision without being beholden to shareholders.
Chevalier says this approach continues to serve it well. "While monthly shipments are important, the vision of bringing people together in the same adventure is somewhat transcendent," Chevalier notes. "Teamwork becomes logarithmic as people working together far exceeds their own total."
Chevalier stresses that as the company moves forward – particularly in a fluid economy with shorter cycles and constant changes – it becomes even more important for Jupiter to maintain its values and its humble approach to business. "Standing firm is critical while providing the best value proposition to our customers," Chevalier states.
For Fair Trade
The worldwide aluminum market has seen tremendous overcapacity in recent years, to the point where Jupiter recognized the need to speak out on the topic. In September 2016, along with other members of the Aluminum Association, the company testified at the International Trade Commission to advocate for fair trade in a market that has been saturated and could be potentially devastating to American businesses.
Because Jupiter sources its raw material in North America and sells to North American customers, Chevalier feels deep devotion to the market, and that includes adhering to strict environmental regulations. "Our products are proudly American as they are produced by Americans in the United States," Chevalier says. "Our compliance with the EPA aluminum-related regulations along with a very low carbon-intensive process place our products among the cleanest available."
Additionally, when Jupiter sees unfair trade practices, Chevalier is not afraid to speak out on the subject. Unfortunately for U.S.-based aluminum manufacturers, Chinese manufacturers have flooded the market with their products. In April, the Trump Administration announced an executive order launching an investigation into aluminum imports. Overseen by the Commerce Department, the investigation will determine whether foreign imports of aluminum threaten national security. If that is revealed to be the case, President Trump will have the power to restrict imports, including through tariffs.
The investigation was launched as a result of China's extremely fast ramp-up of aluminum production, which has grown from just 10 percent of worldwide production 10 years ago to 55 percent today. "Jupiter Aluminum supports President Trump's decision to preserve and grow American manufacturing," Chevalier says. "While competition is good, unfair competition is not and Chinese aluminum companies have built an enormous capacity very quickly benefitting from governmental help through subsidies and other various incentives. Over 20 smelters closed in the U.S. in the last 20 years, even though American demand did not really drop."
As a member of the Aluminum Association, Jupiter Aluminum's position is that establishing fair rules is vital for the survival of the domestic aluminum industry. "Aluminum is a commodity and production cost structures are similar," Chevalier adds. "How could China finance the construction of so much capacity and have low prices for customers when U.S. companies could barely compete?"
Chevalier says Chinese practices have been unfair and should change to allow fair competition in the aluminum world. "Global trade is important," Chevalier adds. "However, it needs to abide by international rules."
Chevalier, loyal to U.S. environmental standards, also takes issue with China's environmental policies. Besides, "China's aluminum production sources its energy from coal-fired power plants, making it one of the dirtiest aluminums in the world," Chevalier notes. "Jupiter believes that the American aluminum consumers will eventually recognize that clean aluminum is more sustainable than dirty aluminum." (Jupiter sources from natural gas).
Initiatives such as the Greenbuild International Conference and Expo and the U.S. Green Building Council have a mission of moving the market towards greater environmental compliance through programs, education and certifications. "It is extremely encouraging to see environment-friendly innovations at the Greenbuild trade shows and the increasing number of young people concerned about the future of our planet," Chevalier says. "It is also very reassuring to see more and more buildings that bear the LEED [Leadership in Energy and Environmental Design] certification. These initiatives show that beyond a growing awareness about the environment, there are pragmatic actions and measurable results."
On the aluminum front, a new standard is emerging with the Aluminum Stewardship Initiative, which addresses the entire aluminum value chain from bauxite to finished product. According to Chevalier, the aluminum industry, as well as all users of aluminum, need more transparency about aluminum production and utilization.
"Being respectful to the environment is not limited to nature and its species," Chevalier states. "It also means respecting ourselves as human beings. Some countries and some companies are more advanced on the matter and need to lead the way so other countries and companies can follow.
"The old saying "we do not inherit the Earth from our ancestors; we borrow it from our children" is becoming truer by the day," Chevalier continues. "This means that any business and organization needs to look from the future back. The impact on nature and humankind on the long term should define the growth steps of the short term, not the reverse as we have seen it in the last several decades."
Chevalier also stresses that "teaching our children to recycle, reuse and reduce is critical as the Earth's resources are not infinite. Today, 70 percent of the aluminum ever produced is still in use. Jupiter modestly contributes to the amazing story by recycling aluminum 24/7. Since its inception in 1992, Jupiter has recycled several billion pounds and some of them most probably several times as aluminum can be recycled almost indefinitely."
People First
Being environmentally driven means much more than a commitment to the environment for Chevalier. Rather, it reflects a deeper commitment to the people that Jupiter Aluminum serves. "We believe that this business is a human adventure centered on people for the benefit of people," Chevalier says. "Being very environmentally driven deepens this human value proposition and everyone at Jupiter is proud of it."
Clearly, Jupiter places people as key component of its success. In fact, the company employs what Chevalier calls a "reverse-pyramid structure," which means that workers are able to do their job because their supervisors are there to help them grow. "We are here to serve, my job is to help my people do their job," Chevalier says. As a result, "the success is not ours [referring to its management team]; it belongs to the entire group."
For its growth strategy, Chevalier and his leadership employ a cautious, measured approach. "We want to continue growing with our customers," Chevalier notes. "But we want to grow gradually and naturally." But even Chevalier acknowledges the difficult and highly competitive environment the company operates in, and despite this he will always take the long-term view. "It's about building for the long term, not the next quarter."
That philosophy has served Jupiter well for 25 years. "Dietrich Gross'vision wasn't just to have a plant," Chevalier says. ""He felt and still feels that working together with suppliers and vendors in servicing customers is a winning proposition." Respect is the centerpiece of good partnerships and since its inception, Jupiter's teams keep applying that value.
"25 great years of business have passed and we are working on building the next 25 years and beyond," Chevalier adds. "As we celebrate this quarter-century, we would like to again thank everyone for their role in Jupiter's success. This American success story would not have existed without them."