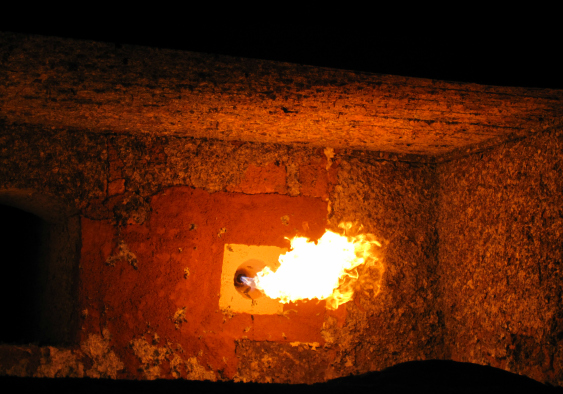 Jupiter Aluminum can fairly be described as a phoenix rising from the ashes. Founded by Dietrich Gross in 1992 in the aftermath of a bankrupted aluminum company and headquartered in Des Plaines, Ill., Jupiter Aluminum is still privately held today and has grown to ship about 200 million pounds annually.
Currently, Jupiter Aluminum has three plants. The company's aluminum plant is in Hammond, Ind. Located on 25 acres and with more than 600,000 square feet under one roof, its operations include melting, casting, cold rolling, annealing, tension leveling and finishing processes. More than 90 percent of the raw material is aluminum scrap coming from street-collected scrap and industrial scrap. The Hammond plant produces aluminum coils, operating on a 24/7 basis, only shutting down for its annual maintenance for 20 days per year.
The company's other plants are in Fairland, Ind. and Beech Bottom, W.Va. Together, the two plants have three paint lines, which coat about 65 percent of the coils produced in Hammond.
Among the milestones for Jupiter Aluminum has been the development of oxy-fuel technology. That technology combines pure oxygen with natural gas and allows the company to reduce its natural gas consumption by about 70 percent while increasing its melting efficiencies and dramatically reducing its carbon dioxide emissions. From that perspective, Jupiter Aluminum operates one of the cleanest aluminum plants in the country.
Building Ties
Jupiter Aluminum mainly operates in the building and construction market. About two-thirds of its products end up in residential construction projects. Its customers range from a few million dollars in revenue to several billion dollars. Additionally, Jupiter Aluminum serves the distribution, automotive, irrigation and government markets.
"Over the years, the customer relationship has evolved beyond a qualitative product delivered on time at an affordable price," President Paul-Henri Chevalier says. "Customers more and more need support in understanding how the market functions and what to expect in terms of pricing evolution, trends and volatility, as well as overall supply and demand. Some also require additional technical support in new applications and processes."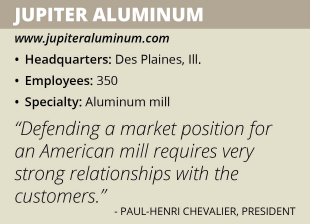 The fundamental relationship between Jupiter Aluminum and its customers no longer consists of a sales manager visiting a purchasing manager. Instead, the company extends the relationship at all levels of the organization so the customer also has access to production people, plant management and general management.
"I personally visit our customers almost every year to thank them for their business, listen to their feedback and exchange on the evolution of the market," Chevalier says. "These relationships offer an amazing feedback on the organization and help us continuously improve our services. They often turn into great friendships; the aluminum market is a family."
Looking Forward
Right now, investing in the future is at the core of Jupiter Aluminum's business. In fact, the company has never stopped investing into its continued development since its inception in 1992. Currently, Jupiter Aluminum is shifting its operations to batch-based productions to keep improving its delivery performance.
Back-office technology is another important investment area for Jupiter Aluminum. "It is fantastic to see what can be done with IT, and we are investing more and more in our ERP system so we can offer a better responsiveness to our customers and to also internally track production, quality and efficiencies," Chevalier says.
Among the most important internal initiatives taking place right now for Jupiter Aluminum are several internal projects that focus on production efficiencies and quality, as well as the development and effectiveness of its employees. The company views its business as a reverse pyramid. Within Jupiter Aluminum, each manager's job is to help team members to perform.
"We strive to apply this approach at all levels of the organization," Chevalier says. "Ultimately, our employees are the ones producing our products on the plants' floors. Their performance, happiness and desire to improve and grow are a direct function of their management being constantly supportive. We are not perfect, but we see ourselves as perfectible."
Continued understanding of its market is critical to Jupiter Aluminum's success in the years ahead. The company knows that the aluminum market has changed to become a pure commodity market where supply and demand no longer depend on the physical availability of the metal. Speculators are operating on the market without seeing or needing the metal and have created an artificial supply and demand market, driving prices up or down regardless of the physical needs.
Additionally, the recession in 2009 hurt the whole industry supply chain, from scrap yards to home contractors. The residential construction market dropped by 70 percent. No homes were built or were being renovated. Jupiter Aluminum had to grow into new markets – such as the automotive, irrigation and distribution sectors – to compensate for the loss of sales.
Finally, aluminum production in China has grown almost exponentially over the last 10 to 15 years. The country now produces more than 50 percent of the total worldwide needs. Financing and local regulations in the areas of environmental, safety and health have not been as tight in China as in the United States. This led to American aluminum companies' inability to compete on the worldwide market due to factors such as high energy costs, tight regulations and no or limited import taxes.
"This resulted in American capacity melting by more than half," Chevalier says. "From that perspective, the future of the aluminum production market is Chinese. That is why defending a market position for an American mill requires very strong relationships with the customers."