Founded in 1982 by Hans Gabelgaard and Steffen Steffensen in Denmark, Jupiter Group has taken a fascinating journey on its way to becoming a top player in the wind industry. It started in the marine industry manufacturing boats, developed in into a pioneering force in RTM technologies, and moved into the high-speed train business and later into wind turbine nacelle and hub covers. Since, 2011 Jupiter Group has focused solely on the wind industry to optimize service for its customers.
Today, Jupiter Group has around 800 employees worldwide with more than 200 in its Pensacola, Fla., manufacturing plant. Globally, the company has 485,000 square feet of production space completely devoted to wind.
"At Jupiter Group, we are most known for our quality and commitment," Plant Manager Sean Guidry says. "We deliver what the customer needs when they need it. We are the largest nacelle manufacturer in the world with more than 20,000 nacelles in the field and are known as the go-to supplier when a project needs to get to the market quickly."
Working with the largest OEMs in the wind industry, Jupiter Group understands its customers need quality that can match their reputations. They also need Jupiter Group to work diligently to reduce the overall cost of energy. Through innovation and cooperation, Jupiter Group works with customers to bring to market improvements that help them drive down the cost of their supply chain, ultimately reducing the cost of environmentally responsible energy for all.
"Being that we are 100 percent devoted to wind, we have the convenience of knowing exactly who our target customers are," Guidry says. "We grow our business through global offerings and bringing innovative solutions to our customers that have synergy with their goals."
Adding On
The company has increased its engineering capacities at all sites, including with the addition of an innovation center in Pensacola. Additionally, the company has added to its engineering capacities in its technical department at its headquarters in greater Copenhagen, Denmark.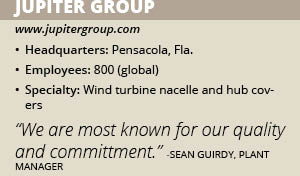 Another major change in its service offerings has been the mobile manufacturing unit that it offers, which was the first of its kind in the industry. The mobile manufacturing unit is tailored to meet the specific needs of the customer and can be scaled to any size.
"As the global demand for wind continues to increase, it is critical that our customers are able to be successful in the emerging markets," Guidry says. "The mobile manufacturing unit gives the customer the assurance of having the leader in the field with them wherever they may need to be."
The company's employees are also a critical part of ongoing improvements. Through a culture of continuous improvement, Jupiter Group sees many day-to-day improvements in efficiency and quality that come directly from its group of employees.
"They make it happen," Guidry says. "Manufacturing composites is labor intensive, and it takes great teamwork and effort to produce the level of parts our customers demand."
Another key part of the company's success is its suppliers. Jupiter Group looks for partners that have world-class offerings and are good stewards of the environment. The company has an expectation that in business both parties need to win, so it works very closely with suppliers to set goals and KPIs to ensure that all necessary focus is being applied to maintain a level of innovation and competitiveness that is ahead of the market.
"We always keep an open mind when our suppliers come to us with new ideas and products, and are eager to test what could be the next game-changer," Guidry says. "The Jupiter Group Innovation Center works with all of our suppliers to stay up to date and to challenge the status quo in an effort to ultimately drive down the cost of energy."
Paving the Way
As the company looks forward, Jupiter Group uses steering committees to help set priorities and areas of focus for projects. Project managers monitor the progress and adjust as necessary. Being devoted to wind does simplify its focus and allows the company to not get sidetracked or have conflicting interests.
Some of the bigger questions as of late have included where to focus its growth the most. The company works closely with customers and owners to devise where to make the most investments to optimize the relationship for both parties. The largest investments have been expanding its Poland and U.S. facilities along with increased automation for its processes.
"Automation is an amazing thing, and to keep up with the demand for more precision and output we have made many asset purchases in new machinery in recent years," Guidry says.
One of the biggest service initiatives has been the mobile manufacturing unit, along with several innovations on current projects. There are other new developments coming out of the company's innovation center and technical department that will be announced in due course.
As wind becomes more competitive with fossil fuels, it will be a big challenge to drive down costs to even the playing field. It's going to take a monumental effort by all to achieve the competitive offering necessary to compete after the production tax credit ends in the United States, but it's a challenge that Jupiter Group is ready to tackle. For the company to succeed, it must be more innovative than ever before, and that goes for its suppliers as well.
"We work with some great people and have no doubt that we will emerge successful," Guidry says. "Globally, we have begun to focus on the emerging markets from our China plant, which will be a huge draw on capacity for that factory. We are proactively working with that and preparing for whatever necessity arises. In general, our growth pattern and meeting the global needs for capacity will be a great challenge, but with the use of our mobile manufacturing unit we are ready to be where our customers need us when they need us."