JV Driver is a multidiscipline industrial contractor serving the oil and gas, petrochemical, forestry and mining industries since 1989. The Leduc, Alberta-based company lives up to its trademark slogan "Single Site, Single Source," because it is the only fabricator in Alberta that offers full module assembly packages in­cluding structural steel, pipe and vessel fabrication. "I think our offering has definitely put us in a leading position," says Corey Callahan, general manager of JV Driver's fabrication facility. "Owners come to us to be a complete solution to their module and fabrication needs."
Utilizing the services of JV Driver saves owners time and money on logistics, he explains. Rather than managing multiple contracts for various aspects of module assembly, they can rely on JV Driver to complete the entire module on its own work site safely, efficiently and to the highest standards of quality available. "In our module assembly yard, we use multidiscipline teams to start a module and finish a module," Callahan says.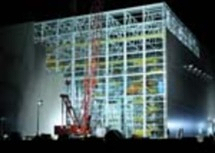 JV Driver's fabrication facility began as a small pipe fabricator, later expanding to larger module assembly. "We bought a larger parcel of land to start on and then invested in the structural steel shop two years ago," he recalls. "We wanted to provide a complete offering to our clients. We saw a gap between things we controlled and things we couldn't control as far as the success of a project. "When we were provided structural steel from a third party the owner deployed, if they missed deliveries, it would really impact our schedule," he continues. "By being able to coordinate three business units, we can arrive at a just-in-time assembly for a module based on our schedule production runs."
After opening its structural steel shop last year, JV Driver put all three components of its service offering to use when it fabricated the structural steel and piping, and then assembled and completed a number of well pair modules for an in situ SAGD (steam-assisted gravity drainage) production plant in northern Alberta. The multimillion-dollar project took about six months to complete, Callahan says.
Quintessential Quality
JV Driver operates on an 80-acre parcel with a 30,000-square-foot pipe fabrication facility, a 40,000-square-foot structural steel fabrication facility and an 18,000-square-foot heated, dry warehouse for storage. "We utilize quite a state-of-the-art facility for our fabrication," Callahan notes. "We have very high-end CNC equipment that we use for all of our structural steel detailing, and our process in our structural steel facility is unlike any other in Canada."
JV Driver tries to move as much material as it can with conveyors instead of utilizing overhead cranes, which not only makes things safer for the work force, it produces better quality and efficiency throughout the shop, he explains. In addition, its pipe fabrication facility utilizes the most technologically advanced equipment. "We have quite a substantial pipe turning capacity, which differentiates us from others," Callahan says.
JV Driver's quality management system is exercised across the company, not just at its fabrication facility. "We've dedicated a lot of time to getting documented procedures in place, ensuring these procedures are followed and updating them when they are no longer relevant be it with new technology we're using or a change in our process," Callahan says.JV Driver's QA/QC Program is recognized by ABSA for shop and field fabrication, construction, installation, repair and/or alteration. It is CWB certified to CSA W47.1, and it also holds the ASME"A", "U", "S", and "PP" code stamps. The company's "Once Right" commitment to quality has delivered results that remain clear, as it has never had a warranty claim.
Unsurpassed in Safety
"We believe we are the safest contractor in this province," Callahan asserts. "We have the best record out there. We are quite proud of that and doing things that are substantially above and beyond most of our competitors as far as key performance indicators in that we measure leading indicators as opposed to just lagging indicators."Lagging indicators would entail waiting for an incident to occur before JV Driver can learn from it. Callahan says the company never wants to be put in that position, which is why it has a behavioral observation system in place where any member of the staff, whether management or craftsmen, can go out in the field, perform an audit on a specific task, and then provide immediate feedback.
JV Driver also has an intervention program that encourages employees to intervene if they are witnessing an unsafe act. "This helps us identify areas of safety that might require some additional training," Callahan says. One of the criteria JV Driver uses to select its subcontractors is their safety record, he adds. "We need to be assured that if they are performing work on our site that they are as up to speed on safety as we are and that they are not going to have any sort of incident on our site," he says. "If you can perform safely, everything else will fall into place."
The company prides itself on the relationships it has established with its vendors and suppliers, as well. "We believe it's not just a vendor/contractor type of relationship, we consider them a part of our team," Callahan says. "They are integral to our success." Looking to the FutureThe future is bright for JV Driver. As a matter of fact, its biggest problem is one that most industrial contractors would like to have. "The amount of work coming up in the schedule [that] owners are driving for is a rather large concern," Callahan admits. "Every­thing is telling us that 2012 and 2013 are going to be extremely busy; everyone wants to get product out of the ground when everything is high, but it pushes the availability of space and manpower in this province to critical levels."
With the industry strengthening and as job opportunities continue to grow, Callahan sees this as an exciting time for new tradespeople. "My personal mission is to bring in as many apprentices as we can and try to reinforce the availability of skilled trades in this province," he says.
"We try to maximize our apprentices on each project by training people as we go."
JV Driver has a five-year plan that will include another expansion to its pipe fabrication facility and two more expansions to its structural steel shop. Callahan says this should double its capacity and make it capable of handling a significantly increased workload.