Take a seat
With years of experience and knowledge at its disposal, KAB Seating has become a global leader in the manufacture and supply of comfortable, practical work seats for various vehicle types
Although it was officially formed in 1984 following a management buyout, KAB Seating traces its roots back to the founding of American seating company Bostrom, back in 1935. Having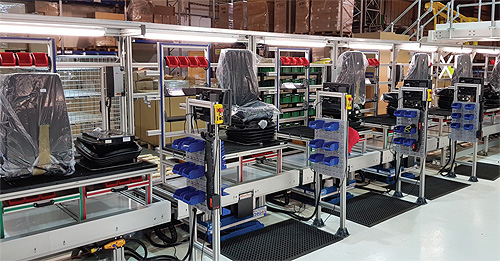 achieved considerable success in its first three decades in business, Bostrom would go on to open a small manufacturing plant in the UK's second city of Birmingham in the early 1960s, before moving several years later to Northampton.
It was here that the company would move into a purpose-built factory where it still resides today and adopt the name KAB Seating. Later, in 2001, the company would be acquired by the American company Commercial Vehicle Group (CVG), and since then CVG has remained its parent company and overseen much of the operations and investments that have occurred.
"Today, KAB Seating is known globally as being one of the leading suppliers of suspended seats to the construction and agricultural vehicle markets, as well as having its very own niche range of office seating," explains Plant Manager, John Fry. "The office seat range focuses on 24/7 usage for call centres and emergency services operations centres, as well as daily executive office use, however the core business remains that of construction and agriculture."
The company boasts around 150 customers and dealer networks, working with the likes of Volvo Construction Equipment, JCB and Caterpillar, and currently exports around 80 per cent of its products, predominantly to European based customers, but also to those in the Americas and Australia. Meanwhile, its sister plant, which is based in Shanghai, caters for key Asian markets.
When asked about how the company has come to be a key partner of such leading players, John has a particularly well-prepared response. "Being responsible on a single site for the whole process, from concept through to production, has reaped countless rewards when launching new products, and the immediacy of interaction between functions on such projects should not be underestimated.
"Over the years, we have been able to adapt to the changing demands of our customers. I am sure that when people think about a seat in an excavator or a tractor few can imagine the complexity of the product, and these days' customers request multiple features that were unheard of even a few years ago," he adds. "These can include cooling systems, thermal reactive seat covers, automatic ride height sensors, swivels and turntables, and even massage units. Our ability to design, develop and bring to market quickly all of these features and more is what allows us to stay ahead of the competition. Innovation is one of our core values and we embrace this as a fundamental part of our business."
KAB Seating's Northampton site is not only a manufacturing and assembly facility, it also houses the company's sales and marketing hub for Europe, and the design, research and development centre for its products globally.
In addition to the plant it also operates in Shanghai, the company also has a number of small manufacturing units in Melbourne and Sydney, Australia, and the close ties and synergies that it has with these ensures that its global presence is maintained, and that it is able to service customer needs in a timely manner.
Across its various facilities, KAB Seating has been embracing the latest technologies and processes in order to improve efficiencies. "We recognise that digitisation is becoming more of a necessity in modern manufacturing than ever before," John says. "Industry 4.0 and the 'Internet of Things' are areas that we are actively pursuing under a collective strategy known as 'CVG Digital'. As part of this we have set up a whole structure globally that interrogates new ideas and technologies, and examines how they can be utilised and/or adapted for our industry.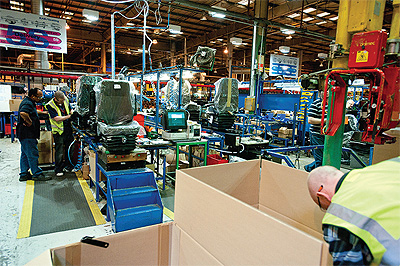 "We are producing more than 4000 units per week here at KAB Seating and the emphasis is always to look for improvements that can be made to efficiencies, whilst maintaining and exceeding our customers' expectations. We also have state-of-the-art welding robots, our own electrostatic paint plant and 16 final assembly lines, all of which are linked via network with live data capture that can be analysed and reacted to remotely from anywhere in the world."
In response to increasing customer demand, the company has invested approximately £500,000 in upgrading its Northampton production facility with new machining and tooling equipment. "Our most recent investment involved the installation of a brand-new assembly line, which boasts further technological advancements in how our products are assembled," John details. "No stone was left unturned in making the facility, first and foremost, a safe and ergonomically friendly environment for our employees.
"The global environmental impact was also considered as we moved towards a paperless system with all work instructions being displayed via touch screens at each of the 26 working stations. We also embraced the 'no faults forward' philosophy of having tools and key test equipment interlocked to each station ensuring that quality is built in as part of the process and not having to be reliant on inspection. This facility is seen as the blue print for others within the CVG family that embark on their own digital journey into modern manufacturing."
As we head towards the turn of the year, the company envisions that demand for its services within the construction sector will continue to rise, while at the same time it will work to grow its market share in the agriculture sector, hoping to build on the success of its new SCIOX seat range. "As it moves forward, KAB will continue to focus on its five core values – continuous improvement, innovation, integrity, sense of urgency and teamwork," John enthuses. "I can tell you with total certainty too that, as we head into 2019, there will be no let up when it comes to our desire to be recognised as the leading brand in our chosen field."
KAB Seating
Products: Specialist vehicle seats