In a league of its own
A subsidiary of world-renowned innovator Kaiser AG, Kaiser Premier is an established provider of hydro-excavators and is the US leader in recycler technology
Founded in May 2017, Kaiser Premier was formed when company President Dan Weber partnered with the CEO of Kaiser AG, Markus Kaiser, to purchase US firm Premier Oilfield Equipment. The transaction was beneficial for both parties. For Kaiser AG, the investment gave the Lichtenstein-based company a local presence in the US marketplace. For Kaiser Premier, the partnership provides support from an internationally renowned parent company with over a century's experience in the manufacture of excavators and sewer cleaning vehicles.
Located in Fort Morgan, Colorado, Kaiser Premier manufactures state-of-the-art recycling sewer cleaners and hydro-excavating equipment to serve a variety of markets, including the municipal utility, gas and oil, industrial and construction sectors. Proven to be effective construction and infrastructure support tools that help increase productivity and perform in the most demanding applications, Kaiser Premier products benefit from proprietary technology recognized in Europe and modified for use in the United States.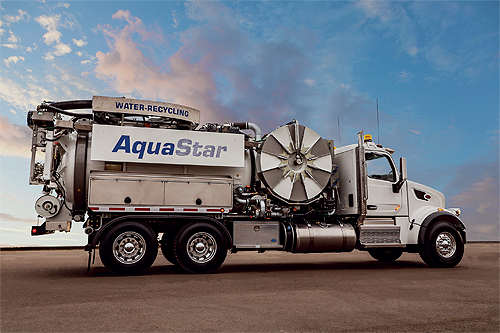 At present, Kaiser Premier's product portfolio contains several truck mounted hydro-excavators known as the CV Series. The company also manufactures the popular and versatile AquaStar recycler, as well as offering trailer-mounted hydro-excavators. With the power and knowledge of Kaiser AG behind it, Kaiser Premier continues to introduce some of the industry's newest, most cutting-edge equipment year on year.
"Our technology is probably the most advanced on the market," declares Dan Weber. "It is that technological advantage, as well as superior customer service, that separates us from our competitors.
"On the customer front, we like to look at ourselves as being in the emergency business. When our customers' equipment is not functioning properly, it is essential that we get them up and running as quickly as possible. It's a part of our culture," he states. "On the technology side of things, our equipment runs in a wide variety of difficult applications and the reliability we provide is extremely important to our clients. Additionally, we are always adjusting and improving our products to suit customer requirements, which means each of our product lines offers its own key differentiators."
The philosophy of continuous product improvement that Dan alludes to has recently yielded major updates to the firm's CV Series of hydro excavators. Among the improvements are a redesigned rear door and increased dumping height to expand debris offloading capabilities and facilitate more efficient unloading. Kaiser Premier's trailer-mounted excavator, the TerraVac Xpose800 Hydro Excavation Trailer, is a new product that operates with a unique rear door locking mechanism that guarantees pressure offload capabilities without any leaking. The company has also introduced air and water into its hydro excavators, allowing customers to excavate using only air, only water, or a combination of both.
When it comes to the sewer cleaning arm of the organization, the key differentiator is more unified; everything is built around recycling. "Recycling in this industry is an emerging technology in the US, but it is a technology that has been used for some time in Europe through Kaiser AG. A traditional sewer cleaner might jet fresh water at a volume of up to 130 gallons a minute, so not only are you wasting water, but within 30 mins, you have to stop, break down, go to a hydrant, come back, and re-run. With recyclers, you continually use the water in the sewer, or the water you brought with you, and you never have to stop until the job is completed. Your efficiencies in cleaning can be up to 100 per cent greater, and there are significant fresh water savings, which is a very positive result for the environment.
"Additionally, we are able to run the recyclers with less horsepower than is normally needed to run truck-mounted sewer cleaners, but with the same output as our competition. As a result," Dan continues, "you have fuel savings over typical sewer equipment. We also have liquid ring vacuum pumps, which have been developed and manufactured internally, and that are uniquely suited to recycling sewer waters. This proprietary technology differentiates us from all other manufacturers in the US, Europe, or anywhere else in the world. It allows you to clean some of the most difficult applications, like pipes full of grease and roots, without clogging up the system. Operators can continue to function all day long without having to stop to take care of clogging or maintenance issues."
As a company that helps enable hydro excavation – a less environmentally intrusive practice than traditional, mechanical excavating – and offers sewer cleaners capable of doubling production whilst saving up to 15,000 gallons of fresh water a day, Kaiser Premier is innately in the business of sustainability. With more and more companies looking to make cost-savings,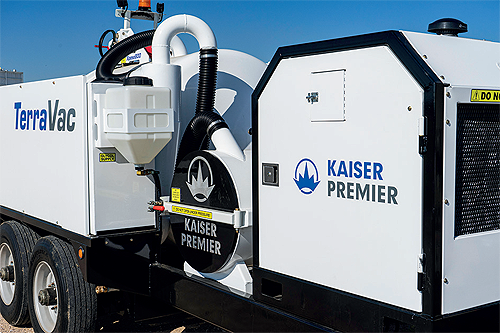 as well as environmentally positive choices, Kaiser Premier is seeing increasing demand for its services.
"Underground infrastructure in the US is quite old in many places and so significant funding is going towards correcting that at the moment," Dan reveals. "With the technology we can bring to the table, we can help businesses make these projects more efficient and save millions of gallons of fresh water in the process. There is interest in our products throughout the country, but it is heightened in areas where water conservation is a big issue, like on the West Coast, throughout Colorado and in the South."
To support the growing demand, Kaiser Premier operates a 100,000-square foot, fully integrated manufacturing facility capable of fabrication, engineering, and assembly, including paint. Along with increasing the complexity of its manufacturing processes, Kaiser Premier has recently introduced SAP enterprise software into the firm, which is already providing Dan and his team with better control over accurate reporting, inventory and cost. A centralized tool crib has also improved efficiency on the manufacturing line, ensuring the correct materials are available for timely product assembly. Such a well-equipped, modern site has been greatly beneficial to the business in dealing with the challenges of 2020.
"Covid-19 has obviously made this a difficult year and we have had to learn how to shift our business approach, both in how we call on our clients and how we manage our personnel internally," Dan reports. "We have successfully implemented all the precautionary steps in line with governmental guidelines to help minimize the impact of the virus on our operations, but Covid-19 has still impacted our markets, specifically the gas and oil sectors, and this has forced us to relook at our manufacturing priorities.
"As a company, we made a decision to aggressively invest in product development over the last six or seven months and what we really did was speed up the product development cycle by converting some of our manufacturing capabilities to product development. We are now launching some of those products as a result.
"Most importantly, we have stood by our employees throughout, including supporting medical coverage for those that might have been laid off for a period of time. We have now been able to rebound and continue to employ most of our workforce. Thankfully, we are beginning to see an increase in demand, particularly in the municipal and utility markets."
Having made it through the most difficult stretch of 2020, Kaiser Premier is now looking to increase its market reach and penetration by introducing its customers to new advanced technologies. According to Dan, a more diverse offering, a wider client base, and further growth in sales are the core objectives for the business over the next five years.
"That's the overall goal in a nutshell," he asserts, "and doing it all in a culture that supports teamwork, diversity, and creativity. We intend to add more product models to service other markets in the US and we will continue to leverage the technological expertise that our parent company brings to the table. Together with Kaiser AG, Kaiser Premier will always produce and adapt technology that, in one form or another, supports the unique needs of the US market."
Kaiser Premier
Products: Hydro-excavators and recycling sewer cleaners
www.kaiserpremier.com