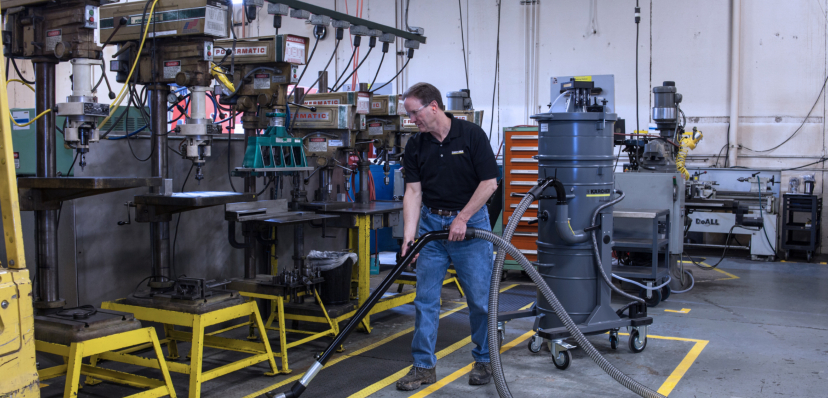 Karcher North America Inc.
Not many can say that they have helped clean such monuments as Mount Rushmore in Keystone, S.D., but Kärcher North America Inc. can. "We have the widest range of cleaning solutions for industries across North America," Vice President of Marketing Kris Cannon-Schmitt declares.
Based in Denver, Kärcher North America is a part of Alfred Kärcher SE & Co. KG, the world's largest provider of cleaning technology. In 1935, founder Alfred Kärcher started the company, which developed the first European hot-water high-pressure cleaner 15 years later.
When Kärcher died in 1959, his wife Irene Kärcher took over the business. In 1982, the company moved into the United States with consumer products and over the years made several acquisitions which formed Kärcher North America.
Today, "We are still a family owned company which is wholly owned by the descendants of Alfred and Irene Kärcher," Cannon-Schmitt says, noting that the brand has thrived by fulfilling a promise of performance.
Kärcher employs more than 12,300 people in 67 countries and has more than 110 subsidiaries. "More than 50,000 service centers in all countries ensure continuous and comprehensive service to customers all over the world," she says.
A Broad Range
Kärcher North America is one of the largest subsidiaries of the Kärcher Group, with more than 1,000 employees in seven locations. "The company's solutions service customers' cleaning needs in an economical and environmentally friendly manner," Cannon-Schmitt says.
Currently, Kärcher North America produces and distributes products and services under the Kärcher, Windsor Kärcher Group, Landa Kärcher Group, Hotsy, Water Maze, Spraymart, Cuda Kärcher Group, WOMA Kärcher and Shark Kärcher Group brands. "Kärcher offers cleaning technology solutions to consumers and B2B industrial and commercial customers," she says.
Director of Sales for Industry Guy DiLullo adds that the company serves a broad range target markets within industry, including food processing, metalworking, transportation and warehousing. "No other company can offer the range of applications we have," he says.
These products include hard floor scrubbers, sweepers, carpet cleaning equipment, wet and dry vacuum cleaners, industrial vacuums, parts washers and hot/cold-water pressure washers. "[We] also may be innovating with other technologies next year, with regard to ice blasting," he says.
This will embolden Kärcher North America's status as a one-stop solution for cleaning solutions. Cannon-Schmitt adds the firm has also achieved the status of a fully integrated manufacturer.
"While there are some components we buy, we're not just an assembler," she asserts, explaining that the company completes metal and plastic fabrication on its own. "We control the quality from start to finish of our production."
Kärcher North America also operates with the mission of being a company that its clients look to first for innovation, quality, service and support. "[We want them] to know we are a reliable company that provides cleaning solutions expertise each and every time you need us, making your job easier," she says. "We want to be their trusted partner and to help them make their business better."
Fitting In
Kärcher North America's innovations include its Industrial Vacuum product line which it recently introduced to the United States. This equipment, DiLullo notes, can safely and effectively vacuum solid and liquid debris, including combustible dust. "Most manufacturers can probably utilize at least one industrial vacuum," he says, noting that its largest competitor's product would be able to last for only 200 hours. "Many of our machines can run up to 40,000 hours," as they are air operated, pneumatic, and with no moving internal parts, which greatly minimizes maintenance.
For 60 percent of the applications, he notes, the machines will be used intermittently for housekeeping procedures, vacuuming industrial dust from walls and other surfaces, to eliminate dangerous accumulations, which is a major emphasis of OSHA. For the other 40 percent, the vacuums will be used in continuous duty and integrated into the manufacturing process to vacuum away residual material.
In a metalworking or plastic manufacturing operation, "They set up a vacuum to suck away the debris," he says. "There's a lot of different operations we could fit into."
Up to Standard
The product also is designed to meet the National Fire Protection Association (NFPA) 652 standard, which was originally set to take effect in October. "The administration has pushed it back to 2020," Dilullo says, explaining that the standard addresses combustible dust.
NFPA 652 will set several requirements for vacuums, including that dust-laden air must not pass through the fan or blower, and all conductive components, such as wands or attachments, must be bonded or grounded. "It's something that's going to dramatically change the marketplace, especially in 2020," he says, as all Kärcher Industrial vacuums conform to this standard.
The company also makes sure to keep its offerings fresh. "Ninety percent of our products are less than five years old," she says. "We are continuously coming out with new innovations."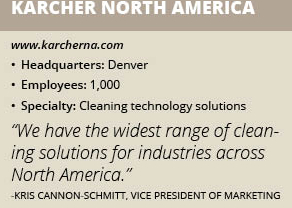 Aiming to Grow
Kärcher North America operates five manufacturing/distribution facilities in Camas, Wash.; Englewood, Colo., Blackwood, N.J.; Fayetteville, Ark.; and Monterrey, Mexico. All focus on delivering products to customers in a timely fashion, Cannon-Schmitt says.
"We try to optimize them to our processes in order to grow at the rate we're growing right now," she says, adding that the company plans to close its facility in Camas and open a new one in Colorado to better service its customers.
While most of its facilities in the United States are currently leased, "We need a facility designed and owned by Kärcher," she says, noting that the company will break ground on the location in November 2018 and aim for completion in late 2019.
When finished, the 350,000-square-foot location will feature office and manufacturing spaces. "Our engineering staff and our supply chain staff will be there," she says.
Kärcher's Commitment
Cannon-Schmitt and DiLullo are proud of Kärcher North America and how it has satisfied its customers. This has allowed the company to nurture a strong base of repeat clients.
"We have some customers that have been using our products for 40 years," she says. "Kärcher in the United States definitely has a very deep, committed customer base."
Kärcher North America also will stay committed to its clients going forward. "Our big focus is on our customers' experience and getting our cleaning solutions into our customers' hands when they need them," Cannon-Schmitt says. "Everything we focus on has been driven to doing that in the easiest way possible for customers."
The company's technology also will continue to evolve. "A big focus now for us is robotic solutions," she says. "We'll see a lot of that to come in the next five years with regard to cleaning."
DiLullo agrees. "Certainly, floor care cleaning will become more automated in the next five years, across most industries and verticals." he predicts.
Cleaning Campaigns
A substantial part of Kärcher's culture, Cannon-Schmitt notes, is focused on giving back to the world and the communities in which it operates. "As part of our cultural sponsorship program, we run cleaning campaigns worldwide," she says.
She notes that the company provides this service for free as a matter of principle. "This makes people more familiar with Kärcher," she says. "But there is also an innovative aim here as well: many of these cleaning tasks require new, tailor-made machines and accessories from Kärcher."
For example, on Mount Rushmore, the company needed high-pressure hoses that carried pressure over 200 meters. "These were developed specifically for the project," Cannon-Schmitt says, noting that Mount Rushmore is the most well-known of Kärcher's cleaning campaigns.
The over 200-meter pressure, she notes, enabled Kärcher to clean the heads of the presidents. "[It is] a beautiful example of how Kärcher has gained knowledge and developed new technologies as a result of cultural sponsorship," she says.
The company also brought its talents to clean the Christ the Redeemer statue in Rio de Janeiro, Brazil. The statue is covered in soapstone mosaic, which has been heavily damaged by the smog from the metropolis below, home to millions of people. Cannon-Schmitt adds. "Kärcher cleans it regularly – every seven years."
Kärcher also brought its talents to the colonnades on St. Peter's Square in the Vatican City, Italy. "This was the world's largest cleaning campaign, which put us in 'The Guinness Book of World Records,'" she says. The areas cleaned totaled 25,000 square meters.
The company also worked on The London Eye Ferris wheel, which provided it with the challenge of cleaning without putting the Eye out of operation. "It could therefore only be cleaned at night when no visitors were inside," she recalls.
Cannon Schmitt notes that Kärcher has completed more than 130 cleaning projects worldwide, including work on the Seattle Space Needle; select mausoleums at Green-Wood Cemetery in Brooklyn, N.Y.; and the city hall and police station in Des Moines, Iowa. "Our next project is the Dover Patrol Monument this September in New York," she adds. Standing at 75 feet tall, located at the John Paul Jones Park, in Brooklyn, N.Y., Kärcher will gently remove the dark grey layer of atmospheric residue, hard calcium crusts and biological growth that have formed over time on the monument.
Globally Green
Kärcher focuses on sustainability in its operations across the globe, Cannon-Schmitt says. For example, the company's headquarters in Germany is a green building, with efficient HVAC systems and lighting.
This focus is shared in its other facilities, and will be integrated into Kärcher North America's new location in Colorado. The company also offers green cleaning applications to its customers, including different detergents.
"A lot of our products have low-eco efficiency modes, where you're using less power and less water," she adds. "Some of the design issues of our equipment focus on the green aspect as well."
Kärcher's vacuums also can prepare materials for recycling. Its Swarf Vac, DiLullo notes, will pick up metal chips and coolant, while separating the two. "There's a pump out feature so you can pump out the coolant and recycle it," he says.
Sidebar — Saving Labor
Kärcher North America's products can help its clients who are facing the challenge of recruiting skilled labor. "When they invest in a cleaning solution, they want to be more productive," Director of Sales for Industry Guy DiLullo says.
Not only do these clients seek out machines that will provide safety and help them maintain sanitary or aesthetically pleasant conditions, but they also want to save money spent on labor. Although the associates performing cleaning services may be the lowest paid, they can be the toughest people to hire, he notes.
But Kärcher's machines can help its clients be so productive that they can trim their staff or reposition current employees. "When they make an investment in a $50,000 sweeper, it's not just to save money, but to make money," he says. "The machines have to be productive; there's always a return on investment involved."