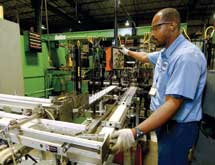 Although some of the hardware for commercial refrigeration, foodservice, step van and industrial equipment that Kason Industries Inc. manufactures is traditional, much of it evolves over time. "Some products we've been making since the 1950s and '60s," Executive Vice President Burl Finkelstein points out. "They haven't changed a lot since then."
But others have evolved with their various industries, and Kason must keep up with those trends. "The tricky part of our business is knowing our customer applications," he reveals. For example, when the blowing agent used in insulating foam panels for walk-in refrigerators and freezers changed for environmental reasons, the fastener holding that foam had to evolve.
"As the foam blowing agent changed, how it adhered changed, and we had to go back to the panel fasteners that bond it and make sure the foam will bond to the fastener and work well with our fastener," he continues. "As the market changed from mechanically latched doors to magnetic gaskets, we changed the hardware, made a lighter-weight hardware and went to pull handles."
The current U.S. energy act mandates self-closing doors and minimal air infiltration for walk-in coolers and freezers. "So we have more focus on hinges that will close the doors more efficiently, and strip curtains and vinyl flex doors to block air infiltration when the door is open," Finkelstein notes. "We're keeping our fingers on the pulse of the market."
Energy saving also is an active trend. "LED lighting has been a huge product for us," Finkelstein points out. More efficient fluorescent light bulbs and ballasts also are proving popular. As for other products, Kason Industries supplies most of the components of commercial walk-in freezers and refrigerators, including the vent ports, pressure relief ports, temperature alarms, door windows, sliding door components and sensors.
Manufacturing Versatility
Finkelstein concedes that Kason Industries purchases and imports some of its parts and products. But even so, "We're probably a more vertically integrated manufacturer than anyplace else," he declares. "Generally, our principal product line we make from scratch. We make zinc die castings and stampings here, we do machining, grinding, polishing, buffing and plating here, and we assemble it here."
The company also designs, researches and develops new products. "So we go from the concept of the product through all the aspects of making it here to selling it here," Finkelstein emphasizes. The advantage is controlling product quality and customer service intimately.
"If we were buying a die casting from China or elsewhere, we'd have to order it, we'd have to wait three to four months – unless we were flying it in and paying exorbitant air fare shipment on heavy metal parts – and when it came in, it might be of dubious quality," Finkelstein relates. "It might have porosity inside it, or the finish might be peeling off. If we die-cast it here, I can carry it right from die casting to the buffing area, buff it and plate it, machine it, and the next day I know whether I have a good part. I can do testing, and I can make an adjustment while the job is still running and get it perfected. I also don't have to bring in a container's worth and store them and tie up that much more inventory."
Offshore Costs
Among the manufacturing improvements the company has made are installation of a computer numerical controlled drill that has eliminated deburring and hole-to-hole variation; robotic polishing, grinding and buffing; two new presses in the stamping area; and improved work-holding fixtures for certain processes.
"We look at what we need to do to stay competitive in the future," Finkelstein notes. "We've found in many cases that we are competitive with making the same parts offshore." He cites increased shipping and environmental costs overseas, along with exchange and foreign labor rate increases as contributing to the cost of outsourcing manufacturing. "If we use the best methods and automate, we are competitive," he insists. "The purchase price doesn't always equal the net cost."
Finkelstein cites the company's experience approximately two years ago, when managers made the assumption that off-shore manufacturing was lowest-cost and die casting of parts was sent to China. But the cost of hiring an inspector in China to examine the parts and inspecting them again when they arrived in the United States – along with holding and transportation costs and some loss of quality – subtracted from any cost savings on the purchase price. "When we make the item here, we control it much better and are more responsive to customers," Finkelstein points out. "The cost is at worst the same as making them in China."
International Customers
The 180,000-square-foot main plant at the headquarters in Newnan, Ga., produces nearly 15,000 hardware SKUs. Another 65,000-square-foot plant manufactures Kason's foodservice products, and a 30,000-square-foot plant produces vinyl products like the strip curtains and doors hung on freezer openings to keep cool air inside while still allowing people and merchandise to go through them. All plants are located in Newnan.
The family owned company – which was established in 1926 by Abraham Katz and a partner as a machine shop in Brooklyn – sells products throughout North America, and internationally, Finkelstein estimates approximately 15 percent of the company's business is overseas. "Hopefully, we'll grow that in the future," he resolves. "The market we know best and the customer applications we're very intimate with are in the North American market."