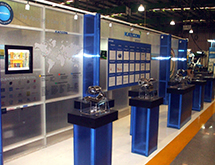 Katcon's recently opened technical center in Luxembourg is one of the company's latest facilities, but it's certainly not its last. The automotive supplier engineers, designs, prototypes, tests and manufactures catalytic converters, diesel after-treatment devices and exhaust modules and systems for a variety of engine types and applications, including light-duty, commercial, agricultural and industrial.
This past October, the Monterrey, Mexico-based company with a global footprint opened its state-of-the-art Luxembourg R&D center, which was preceded by a series of new site openings that include its new Melbourne, Australia, manufacturing plant, a new manufacturing plant and technical center in Shanghai, China, a new manufacturing plant in Auburn Hills, Mich., and the new Katcon Institute for Innovation and Technology in Monterrey. Located in the Technology Innovation and Research Park (PIIT), Katcon's technology center's capabilities include finite element analysis, computational fluid dynamics, rapid prototyping and test cells.
The company explains its recently opened technical centers will be followed by another series of facilities opening around the globe over the next two years.
Targeted Investments
First up is its second manufacturing plant in Monterrey set to open in July that will join its existing manufacturing plant and technical center. Also this year, Katcon will open manufacturing facilities in South Korea, as well as a joint venture facility in India. Next year, it will bring a second China manufacturing facility into the family with a joint venture in Chongqing, which is in the country's central region. In addition, Katcon is planning to open new manufacturing plants in Brazil and Russia within the next two years.
Jose De Nigris, executive vice president of global sales, engineering and purchasing, explains that Katcon's steady pipeline of new facilities is in direct response to a growing market and an aggressive and solid strategy led by their new CEO, Carlos Turner, and supported by the different regional managers around the globe.
In Mexico, "we have outgrown our current manufacturing facility," De Nigris explains. "So we're expanding our capacity to be able to absorb new booked business that we see launching in the next couple of years but also to handle the growth we are experiencing now from business booked in the last few years. We keep seeing the demand from automakers in Mexico and the NAFTA region increase, so we are getting ready for the upswing and this new facility might not be the last."
As of now, De Nigris says business is growing from all sides with positive feedback coming from passenger vehicles and even greater demand coming from the off-road and heavy-duty vehicle manufacturers.
"We have improved and increased our capabilities in regards to the bigger assemblies required to handle heavy-duty, which is growing a lot; we are also benefiting from our operational discipline and proven business model and philosophy," De Nigris says.
In addition to equipment, Katcon invests in having the people skills and resources necessary to meet the heightened technical demands of its industry. The company is TS16949 and ISO 140001 certified and maintains a fully integrated process from engineering to manufacturing. A substantial portion of investment has been allocated not just to plant and equipment, but to software, model shop, and testing and validation capacity and capabilities.
Made for Manufacturing
Across the globe, Katcon's manufacturing operation incorporates best practices such as just in time, flexible labor and use of robotics and automation. The company also uses modular manufacturing techniques to ensure quality and timely delivery of its products.
"By using the modular model, we want to establish that we have the capacity for a certain project and that it can be replicated very easily," De Nigris says. "So if you were to go to our facility, you would see cells that are dedicated to a particular customer or project. This is a concept we use across the board."
Each facet of Katcon's operation is focused on producing quality, reliable and consistent products for its customers. The family owned and operated company has made that its mission from day one. From a simple one-product, 5,400-square-foot facility back in 1993 to the multicultural and multinational organization that it is today, De Nigris says that the company is firm in its commitment to be flexible to its customers' changing needs.
"This is a very flat organization and there are not many levels, which makes it very easy for the organization to communicate, plan and execute," he says. "We think of ourselves as a very flexible and very agile company when it comes to making decisions and executing plans."