Steely determination
Almost 20 years after it was first formed, Katmex has evolved into one of the UK's preferred suppliers of profiled and fabricated components to the construction equipment and heavy engineering sectors
Based in the North East of the United Kingdom, Katmex is a solely owned SME and part of the Katmex Holdings Group alongside Katmex Seaham (formerly Maskell Engineering Limited).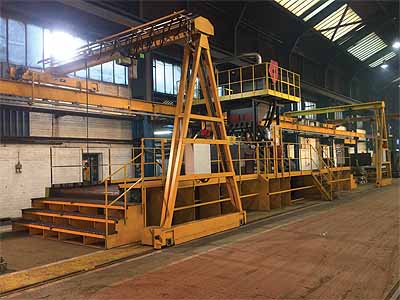 Focused on providing steel processed parts and fabricated parts for medium and heavy industry customers, it began life in 1999, when it was established as the European division of Japanese steel plate processing manufacturer Katsushiro Matex Co. Ltd Group to service one of its largest clients, Komatsu.
The first UK employee working for the company was David Mitchell, and he remains the company's Managing Director to this day. "From supplying Komatsu, we steadily gained additional customers over the following years including the likes of JCB and Caterpillar, and other heavy earthmoving and construction machine manufacturers around Europe," David explains.
It was then in 2009, against the backdrop of the global economic crisis, that Katsushiro Matex took the difficult decision to withdraw its activities from Europe to focus on high volume contracts in Asia and North America. Undeterred, David entered into discussions with the Katsushiro group and put forward a proposal to acquire Katmex. This proposal was ultimately accepted, with the management buyout officially completed on July 1st, 2010.
"Ahead of completing the buyout of Katmex, we had successfully managed to secure promises from our major customers that they would continue to support the business in the years ahead, and this was definitely a contributing factor in getting us to a level of activity where we could succeed as a business," David continues. "Then as we progressed towards the latter stages of 2016 we began to see the signs of growth in our market, and this has continued to build in the time since, with the pattern expected to continue for the rest of 2018 and into 2019."
Listening to David recount how the company emerged from the buyout process of 2010, it is clear that it was the relationships that it formed with its major customers that helped contribute to its success. This however, as David goes on to describe, is just one of the strengths that Katmex possesses. "Throughout the company our focus is very much on building excellent relationships with our customers. We encourage continuous communication between both parties and this means that we are able to gain a unique understanding of their requirements, as well as deal with any issues as they may arise. In more recent years we have not rested on our laurels either, rather we have been working hard to devise and deliver more added value work in order to support our customers."
The company's efforts have not only paid off in the form of continued work and new contracts, but also in the guise of industry recognition, most notably in the case of being named Supplier of the Year by Komatsu UK at its annual supplier conference in March 2018. The accolade recognises Katmex's commitment to health and safety, quality, delivery and cost, as well as the excellent work of its employees.
Today, Katmex possesses the ability to process approximately 2500 tonnes of steel plate monthly. It does so from its two manufacturing sites, the first being its Stockton-on-Tees facility which has been an ever-present since 1999, and the latter being its smaller Seaham location, which was established in November 2011 as a means of responding to the increase in demand for the company's services. Both sites share the fact that they house the latest in gas and plasma cutting equipment technology, supported by additional processing operations such as bending, machining, chamfering, rolling and the capability of producing fabricated assemblies.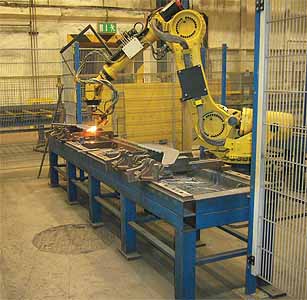 "While our Stockton-on-Tees facility is definitely tailored more towards high volume production, our Seaham plant is able to specialise in smaller, one-off or low volume production runs, and arguably has more internal experience when it comes to tasks such as welding fabrications," David adds. "The synergies we have across both plants when it comes to our processes and technology, however, means that we are able guarantee the quality of our manufacturing remains of the highest standard. In addition to our use of CNC controlled machines in our cutting and secondary process operations, and our own in-house machining capabilities, we have also introduced a range of gas cutting and welding robots, which are increasing the level of automation within our facilities."
Investment in the company's infrastructure and machining, as well as its human element, is a big area of focus for Katmex going forward.
"While there may be a lot of speculation about what the short-term future may hold for business in the UK and in Europe, one of the key aspects we are interested in is the well-being of our customers and their own future goals," David enthuses. "The vast majority that we speak with tell us about their 'five year plans' and we want to be in a position to meet their requirements with the same levels of service that they have come to expect from Katmex."
For its part, Katmex has crafted its own five-year strategy for the development of its people, as well as a five-to-fifteen-year plan for its infrastructure. "From a manpower perspective, we are always looking at how we can develop the workforce, and this means both promoting from within and bringing young people into the business by way of apprenticeships," David says. "We have been working with apprentices for the last seven years and today we have not only a number active on the shop floor, but also several who have gone on to take important roles within Katmex, including quality engineers, production engineers and maintenance engineers.
"In the longer term, we not only have to keep the development of our people under consideration, but also ensure that the significant investments we have made in the company in the last few years continues so that we can grow in line with our customers. After all, next year Katmex will reach its 20th birthday and I want to ensure that it is going to be here in a stronger position for the next 20 years."
Katmex Ltd
Services: Precision fabricated components