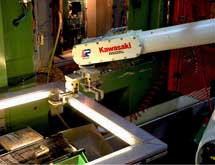 Kawasaki Robotics (USA) Inc.
A commitment to quality and continuous improvement makes Kawasaki Robotics a leading manufacturer and supplier of industrial robots and automation systems. The international company – which has its U.S. headquarters and North American training center in Wixom, Mich. – produces robotic arms and systems capable of handling payloads ranging from 7 to 1,500 pounds.
Kawasaki Robotics serves a wide range of industries and applications and has more than 16,000 units installed in North America and more than 64,000 units installed worldwide. The company can design systems to help manufacturers perform a number of applications including:
Arc welding
Assembly
Friction spot joining
Machine tending
Material handling
Material removal
Metal fabrication
Packaging
Painting
Palletizing
Sealing and dispensing
Spot welding
In addition to its manufacturing services, Kawasaki Robotics offers clients complete system integration, application engineering, project management, feasibility studies, 3-D simulations, inventory services, field service and programming, production support, refurbishing and overhaul and maintenance.
"The challenges of developing systems for our customers vary and each case must be carefully considered," the company says. "For some of our customers, the solution lies in a single stand-alone robot. For others, the solution is far more complex.
"Kawasaki Robotics has the capability to design, assemble, test and run off an entire turnkey system offering comprehensive project management from concept to implementation."
New Products
Kawasaki continues to set new standards in its industry by rolling out new product lines. Its newest include the R Series of industrial robots and E series of industrial controllers.
The R Series of light- to medium-duty robotic arms is capable of handling loads from 7 to 176 pounds. Its arms have a greater reach and rotation range than similar lines.
The E Series of controllers incorporates a high-performance CPU and a new intuitive teaching interface that features multiple information screens that can be displayed simultaneously. "The E Controller combines high performance, unprecedented reliability, a host of integrated features and simple operation all in a compact design," the company says.
A Global Leader
Kawasaki Robotics is a division of Kawasaki Heavy Industries (KHI) Ltd., a global industrial and technological business leader. KHI was established as a ship builder in 1896 and today is composed of more than 100 companies in Japan and around the world. KHI employs nearly 29,000 people worldwide and has a sales volume of more than $10.5 billion.
Kawasaki entered the robotic business in 1968 with a technology license agreement with Unimation and started manufacturing and selling robots in Japan.
"Over the past century, the group has expanded its comprehensive technological base, which encompasses the mastery of land, sea, air and space, under the guiding philosophy of deploying cutting-edge technology to create new value in each of its business segments, and contributing to the development of a sustainable society," the company says.
A Nurturing Environment
Kawasaki Robotics' goal to provide its customers with the best and most efficient production environments is met through its production staff. The company believes strongly in nurturing and providing opportunities for its staff to grow professionally.
"We value the people that make up our company, our customers and our community," it says. "Kawasaki Robotics realizes that our greatest resource is our employees. We strive to maintain a pleasant working environment where employees are continually challenged and trained in the latest technology."