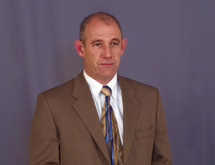 If there is anything retailers need to get customers into stores, it's the right products. But how they are displayed is just as important, and many turn to KC Store Fixtures for that need, owner Leo Galey says.
Kansas City, Mo.-based KC Store Fixtures manufactures retail signage, display cases, hangers, racks, jewelry displays, and mannequins and forms. Galey started KC Store Fixtures in 1994, after working for another fixture company.
Galey chose to start his own business when he did not approve of the firm's new direction. "They were going to build a brand-new building, which was way more than our gross revenue and sales plan [could handle]," he recalls.
When Galey developed a plan for his own business, he shared it with his business partner, Don Cahail, who owned a chain of video stores. "He got excited about it and we started the company," Galey recalls. Today, KC Store Fixtures employs a staff of 48 and had sales of more than $10 million last year.
Something that contributes to the company's longevity, Galey notes, is its ability to manufacture stock and custom products on its own. "[Many] of our competitors are importing fixtures while we manufacture them in the United States," he says. "We offer higher quality products, built from better materials in a much shorter lead-time. Another contributing factor is reinvestment. We continue to invest in new machinery and technology to improve our overall efficiencies."
Additionally, the firm has benefited by selling over the Internet, which accounts for 50 percent of its business. "The Internet is a very powerful tool for our type of industry," he says. "It's a key function of marketing that gives us national and international exposure where customers can shop our goods 24 hours a [day], seven days a week."
Custom Quality
KC Store Fixtures employs an extensive process when manufacturing custom products, Galey says. At the start, its design center will create the product with AutoCAD and then manufacture a prototype for its clients to review.
Often, "They'll ask us to value-engineer something," Galey says, noting that KC Store Fixtures strives to offer the best fixture solution for the best value. "For example, we had a customer with significant expenditures in construction fees building temporary wall fixtures for their pop-up stores. We designed not only a very durable, easy to assemble wall fixture that could be used year over year, but a solution to significantly reduce their construction costs."
Recent examples of the company's custom items include a special boot fixture for a Western-themed store, and water wheel displays for Spirit Halloween, a seasonal retailer based in Egg Harbor Township, N.J. Recently, KC Store Fixtures built 675 wheels for the company, Galey says.
KC Store Fixtures works closely with its suppliers when it takes on high-profile projects. "We're talking to them to make sure supply is plentiful, just as when we do the water wheels," he says.
Key Managers
After all these years, Galey is proud of KC Store Fixtures, particularly his management team, which includes Vice President and General Manager Shane Wright. "Shane has worked his way up since the company really started," Galey says.
Another manager is Vice President of Business Development Shelley Gummig, who has been with the company 10 years and takes care of its clients, Galey asserts. "She negotiates and battles for the customer and what they're after," he says.
Production Manager Phil Vaughan also is a longtime employee, having been with KC Store Fixtures for 12 years. "He's a good technician [and] people like working for him," Galey states.
He also highlights Warehouse Manager Alan Meeder, who once worked for PepsiCo Inc. "We were fortunate enough to bring Alan aboard," Galey says, noting that Meeder is key to shipping products so they arrive safely. "He's helped develop custom packaging and special pallets to minimize product loss and optimize density."
One-Stop Shop
Galey says the future looks strong for the firm. "There's not a whole lot of people who do what we do," he says, explaining that most will not sell both stock fixtures and custom products. "We bring the whole program together and think of it as a one-stop shop."
KC Store Fixtures' location in the middle of the United States will continue to benefit the company, as it "allows us to sell north, south, east or west," he says. "[We can] hit those markets in a three-day period max."
He adds that the company's capabilities will soon change with the addition of NetSuite, a business accounting software. KC Store Fixtures will be able to increase its Internet sales and manage its inventory at a higher level, Galey predicts.
It also will maintain strong customer service, Galey says. "We will never have an automated phone system," he says, noting that the current system allows it to get answers to customers quickly. "We help every customer [personally]."