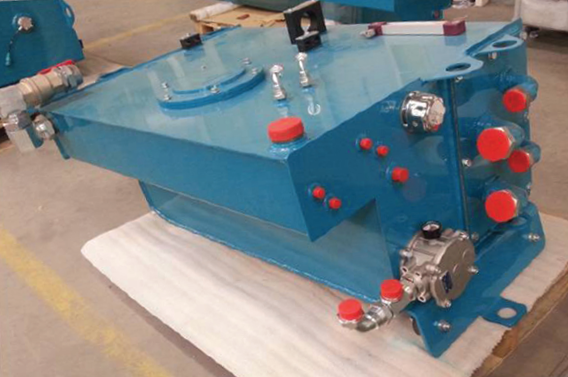 The strategic solution
Through years of supplying to major OEM brands in the UK and Ireland, Kel-Tech has developed a customer-focused strategy, which has lead to it being recognised as one of the top sub-contract suppliers in its industry.
Founded in 1987 and experiencing positive growth for much of its history, Ireland-based Kel-Tech Engineering has been able to establish a strong offering to the market and position itself next to some major players in the OEM industry. With cut, fold, weld, pre-treatment, painting and final assembly facilities all under one roof at its 90,000 square foot plant in Waterford, Ireland Kel-Tech offers a one-stop-shop to its customers. Its core offering can be split into four 'sweetspots': Acoustic enclosures and bases; integrated fuel and hydraulic tanks; overhead guards and integrated cabins; and integrated electrical control boxes. Over the last 15 years the company has been successful in serving blue-chip customers in industries such as power generation, material handling, automotive and screening and crushing but to name a few with high quality pressures being placed upon Kel-Tech, which the company comsuccessfully met. As a result, up until the economic crash at the end of the last decade, Kel-Tech was riding a wave of exceptional growth.
"The environments that we supply to are very affected by the world market," begins Business Development Manager, Seamus Lawlor. "So when we had booms in the 2000s we were growing exponentially with some of our big companies. However when the crash came between 2008 and 2012, our customers lost a lot of work that we would supply to." With some OEM's turning to low-cost manufacturers in the Far East, in 2012-2013 Kel-Tech lost about 35 per cent of its sales in a short period of time. Emerging from the crash has been tough for Kel-Tech, as Seamus explains that its industries can be slow to recover, however he is pleased to announce that in the first two months of FY2015, the company is roughly back to where it was in 2012.
"This has been driven by our new strategy," he outlines. "We now class ourselves as contract manufacturers, before we supplied a piece part; now we supply the part. In the last two years we have realigned our strategy in order to climb up the supply chain as manufacturers that can supply fully integrated components. For example, before we would have just supplied a steel fuel and hydraulic tank, now we're supplying a fully integrated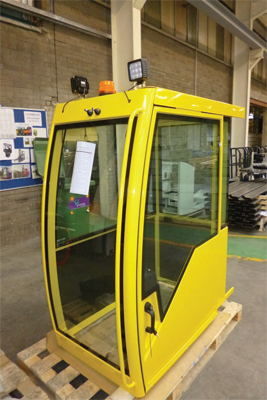 tank flushed for internal cleanliness, painted and fitted with filters, site gauges, manifolds and everything else, so it is effectively a plug-and-play product." This integration spreads across its product range, as it now supplies fully wired and glazed forklift cabins, wired control boxes and fully foamed and silenced acoustic enclosures. The company has also been able to use its design skills to further enhance this offering as it has completed full cabins and acoustic enclosure redesign programmes from concept to production after existing customers approached them with a brief. "We're trying to offer a 360-degree service," adds Seamus.
"This new strategy has generated a lot of interest in the market as it solves a lot of the capacity and cost problems experienced by our customers," he expresses. "So capacity problems on their side and increasing their machine output really drove the strategy. It's also easier on their buyer who now only has to order one finished item with a fixed lead time, and the cost of keeping stock is lower too." This flexible change in strategic direction has arguably been crucial to the regeneration of Kel-Tech as it battled through the tough spells of recent years, and whilst it has enabled the company to regain its pre-crash position, it still sees a lot of potential to grow. As such, the company is currently undergoing a rebranding programme and will soon be launching a new website to help generate further sales within the industry.
This move also opens up wider markets for future expansion potential. As Seamus explains: "There was a lot of competition out there for just the painted metal work that we were doing before, so it was hard for us to compete beyond the UK and Ireland. However, as we have move up the supply chain to offer a more integrated solution, and differentiated ourselves, I definitely see a market for Europe and beyond. At the moment though, we are focused on exhausting the UK and Ireland before we look beyond."
Another part of the company's ability to emerge from the recent crash with strong levels of growth is the existing knowledge and assets already invested in the business. "We sit in the fortunate position where we have very up-to-date machinery that is capable of servicing our industries," continues Seamus. "From a people point of view, we are also the first manufacturing company in our sector in Ireland to set up a City and Guilds training scheme to help enhance the skills we have on the floor. As a result we have a lot of employees progressing their competencies to a high level."
The future vision for Kel-Tech centres on a continuation of implementing this strategy and creating more awareness about its offerings. "Traditionally we would have been seen as a supplier to our customer base," Seamus concludes. "Now we want to be a strategic partner to them. So by developing our core products, we can be a strategic advantage to them with a 360-degree type service. By working with us our customers will get the very best products in those areas. Therefore, the future focus is all about aligning with the customers' requirements and taking steps on this journey to become the strategic partner of choice."
Kel-Tech Engineering Ltd
Products: Contract manufacturer with core competency in sheet metal fabrication
Sites: One: Waterford, Ireland