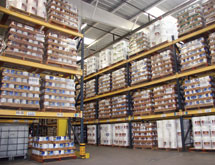 For more than 65 years, professional painters and do-it-yourselfers have trusted Kelly-Moore Paints to provide them with high-quality paint products specially suited to their needs. From a single store in California in 1946 to its position today as one of the largest employee-owned paint companies in the United States, Kelly-Moore Paints has grown and evolved over the years thanks in no small part to the strength of its manufacturing operations.
The company's manufacturing continues to be one of the cornerstones of Kelly-Moore's success, according to Vice President of Manufacturing and Supply Chain Bruce McGregor. The company operates two main manufacturing facilities – one in the company's hometown of San Carlos, Calif, and the other in Hurst, Texas. Each facility serves markets in their respective areas, and each facility features multiple filling lines. Between these two state-of-the-art facilities, Kelly-Moore produces nearly 50,000 gallons of paint every day.
The marketplace always is evolving, as are regulatory standards. Nevertheless, McGregor says Kelly-Moore always rises to the challenge while still maintaining the same high level of quality the company has exhibited for many years. Quality control is built into the company's manufacturing philosophy from top to bottom, McGregor says, and Kelly-Moore is poised to continue being a leader in the industry.
Quality Assurance
Fifty thousand gallons a day is a lot of paint, and it goes without saying that ensuring consistency is paramount for Kelly-Moore. McGregor says painters want to be sure they have confidence in Kelly-Moore paint every time they open a bucket. "We want the performance of the paint to be consistent day in and day out, year in and year out, and batch to batch," McGregor says.
This means Kelly-Moore has one of the most stringent quality-control processes in the business, according to McGregor. These procedures begin at the product development stage and carry all the way through the production line to the end-user.
"We're very focused on quality," McGregor says. "We know that we produce a superior paint product, both from a quality and consistency point of view. We make sure that every batch we produce stands up to very stringent standards."
Cleaning Up the Act
Those standards include environmental standards, which are a primary concern for Kelly-Moore. As a California-based manufacturer, Kelly-Moore operates under some of the most stringent environmental regulations in the nation, and McGregor says they are regulations  the company believes in wholeheartedly.
"It is very important to the company that both plants conform to the same standards," he says. "We're very conscious to make sure that nothing from an emissions standpoint goes into the air or the water."
McGregor explains that the company is focused on having the latest filtration equipment and containment systems in place. Kelly-Moore also monitors everything it discharges into sewer and water systems. Nothing is discharged without first being captured in the facilities' containment systems, McGregor says. "The controls that have been put into place are very extensive," he says.
Running Changes
Along with the changes Kelly-Moore makes to its processes to meet environmental standards, the company also works hard to meet the changing needs of its customers.
"We're a very customer-focused organization," McGregor explains. "We listen to our customers very closely and it's not unusual for us to use that feedback."
Improving performance and reducing the price point are two of the company's top concerns when it comes to meeting the needs of its customers. To this end, the company has made strides to make its manufacturing processes as efficient as possible.
"We've spent quite a bit of capital over the last couple of years updating our manufacturing processes, primarily from a packaging standpoint," McGregor says. "We've been putting automated equipment on the filling lines to really increase capacity and improve productivity and make sure that we're able to meet the demand.
"From a manufacturing focus, we are well-focused on quality and cost reduction," McGregor says. "We're investigating every single work process that we do to make sure it adds value." mt