Partner of choice
Located in the South East of Ireland, and serving customers across Europe, Keltech's innovative approach makes it a contract manufacturing partner of choice to some the largest Original Equipment Manufacturers globally
Driven by continued investment in its people and processes related to its areas of expertise, namely acoustic enclosures, overhead guards and cabins, telecommunications enclosures and reservoir tanks, Keltech has had a highly fruitful last 12 months. Exceeding its growth expectations, with the addition of several new customers and the fact that most sectors are experiencing positive growth in 2017, the company has created no less than 80 new positions in this period, taking its workforce to 180 people, and growing, at its Waterford base.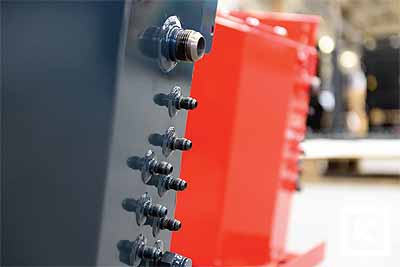 "The secret to our success lies in what we like to call 'growth hacking'," begins Keltech's Business Development Manager, Seamus Lawlor. "The first step of our growth hacking strategy is to meet with all existing and potential customers, and conduct what I like to call a 'pain diagnostic'. This involves a simple face-to-face meeting where we discuss the current challenges facing the customer's business in general. As opposed to being sales pitch meetings, these are fact finding missions and have proven to be hugely rewarding experiences, with an immense amount of data obtained."
There are countless examples of this growth hacking strategy being used to provide optimum results for Keltech's customers. One of these involves a particular acoustic enclosure customer that was experiencing difficulties involving sound attenuation, specifically their lack of technical know-how of how best to achieve the required DBA levels. The inclusion of sound attenuation support to the customer was added to Keltech's scope of supply, meaning the customer was again free to concentrate on their core strengths, whilst relying upon Keltech to supply a solution that worked in unison with its equipment and meet all regulatory sound requirements.
Growth hacking also played a major role in the company perfecting its reservoir tank services. "Following a number of meetings with our reservoir tank customers it quickly became evident that one major issue stood out above the rest, and that was the issue of internal reservoir tank cleanliness," Seamus explains. "As a manufacturer of these reservoir tanks for over 20 years, we worked hard to create our next growth hack, the supply of reservoir tanks internally cleaned and ISO certified through our uniquely designed washing station. Our customer base quickly latched onto this new area of expertise and within 12 months of the washing process being introduced we had more than double reservoir tank production, from 150 to 400 per week. This trend has since continued and we are now closing in on the 600 reservoir tanks per week mark."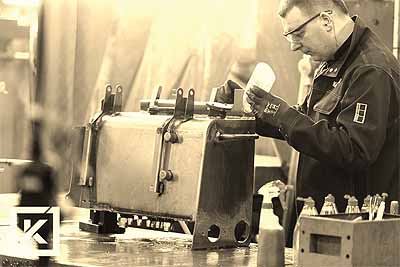 In June 2017, Keltech added another dimension to its reservoir tank business with the commissioning of its own on-site gravimetric testing laboratory. From here, the company's tanks will be monitored on an ongoing basis to ensure that optimum levels of internal cleanliness are achieved throughout its robust manufacturing process. Based on ISO4405/ISO16232 standards, gravimetric testing is achieved by partially filling the reservoir tank with liquid, sealing it and then extracting any contamination into the liquid by agitation or sloshing. This test liquid is then drained and vacuumed through a membrane filter, which traps solid particles. The filter media is examined to determine the composition and maximum particle size, allowing direct comparisons of different tanks.
The results of the test are usually reported in milligrams per litre of reservoir tank volume, allowing direct comparisons of different reservoir tanks. The filter media is also examined under a microscope to determine the composition and maximum particle size. These images can be saved for future reference. This test may be repeated several times to determine the efficiency of the particle harvesting for any reservoir tank type. This information can be used to determine the optimum number of cleaning cycles required (often a single cycle is sufficient).
In addition to confirming that reservoir tank cleanliness meets/exceeds customer specification, gravimetric testing also verifies the development and continuous improvement activities of the reservoir tank cleaning process at Keltech, with the goal being to provide the required cleanliness at optimum cost. Keltech also has the capability to clean each hydraulic reservoir tank on a flushing rig; the hydraulic fluid is circulated through the reservoir tank, filtered and passed through an in-line contamination monitor. The flush can be pre-programmed to stop when the required cleanliness level is reached, e.g. ISO 4406 18/16/13. The reservoir tank is then logged with certification provided to the customer.
"Reservoir tank cleanliness has become a huge area of concentration for OEM's in recent times as fuel and hydraulic systems have become ever more sensitive to contaminants that have the potential to cause damage to operation components," Seamus continues. "Today, we are manufacturing over 25,000 reservoir tanks a year, with that figure likely to increase again. This is a strong area for the business, with 50 per cent growth experienced in the last two years and many more opportunities in the pipeline. Our European Business Development Executive, Ryan Kalagin, is currently working on several major projects in Europe, and we are on target to be manufacturing 50,000 reservoir tanks per annum by 2020."
Thanks to the efforts of its employees, suppliers and customers, Keltech has had a hugely rewarding 2017, and the first quarter of 2018 will see the company kick off its largest R&D reservoir tank project to date, working in partnership with its customer base to create customer centric solutions that will add significant value to their business.
"As we move forward into a bright future, we will continue to adhere to our 'Towards 2020' company wide strategy," Seamus concludes. "The essence of this, which we live and breathe every day, is to maintain absolute focus in our chosen fields and, through ongoing investment in our people and plants, continue to provide valuable solutions to our OEM customer base."
Keltech
Products: Acoustic Enclosures, Reservoir Tanks, Cabins and Over-Head Guards and Telecommunications Enclosures