A trusted partner
Despite challenging market conditions, Keltech has increased its market share by 20 per cent over the last 12 months and is now recognised as one of the top contract-manufacturing partners in its industry. Interested to find out more about just how Keltech has bucked the market trend to submit impressive growth numbers, we met with Seamus Lawlor, Keltech Business Development Manager and Ray Breen; Keltech Founder and Managing Director
Having experienced predominately positive growth since its inception in 1987, Ireland-based Keltech, originally Kel-Tech Engineering, has established a strong position in the market next to major players in the Original Equipment Manufacturers (OEM) industry. With cut, fold, weld, pre-treatment, painting and final assembly facilities all under one roof at its 90,000 square
foot plant in Waterford, Ireland, Keltech offers a one-stop-shop to its customers. Its core offering can be split into four 'sweetspots': Acoustic enclosures with fuel integrated bases; integrated fuel and hydraulic tanks; overhead guards & integrated cabins; and Telecommunications enclosures.
Keltech has continued to enhance its services and strengthen its presence in the market through a number of strategic developments since previously being featured in Manufacturing Today Europe in September 2015. For example, over the last nine months the company has further increased its focus on sustainability through the promotion of lean manufacturing principles, a decision that has resulted in three senior members of management achieving 1st class honors in a two year Masters Programme in Lean Practice at the Waterford Institute of Technology. "In fact, our three members of staff were so successful and passionate about the programme they are regularly asked to go back and lecture at the institute," explains Ray.
"Firm in our belief that continuous improvement of people, processes and plant results in the achievement of business objectives, our ongoing training and the development of employees ensures we retain a competitive edge in the market place," Ray continues.
In line with these developments the company has undergone a rebranding programme, which involved a change of name from Kel-Tech Engineering to Keltech as well as a new, clearer website for customers to use. "We have also adopted a new slogan: 'You sell great products, we build and deliver them!' The reasons behind the change in logo, slogan and style of our website is due to our strategic decision to expand into contract manufacturing for the OEM market. These developments have gained great traction both with new and existing customers," says Ray.
"A major driver in the current growth spurt experienced by Keltech is our supply of fuel and hydraulic tanks," Seamus adds. "Both new and existing OEM customers have really latched onto the considerable value Keltech can offer through our tank supply. We have produced tanks here at Keltech for almost 20 years now," he continues. "In 2013, having carried out considerable market research we identified a changing need in relation to tanks. Tanks must now be supplied to the highest standards of internal cleanliness.
"Both fuel and hydraulic systems have become increasingly sensitive to contamination. For example many of our customers have implemented Tier 4 engine systems; the fuel system has changed to a common rail to produce greater power, efficiency, and cleaner operation than prior types of diesel fuel injection systems.
"Our research found that one key to accomplishing these gains is the common rail system, but these operate at pressures around four times that of traditional systems and with much tighter part clearances and tolerances. Owing to these tighter tolerances any contaminants that enter the fuel system have the ability to cause damage to devastating effect," Seamus explains.
The tank was a primary area of concern for OEM's when reviewing how to ensure fuel and hydraulic systems were contaminant free. Due to the manufacturing process there was plenty of opportunity for foreign bodies to develop within the tank that if left in situ could hamper performance during early machine operation.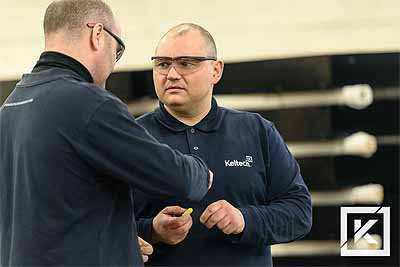 Keltech took a 360 degree stepped approach to the project Ray recalls. All elements were reviewed: "We chose to work with unscaled base material specially sourced at Sebden steels – our valued partner for over 20 years – the cutting process was analysed, SOP's drawn up in the tank fabrication cell, which included constant consideration of the tank internal walls, and while these all helped but still we felt there was more we could do."
Keltech took the decision that post its painting process it needed to implement a final 'catch all' internal tank cleaning station. Working in partnership with its chemicals supplier Chemetall it developed an anti-corrosive treatment formula that could be used to wash out the tanks. After several trials the team found a pressurised power ball system that could rotate and jet the chemicals at pressure at all internal tank wall  surfaces for a sustained period of time. The liquid is then drained off and with it any harmful contaminants are removed. After that Keltech fits all final fit furniture to the tank such as filters, gauges, caps etc and block off any remaining ports meaning the tank is now fully sealed and ready for transport. This process of manufacture now gives the OEM the utmost confidence to directly fit a Keltech tank safe in the knowledge that harmful contaminants have been removed.
Keltech's tank output has doubled in the past 18 months and the company is now producing almost 400 tanks a week for its diverse OEM customer base in Ireland the UK and Europe.
Seamus adds that new customers have benefited greatly from Keltech's knowledge in the area of tank cleanliness. "On many occasions over the past year and half we have not only seamlessly taken over supply of their tank demand but at the early stages of project we have assisted in design support in relation to existing tanks making modifications to ensure the utmost cleanliness standards are reached," he says.
Over just the last two months Keltech has, through the above-described process, achieved a tank cleanliness standard specification set out by a major yellow goods OEM based in the UK with a view to beginning supply in early 2017. With a growing strong pipeline of work related to the tanks side of Keltech's business the future is bright.
With a new look and enhanced services, Keltech is optimistic despite the sluggish market, as Ray concludes: "It is our goal to further embrace lean manufacturing methodology and to increase sales throughout the company by 20 per cent year on year until 2020. Although the market is expected to remain at the same level over the coming years, we have ambitions to continue growing through our concentration on our expert areas."
Keltech
Products: Acoustic Enclosures, Tanks, Cabins & Over-head guards and Telecommunications enclosures