Waxing lyrical
As the largest blender of wax products in the UK and one of the few specialist bespoke wax product manufacturers in the world, Kerax has gained an enviable customer base in a diverse range of industries
Established in 1962 by Tom Wilcox, Kerax today is renowned for its expertise in wax and wax blending. From wax for candle makers to surface protection waxes, the company manufactures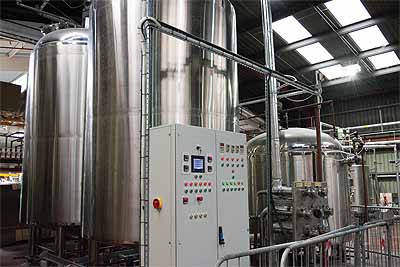 and supplies an extensive range of waxes and wax blends for various applications such as packaging, hot melt adhesive manufacture, household product manufacture and food and poultry processing. In addition to waxes and wax blends, Kerax is also a large-scale producer of petroleum jellies for pharmaceutical, cosmetic, industrial and commercial use.
"Kerax has a diverse customer list of end users of our wax products, with a significant minority of the manufacturing being for third party customers for whom we toll produce. Kerax also manufactures the wax for Warburtons' bread wrap and for waterproofing Barber jackets; we also supply Novartis Consumer Health, Boots Contract Manufacturing and Forest Tosara for cream manufacture of products like Savlon, Sudocrem and E45. Contract Candles use our waxes to make high end candles, and many of the all-weather horse racing tracks are bound together by waxes produced by Kerax," says Chris Bradley, Managing Director at Kerax Ltd.
Committed to the delivery of unparalleled service and the best possible prices, the quality conscious company is flexible to customer enquiries/requirements and fast in its response. Furthermore, the company's ongoing focus on investment in people and equipment, with the goal of developing new and bespoke products to meet individual customer requirements, also ensures it has a continually evolving product list that incorporates the latest materials. These products are developed within the company's dedicated development lab where three permanent members of staff and an intern work on the creation of novel blends, in partnership with customers, to develop fully commercialised products.
"When it comes to production, our highly flexible manufacturing plant has a spectrum of sizes of blend vessels, which means we can tailor-make equipment combinations to suit a very wide range of production, running from hundreds of kilos to hundreds of tonnes. Moreover, the ability to offer bespoke products over a wide range of delivery quantities means we can satisfy most customer requirements, while our well-developed quality control system and drive towards achieving cGMP qualification means customers are confident that buying British means buying dependability," highlights Chris.
"Our most recent innovation is our new range of soy waxes and hybrid candle blends, which have received an enthusiastic reception from the candle market," he adds. "While all new product
development is challenging, the most difficulties have come from substitution with vegetable waxes. It may be surprising, but the development of candle blends using soy wax and rapeseed oil derived waxes has been one of our biggest challenges in terms of product development in 2017." Developed and manufactured in the UK, KeraSoy waxes have been designed to produce candles with a premium quality finish, superior scent throw and superb glass adhesion.
In addition to the development of soy candles, Kerax has been heavily investing in the field of recycling wax, which is used in the aerospace and automotive component casting process, with the goal of improving the recycling process to reduce energy consumption and increase yield. To remain at the forefront of wax production, the company is also putting a significant amount of effort into the substitution of crude oil derived waxes with vegetable waxes – a considerable challenge. "Vegetable derived materials are in high demand due to their environmental and sustainable credentials, but the challenges in making these products perform are substantial. Vegetable waxes are very different in their physical characteristics from paraffin waxes, so considerable research in additive systems is underway to bridge the performance gap is constantly underway," explains Chris.
Another notable development for the innovative company has come from the equestrian sector, for which Kerax has witnessed significant demand over recent years alongside food packaging and vegetable wax in the candle market. "A major part of our business comes from supplying wax formulations to the equestrian surface market," confirms Chris. "Waxes are used to bind sand and synthetic fibre blends to give consistent performance over a wide range of temperatures and weather conditions. These benefits have previously only been available to race tracks as the application of hot wax products is a complex and difficult operation. However, we have recently developed emulsion versions of our waxes, which allow the manufacture of synthetic equestrian surfaces on a much smaller scale, which opens the market up for us to private training surface owners."
With an ongoing drive to meet the needs of customers and the market alike, it is no surprise that Kerax has flourished in a number of complex sectors and become the UK's leader in wax blending and supply. Aware that the continued substitution of vegetable waxes into traditional, crude oil derived wax markets is a trend that will continue to grow and accelerate, Kerax will continue to invest and innovate to ensure it delivers optimum solutions over the years to come, as Chris concludes: "The use of natural, vegetable derived waxes in the food industry is a market that we feel will expand in future years. For this, Kerax is developing barrier wax systems for recycled paper packaging for use in food contact applications where sustainability and migration of components from packaging into food are a concern.
"We are determined to be at the very forefront of this change into a sustainable and eco-friendly future. There are still many products that are manufactured from waxes for which there are no green alternatives; our strategy is to continually push the development boundaries to increase the proportion of our output that is vegetable derived."
Kerax Ltd
Products: Largest blender of wax products in the UK