Wax on, wax off
Having grown into the UK's leading wax blender and supplier, Kerax is now developing a number of new, commercially viable, and sustainable wax products and applications
As previously documented here in the pages of Manufacturing Today Europe a little over two years ago, Kerax has been a prominent name in the field of wax and wax blending since it was first established in 1962. Having invested heavily through the years in new product development and complex technical processes, the company has remained at the forefront of wax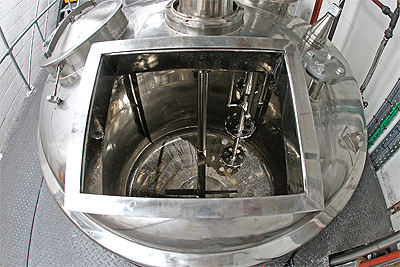 production, manufacturing and the supply of wax for candle makers, surface protection waxes and various blends, and is also a large-scale producer of petroleum jellies for pharmaceutical, cosmetic, industrial and commercial use.
"In terms of our general business, things continue to grow quite nicely indeed," states Chris Bradley, Managing Director of Kerax, when we spoke to him in August 2019. "Across the business, we have been spending considerable time, effort and capital on a number of exciting product developments a on installing, commissioning and launching a new manufacturing process that we are very excited about.
"From a product perspective, we have been having lots of success with the expansion of our range of candles waxes, and have been making great strides when it comes to the formulation of vegetable-based waxes. This has resulted in the creation of products such as our soy bean-based candle wax, KeraSoy. Our advances when it comes to vegetable waxes is also extending to our work on ultimately replacing the paraffin content within our traditional packaging wax product range. This requires a fair amount of R&D, particularly due to the difference in physical characteristics between the different types of wax, but the rewards are expected to be great, with the environmental and sustainability benefits it will create, resulting in a significant driver of demand from our customers."
Away from the product development side of the business, Kerax's engineering teams have spent the last few years primarily focused upon the development of a new wax emulsion manufacturing process, which the company expects to be a springboard towards future growth. "The launch of our wax emulsion process will bring about a significant change for Kerax in terms of an increase in the different types of products and industries we can supply, and the effect on future profit margins and turnover," Chris continues. "While there are already a large amount of wax emulsions used in a number of well-established markets – such as the manufacturing of chip board for example – where we are focused is on more niche applications that require more complex formulations. It is our ability to deliver these more complicated products that will significantly enhance our offering as a business."
Among the markets where such specialist applications exist includes the equestrian sector, where Kerax has been active for a number of years already. "For the last decade or so, Kerax has been a global leader in the production of hot waxes used in the manufacture of all-weather race tracks, and more recently in smaller jumping arenas and gallops," Chris explains. "While we have proven ourselves to be experts in this field, it does not come without its challenges, particularly the fact that hot waxes, with their melting point averaging 70 Celsius and above, need to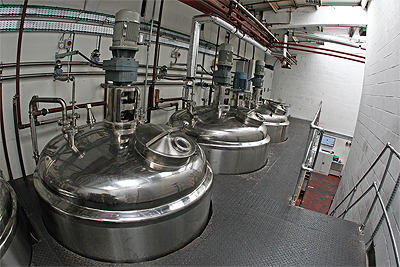 be transported hot, and then require specialist equipment to apply at the customer end. In response to this, we put into action an R&D programme to develop an emulsion form of these waxes."
The most significant result of this work was the development of equestrian wax emulsions that are able to be transported and used cold. "These new wax emulsions are considerably easier for our end customers to utilise, as they can be applied to the surface cold. The wax then separates on contact and binds itself to the surface, making it virtually instantly ready to use. The higher melt point of the wax in these emulsions also becomes particularly useful when using them in parts of the world that experience high ambient temperatures. This has opened a number of new opportunities to us as well, not least the suitability of these wax emulsions for dust suppression and as a water replacement tool."
Chris is equally as enthusiastic about other potential uses for the company's wax emulsion technology. "We have also been successful in developing technical applications that allow us to produce solutions such as more water-based wax lubricants and films, and water-repellent coatings," he adds. "It is within the latter categories that we have very high expectations, as these products are becoming increasingly critical in the food packaging arena, particularly for water proofing wood pulp, packaging systems. This is a market that is expanding very quickly, as more people move away from plastic packaging."
"Taking things further, and in a more technically advanced direction, we are also looking to leverage our expertise in wax emulsions to develop oil barrier systems for food packaging. Traditionally, such solutions involve the use of polythene films, which are notoriously difficult to recycle, or fluorocarbons. What our R&D teams are doing is working towards the creation of wax-based barrier systems that will act as an effective barrier to both water and oil, which is something that we are unaware of anyone else doing at present, and that we hope will bear significant fruit in the near future."
Last, but by no means least, a further undertaking currently being made by the company is seeing it develop products manufactured from waste plastic materials that would otherwise be headed to land-fill, incineration or the ocean under the brand name, Kerax PLASWAX. "We are pleased to be working in collaboration with a number of progressive and environmentally aware companies to devise ways of swapping out certain hydrocarbon waxes for PLASWAX," Chris details.
"Having now commissioned our wax emulsion manufacturing process, much of our efforts are now being focused on developing these waxes from plastic. Once again, this is a move that, for us as a business, we expect to be incredibly significant, and will see us take a leading role in an industry-wide movement that will see companies everywhere looking to showcase their commitment to sustainability and responsible operations."
Kerax
Products: The largest blender of wax products in the UK