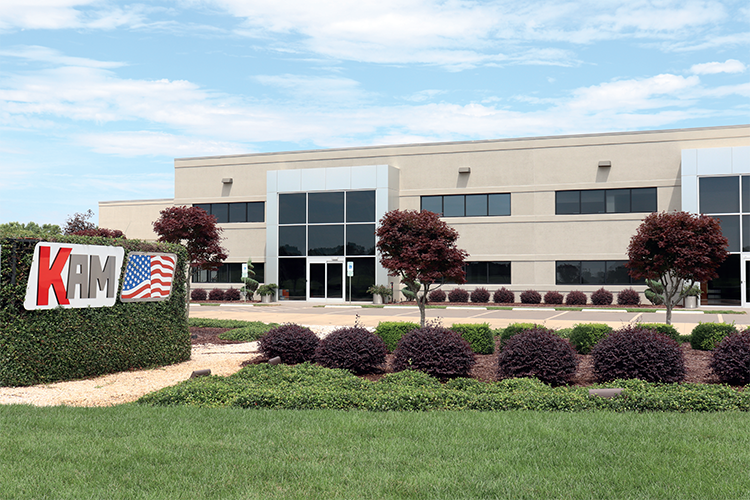 Keselowski Advanced Manufacturing
Manufacturing modernity
Since being founded by NASCAR legend Brad Keselowski, KAM has used its cutting-edge range of additive and subtractive solutions to become a leader of the modern-day industrial revolution
Based in Statesville, North Carolina, Keselowski Advanced Manufacturing (KAM) is a vertically integrated solutions provider of turnkey precision machined; additively manufactured components. The KAM team, comprised of top engineering, additive, quality, and machining talent, is all geared toward producing high-quality, high-value solutions for companies in the space, aerospace, and defense markets.
The history of KAM begins on the race track, with founder and owner Brad Keselowski. The well-known racer has been a NASCAR series cup driver for over 12 years, and in 2018, he put his years of experience and exposure to complex engineered systems in the racing industry to use with the establishment of his own advanced manufacturing company. "People often ask why a successful NASCAR driver would want to get involved in the crazy world of manufacturing, and more specifically AM," reveals James O'Toole, Vice President of Engineering and Sales at KAM.
Brad noticed that in terms of on track impact, additively manufactured components were exceeding the performance of more traditional manufactured parts. He realized there was no better way to leverage additive technologies for not only application in motorsports but more importantly a widespread adaption in industries such as aerospace, space, and defense.
"When you look at KAM, motor sport is not our target market. We do produce some components for racing, but we are much more focused on aerospace, defence, private space, and other industrial markets that additive manufacturing can add value to. Additive can offer solutions that traditional manufacturing methods are incapable of – whether that's in quality, complexity, or speed," James continues.
Spotting a gap in the market gave KAM a strong start, as the company began building up its facilities and personnel. "Brad got this company off the ground in early 2018, and since then KAM has been growing steadily. Year after year, we have added considerable equipment and continued to expand our team. When the facility started there were three additive machines in-house; now, we have around 19 metal additive machines, in addition to a collection of ten CNC machines which are equally important in our business model of vertical integration.
"Over a relatively short course of time, we have grown rapidly. The company has focused on growth not just in terms of equipment, but also personnel and working culture. For Brad, one of his biggest passions is creating a sustainable working environment, where we can bring in new talent, and work together to achieve our goals.
American made
"KAM's leadership team wants to make sure that this company is sustainable for future generations. He is passionate about manufacturing in general; coming from Detroit, he believes strongly in American-made products, and this is a way that he feels capable of giving back to that. The overall mission of KAM is to accelerate American manufacturing with its additive technology," James discusses.
Today, the company has an impressive and diverse range of capabilities. KAM is known for high-quality and efficient turnaround, as most of its operations are kept in-house. "Our vision, and current capabilities, have allowed us to become an end-to-end supplier for metal additive components. Unlike some of our competition, which may focus on strictly additive or strictly CNC capabilities, KAM is able to provide components to customers that are ready for integration with their end product. From the moment a customer contacts us, we are able to handle the entire process through the use of integrated project teams that include members from engineering, CNC machining, quality and program management," James explains.
"We are often working with customers who are not 3D printing experts, so it's important that our Solutions Engineering team can communicate everything effectively. We act as the expert for the customer, in order to help bring them a solution. We are prepared to answer questions, guide, and ensure the success of the project from beginning to end.
"The manufacturing process starts with our engineering department approaching the design required for the additive components working in lock step with the anticipated CNC machining requirements. The value of being vertically integrated is that we have our subtractive engineers working directly with our additive engineers to develop a comprehensive solution for our customers. It is that collaboration that allows us to come up with a full solution, and mitigate any bottlenecks, concerns or constraints down the road.
"We have a vast array of equipment here, including large platform EOS M-400-4's and mid-platform EOS and SLM machines to print the parts in aluminium, Inconel, titanium, stainless steel or other alloys as requested.
"After the part is depowdered our CNC team will take the part, which looks very similar to a casting or forging, and turn it into a finished component for our customer. Complex CNC machining takes places on a range of equipment, but the utilization of five axis machining centers with automated pallet changers allows us to meet the tolerances down to .0001, as well as customers' rate requirements through the use of lights-out machining.
"A strict focus on quality is part of KAM's company DNA. It is one of our utmost concerns throughout the manufacturing process. Through all these phases there are multiple quality checks and we have a large quality department that makes use of KAM's CT and CMM capabilities to ensure high-speed, high-quality end products," he elaborates.
Integrated process
Using its already in-depth knowledge of additive manufacturing, KAM has developed several unique testing processes and procedures. These operations ensure that the company remains the most reliable and comprehensive source of metal additive manufacturing solutions.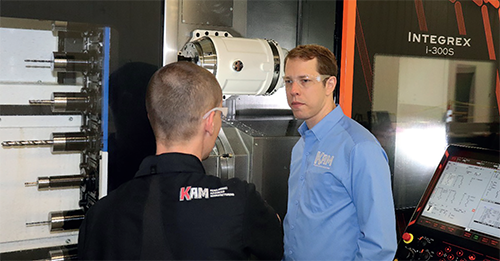 "We have a powder laboratory, and two PhD material scientists on staff. They analyze the powder morphology and chemistry of the raw material and perform metallurgical tests on printed samples, which makes their input central to KAM's success," James asserts. "As we work through things like internal parameter development or parameter validation, they are the ones who are leading that charge. They will cut and polish samples, and from there provide feedback regarding the material quality and printability.
"It's a huge benefit in terms of being able to work with such a quick turnaround. On the powder side, being able to examine new powder when it comes in helps add another level of quality control. We make sure that all materials meet our build requirements, and by using Hall flow testing, particle size distribution analysis, and morphology we verify the materials particles have the right shape and stability," he adds.
Vertical integration and high standards of control, ensure KAM's place as a figurehead of the moder n industrial revolution. This new era for engineering and manufacturing is data and technology driven, as James confirms: "The modern-day industrial revolution is all about elevating the use of industrial technology; in order to be a part of this movement, KAM's goal is to be a fully digitally integrated organization.
"Our printed parts are designed in CAD and all modern manufacturing files are electronic. To that end we have implemented a fully integrated paperless ERP system that allows us manage the entire manufacturing process electronically. There are digital control stations at each point in production to access prints, simulations, and sign off on digital routers."
Adding value
Some of the company's recent projects illustrate how KAM is changing the game for additive manufacturers, as James details: "We had a customer who essentially had a traditionally manufactured die component; the mechanism was produced out of a very hard metal that took a lot of time to machine because it had complex internal and external geometries. The customer came to us and said: 'Right now this part is manufactured with multiple different processes. We have a primary machining operation, then we have an outside process for heat treating, and finally we have multiple EDM operations in place.' Our Solutions Engineering team was able to respond with a great opportunity to utilize additive technology.
"When we implemented our solution, all those EDM operations were completely removed. They were no longer a part of the value chain, and this was very important because EDM was a very time consuming and expensive operation to complete.
"One benefit, therefore, is reduced lead time. We can create iterations of that part and find results in less than a week, as opposed to traditional methods where the product might sit in a queue for EDM for two weeks before it is processed. Again, most people would think AM has to be high-complexity but, realistically, the benefits of AM can be achieved in all industries."
Adding value for clients is a core component of KAM's over-arching mission. In order to maintain this, the company is reinvesting $5 million into an expansion of its existing production facility. "The expansion is interesting. One of the things that is great about KAM is the fact that we are in a 70,000 square foot building, giving us room to scale as we wish. It also means that any investments or expansions we talk about are being made strictly into manufacturing and personnel.
"Our return on investment is almost immediate, because we are not spending a year building a new portion of our building so we can house equipment, instead we are ordering a new piece of equipment from an OEM, delivering and installing it within a couple of weeks," states James.
With a number of new machines already on the floor, KAM predicts that the entire expansion will be complete by the third quarter of 2022. This comes at the perfect time, as KAM is establishing an unconventional part-for-part alternative supply chain for metal components. "We are always focused on innovation, and we are exploring a range of alternate supply chain solutions for traditionally manufactured parts. One great example is brazing; brazing has been used for hundreds of years at this point. Unfortunately, this traditional process is dirty and even well brazed components often fail pressure tests with leaks and poor adhesion. To solve this, KAM has produced a monolithic component that features all those cooling channels in one; manufacturing that component as one piece allows us to remove brazing from the equation entirely. This shortens lead times and customers get better, more reliable components.
"There is so much we can do in that niche, and we are connecting with customers in order to help them transition from traditional brazed components to additively manufactured components. From a technology perspective, education is an important part of working with customers. Our customers have the drive to implement AM technology, and we are guiding them through the complex process of design, implementation, iteration, testing, and qualification," James affirms.
With such impressive strides being made in the additive manufacturing market, it comes as no surprise that James and his team have big plans for the future of KAM. As James concludes: "For KAM, the outlook is great. We are experiencing growth in terms of revenue, personnel, and facilities based on what the AM market has and can sustain. Our penetration into different industries is important for sustaining this growth; KAMs work with the military, aerospace, power generation, maritime and hypersonic industries will only continue to grow over the next few years."
Keselowski Advanced Manufacturing
www.kamsolutions.com
Services: Serial additive manufacturing