Presenting the best
Kesslers creates merchandising display solutions that improve consumers' in-store experience, build brand activation and ultimately drive product sales
In the heart of vibrant Stratford, Kesslers International boasts 130,000 square feet of custom-built manufacturing facilities, with a state-of-the-art plant running 24 hours a day to meet the exacting standards of its clients. While Kesslers was founded in 1893 and has grown and adapted over its years in the industry, this past year represents a period of real change and momentum for the business, with new investment, new strength and a renewed desire for growth and progress.
Continuing to be a leader in brand and retail merchandising displays, the focus for 2017 is to build on its impressive reputation and further develop its presence in the marketplace,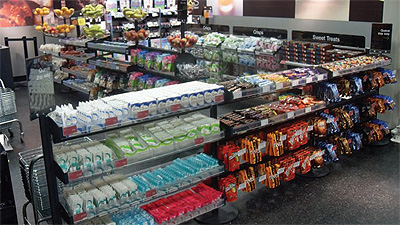 supporting even more High Street names and global brands than ever before. Kesslers has a 200-strong team working together to blend cutting-edge creative concepts with astute engineering and manufacturing. This is a business which prides itself on providing turnkey solutions, revelling in taking projects from notional concepts to installing fully developed displays, which allow its customers to wow in-store, driving sales and brand awareness. One of the key benefits of running such a high-tech facility is that Kesslers is able to offer these services in-house, enabling projects to be seamlessly managed from start-to-finish and providing transparent production timetables and one clear communication route.
Another benefit of having this level of oversight and control throughout the process is that Kesslers is able to implement a sustainable and quality assured design and manufacture process. As such, it adheres to audited standards and industry best practices, as well as a number of accreditations such as ISO 9001:2008 quality standard, and forestry stewardship. It also seeks to be environmentally conscious, complying with zero landfill policy and having a commitment to a lean philosophy across the whole business, and more.
The Kesslers ethos of customer-centricity is evident in the 'value-added' mentality throughout the business. From suggesting value-engineering options through the development process to researching emerging technologies, keeping up with the latest material innovations to understanding the hottest trends, the team take every opportunity to go the extra-mile for customers. The bi-annual Innovation Seminars are just one illustration of trying to lead the marketplace in forward thinking; bringing together its customers and industry colleagues to focus on and explore an exciting topic relevant to the merchandising display world, such as 'Omni-Channel Retailing' and 'Activating Brands in a Global World.'
Kesslers prides itself on thinking outside the box, challenging briefs, pushing manufacturing boundaries and creating truly industry-leading displays. There is a talented pool of creative and experienced design engineers that take brands' merchandising objectives and transform them into innovative display solutions that work across the global retail landscape. Furthermore, Kesslers has established international industry relationships, which have been cultivated over decades, meaning the experienced procurement team can easily and cost-effectively source globally through a network of trusted partnerships.
Thanks to the combination of an end-toend approach and experienced and dedicated staff, the business has established a proventrack record. A recent success story has been their partnership with New Look, supporting an exciting beauty launch across Europe. Supporting a programme of 500 stores across the continent, Kesslers has facilitated the re-branding and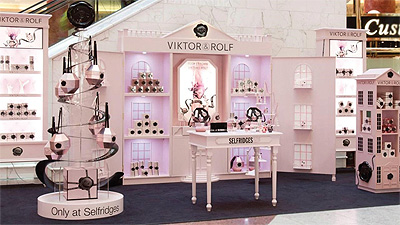 manufacture of a destination beauty environment in-store, showcasing a hugely extended cosmetics range and exciting new accessories, hair and body products. Using considered illumination; the new displays are a fantastic focal point within the thriving store estate, striving to put New Look at the forefront of fashion beauty. Implemented in fewer than three weeks, this engineering, manufacturing and installation project typifies the arena in which Kesslers excels.
Alongside this key launch, clients continue to be impressed by the support and expertise that this long-standing business offers from its London base. Retailers such as Sainsbury's, Boots and Co-Op benefit from smooth programme management with team infrastructures set up especially to deal with the pace and requirements of these High Street giants. Attracting clients such as L'Oréal,Marks and Spencer and Brompton Bicycles, customers enjoy the focus of a team, which really understands, and is invested in, the DNA of their brands. Little Greene is an example where Kesslers has been on board from the beginning, supporting it growing in strength, with its stunning displays now commanding a real presence in store, supporting a stronghold in the luxury paint sector.
These few examples are just an insight into the wide range of customers with which the business works, and they go some way to illustrate the level of quality Kesslers provides asstandard, as well as how it can create solutions that address a range of customer requirements. These qualities and more have been recognised throughout the years by a number of industry awards, with Kesslers proudly winning accolades for its fragrance display for Viktor & Rolf Bonbon at Popai Paris 2016.
Dedicated to sharing its expertise and capabilities with a global audience, the organisation has already booked its flights to EuroShop 2017, the world's number one trade fair, taking place in March. The sales and design teams will be out in force to see the latest innovations and meet with customers to discuss exactly what the company can offer. They are hosting an evening event for customers and industry partners to get together and relax at the end of a long day absorbing the latest that the sector has to offer. Therefore, with all of these positives considered, the coming years look set to see Kessler provide its leading design and manufacturing expertise to an increasing number of major clients.
Kesslers
Products: Brand and retail displays