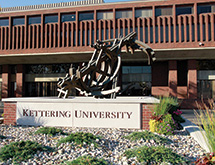 Kettering University is using its online master's program in lean manufacturing to bring its tradition of shaping industrial leaders to a global student body.
During the past century, Kettering's legacy of groundbreaking research has earned the respect of the manufacturing industry. The Flint, Mich., campus was founded in 1919 as The School of Automobile Trades with the goal of training engineering and management personnel.
In 1926, the school tightened its ties with the surrounding automotive industry when General Motors (GM) purchased the college and renamed it the General Motors Institute (GMI). It became a place for GM to train its engineers and managers and prepare its employees for future roles in the company. The university became independent in 1982, eventually adopting the Kettering University name in 1998.
Kettering University is a world-renowned university educating business and industrial leaders. Kettering graduates include high-ranking executives in companies around the world, such as GM CEO Mary Barra and Barron Precision Instruments founder Milford Barron. "It really is an institution that creates great leaders," says Christine Wallace, vice president for Kettering Global Campus.
The Global Campus
Kettering continues to foster the natural connection between its automotive roots and today's industrial students. As all types of businesses seek sustainability and efficiency by trimming costs and eliminating waste, Wallace says it has become apparent that a lean manufacturing program is a perfect companion for the school. For the past decade, Kettering has offered online master of science degrees in engineering management, operations management and lean manufacturing.
The programs typically take 18 months to complete and involve 40 credit hours earned through 10 courses taught by the instructors with the same high quality Kettering standards and academic rigor.
Students in the online master's programs work with STEM professionals who teach real-world skills they can immediately apply to their careers. Kettering recently upgraded the programs to create a more interactive environment.
Online students must complete required reading and research and then participate in in-depth discussions with professors and peers using Blackboard, a learning management system (LMS). Instructors provide students with regular feedback, and there are weekly assignments, often including team-based activities.
Kettering developed the online master's program in lean manufacturing to meet rising demand from manufacturers for workers skilled in lean management practices. "The MS in Lean Manufacturing really began under the impetus of General Motors, who was looking to find a way to bring lean and Six Sigma concepts into the company," Wallace says. GM approached Kettering to develop the program to support those efforts. "We were a natural partnership because [GM has] a long-term history with us," Wallace explains.
Since it began approximately 10 years ago, the master's program has expanded its focus beyond GM and has generated interest from a variety of businesses that can benefit from employees with knowledge of lean manufacturing. Today, Kettering's online enrollment has more than 400 students from businesses and government including, the United States Postal Service, Federal Express, hospitals, the military and countless other organizations with students hailing from as far as Mexico, Brazil, Canada and Afghanistan.
Meeting Students' Needs
The master's degree program in lean manufacturing is  geared to individuals who are looking to expand, change or evolve their careers by bringing added value to their organizations. Many students are currently working for a company but want to create an opportunity for advancement. The program teaches them how to apply lean concepts to their companies, but Wallace says many students find those principals carry over into all areas of their lives. "There are ways to reduce waste in everything we do, from manufacturing processes to business process," she says.
Support from the student's company is a key ingredient in a successful experience. Although all the classroom activity takes place virtually, Kettering's online students must apply their knowledge to their day-to-day work situations. In the Lean Manufacturing and Operations and Engineering Management final capstone courses, students can use a project from their organization to find a way to bring value back to the business. "There are a variety of applications that these students can bring back to their organization that not only make them more valuable but help their organization save money," Wallace adds.
Moving forward, Wallace says Kettering is working with its faculty to explore the possibility of launching a supply chain and logistics online program. Adding new degrees that support industrial employees will help the school retain its standing as the top-ranked college in Michigan and 12th-ranked nationally in terms of return on investment, according to Payscale.com. Those numbers, Wallace says, prove that Kettering is the best-kept secret in online education. "There are lots of online programs," she adds. "But not a lot of programs that combine the rigor and prestige of a Kettering University education with an online-only degree option."