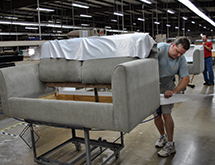 Kevin Charles Fine Upholstery LLC
Founded in 2002 with the goal of exclusively supplying upholstered furniture to City Furniture's chain of 16 stores throughout South Florida, Kevin Charles Fine Upholstery LLC was able to have its own 63,500-square-foot factory in New Albany, Miss., designed and built to its specifications to produce furniture just-in-time.
"Our first piece came off the end of our production line on Feb. 13, 2003," recalls Rusty Berryhill, president of Kevin Charles Fine Upholstery LLC. "We designed it and watched it built from the ground floor up. We have a great just-in-time and production flow from one end to the other.
"We have two production lines," Berryhill explains. "Each production line is made up of eight upholsterers, and we'll produce anywhere from 60 to 90 pieces per day per upholstery line. The two lines mirror one another. The employees are cross-trained, but they have their specialties. We try to isolate and run specific styles down certain lines because they're trained more so in those. You may have a style that has a round arm or a skirt that is more suited for the talent that's on one line vs. another. We try to use their expertise and talents as best possible."
Although the plant's employees primarily assemble the furniture manually, some automation is used. "We have a CNC fabric-cutting machine," Berryhill says. "We have the most up-to-date computerized sewing equipment. We work off a CAD system with our drawings and our patterns."
Retailing from $499 to $899 or more with sleeper beds, Kevin Charles Fine Upholstery's product line includes more than 300 units of sofas, love seats, sleepers, chairs, ottomans, accent chairs and upholstered headboards and footboards for beds.
The upholstered furniture uses wood frames as supporting skeletons that are CNC-routered from hardwood and plywood by a woodworking supplier. Only a few pieces have decorative exposed wood or legs, which also are obtained from a supplier. Kevin Charles uses high-grade, 1.8-density foam, and the company's Triple Comfort Cushion – which was patented last August – is being phased into all of the company's products. So far, approximately 75 percent of them have it.
The Triple Comfort Cushion combines different foams to provide more comfort and support under the user's legs. It also has virgin conjugated fiber, which means each fiber looks like a coiled spring and provides more pushback than standard broken fiber.
Lean Manufacturing
Combined with the efficiency of its custom-designed plant, Kevin Charles Fine Upholstery has had visits every month or six weeks from a lean manufacturing coordinator to improve its standard procedures.
"We've been on a lean journey for the past three years," Berryhill says. "At any given time, we may have three different lean initiatives or three different kaizens to try to improve. It's a never-ending journey, but we have implemented lean concepts and lean processes throughout our manufacturing facility, which has really made a difference. We have been very strong and very successful in implementing that throughout our facility, and it's a continuous, day-to-day process."
Kevin Charles Fine Upholstery also has been seeking ideas for improvement from its people on the production lines. "We've been using employee involvement to come up with a better mousetrap, so to speak, and also really emphasizing the fact that there's a place for everything and everything has its place," Berryhill stresses. "We've always been strong in that field, but this has really made us stronger."
Exclusive Retailer
Kevin Charles Fine Upholstery's unique relationship with City Furniture goes back to the company's founding. "Keith Koenig, who owns City Furniture and is its president and CEO, is also a business partner here in Kevin Charles Fine Upholstery LLC," Berryhill explains.
City Furniture's connection with furniture manufacturers goes back to its earliest days., Kevin Charles Koenig founded City Furniture in 1971 as Waterbed City in Fort Lauderdale, Fla., and his brother Keith later joined him. At that time, together they sought out manufacturers for furniture to complement the waterbeds. Founding Kevin Charles Fine Upholstery LLC was a way for City Furniture to exert more control over its supply and to provide a quality product at an attractive price point. The Kevin Charles brand is named after City Furniture's founder.
Berryhill says the company's biggest asset is its dedicated associates. "We have less than a 1 percent turnover rate," Berryhill maintains. "We have associates that are skilled craftsmen at what they do. In our county, we've been very fortunate that we've been what you call the hotbed of furniture manufacturing since the 1950s. So this area has been very blessed over the years to have a good market for labor and also very good suppliers and a good supply network for raw materials."