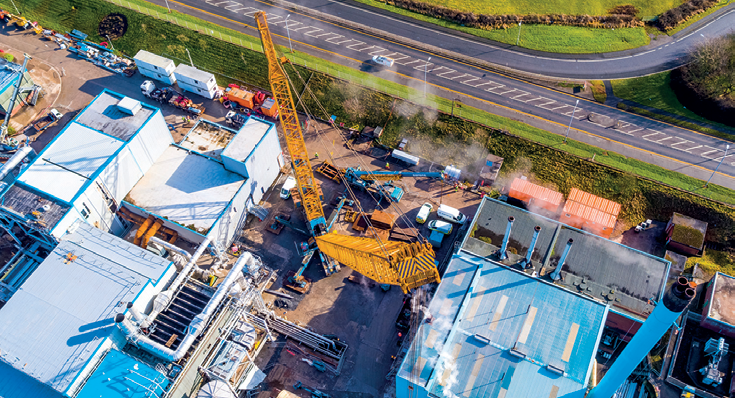 A company that cares
Home to some of the world's favorite personal care brands, including Kleenex, Andrex and Huggies, Kimberly-Clark is upgrading its facilities, increasing its focus on sustainability, and preparing to celebrate 150 years in business
On sale in more than 175 countries and locations, it is estimated that a quarter of the world's population use Kimberly-Clark products every day. Responsible for a host of adult care, child care, family care and feminine care brands – including trusted industry giants like Kleenex, Andrex and Huggies – the popular firm will celebrate its 150th anniversary in 2022.
Founded in the United States, Kimberly-Clark has, over the course of a century and a half, established a presence across the Americas, Africa, Asia, Australia, the Middle East, and Europe.
Though it continues to find success around the globe, large paper mills in Kent, Cumbria and Wales mean that the United Kingdom is becoming an increasingly important strategic location for the business.
"In the UK, Kleenex has received a Royal Warrant and Andrex recently ranked 4th in a survey of the nation's favorite Superbrands," Site Director Graham Ellis says. "From creating new categories to starting new conversations, we are constantly innovating and fulfilling consumers' ever-changing requirements – at every stage of their lives. Kimberly-Clark has always believed in its responsibility to make consumers' lives better.
"Fueled by ingenuity, creativity and an understanding of people's most essential needs, we create products that help individuals experience more of what's important to them. Our products hold the number one or number two share position in 80 countries, and we are home to some of the world's most iconic and trusted brands. We actually invented five of the eight major product categories in which we compete."
A truly global organization, Kimberly-Clark benefits from a supply chain that stretches across the world. By investing in this network, the firm has been able to build and maintain its competitive advantage, as well as improve resilience through flexibility and adaptability.
"The effectiveness of the supply chain is critical to a business, and by having such a large global footprint, we are able to attract talent from around the world into our organization," Graham states. "This global system also allows us to adapt and innovate in response to changing needs. We have a solid network of manufacturing operations across EMEA, which we can rely upon in difficult times. As seen this year and throughout the Covid-19 pandemic, we are able to work closely with our retail partners to adapt and respond, increasing deliveries to stores and getting products on the shelves more quickly."
As Graham points out, Kimberly-Clark deftly negotiated the challenges presented by Covid-19 in 2020, managing varying regulations, restrictions and geographical obstacles across its international operation. Even when borders closed early on in the crisis, the business worked closely with its logistics providers to ensure that raw materials and products continued to reach their destinations unabated.
"Over the past 12 months, we have experienced one of the most volatile and unpredictable trading periods ever," Graham reports. "Consumer behaviour changed rapidly and unpredictably – especially when the first UK lockdowns kicked in. As a producer of personal care products in the midst of a pandemic, we knew we would be in high demand. In some areas, we saw requests for our products increase by up to 300 per cent overnight."
Thanks to its quick and decisive response to the Covid-19 pandemic, Kimberly-Clark was able to increase market share in 80 per cent of its UK business units in 2020. "The ability of our business to grow during this time is testament to the hard work of all our staff," Graham notes. "Guided by clear priorities that saw us protect our people and continue serving our consumers and communities, we managed to strengthen our business for the future."
Finishing 2020 with positive results across the UK and EMEA regions, Kimberly-Clark was also able to take advantage of a shift in personal hygiene behaviours. For instance, cleaning, a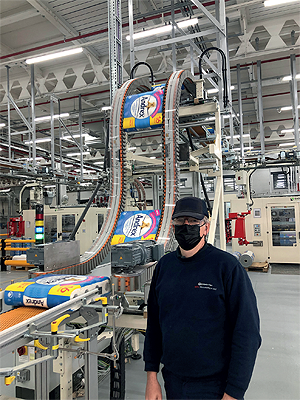 reactive behaviour in most homes before the pandemic, suddenly became a much more proactive practice following the Covid-19 outbreak.
"This shift in consumer behavior resulted in a significant rise in personal hygiene product sales," Graham reveals. "We were quick to recognize that consumers were now much more aware of their 'personal biosphere', so we rapidly developed a new category and launched an expanded product offering to meet the heightened needs for cleaning and hygiene, including the Kleenex Proactive Care Toolkit, which includes anti-bacterial gel, hygienic hand towels, wipes and masks – some of the most in-demand products for consumers."
One lasting effect of fluctuating demand during the pandemic has been an increased uptake in technologies to help improve operating systems and enhance resilience for future challenges. However, Kimberly-Clark did not wait until the pandemic hit to update and improve its production facilities. In fact, the firm had already launched a major two-year, £85 million upgrade program back in 2019.
"The UK is an important location for Kimberly-Clark's business operations, so we continue to make considerable investments into our facilities here," Graham remarks. "Our two UK Andrex mills make over one billion toilet rolls per year, but it's important to stay ahead of demand.
"Our £85 million upgrade for the paper mill at Barrow-in-Furness is scheduled to go live in July 2021," he adds. "Following the upgrade, the mill will produce the majority of the UK's favorite toilet roll, Andrex, and all boxed UK Kleenex products.
"The improved mill will make us the second-largest employer in the area, of which we're very proud. Since 2019, we've had up to 200 installation contractors working on any given day, and we currently have 100 commissioning engineers testing the equipment prior to start-up."
In short, the Barrow technology upgrade consists of three main parts: a new tissue machine, a new converting line and a rebuilt converting line. One of the most advanced elements to be installed was a Yankee Dryer, which weighs 137 tons and required a 1200 ton-crane to lift it into place.
"The machine truly is an innovation for the future," Graham says of the dryer. "It's designed to last 40 years! A lot of our new technology is cutting-edge and is first of its kind at Kimberly-Clark. For example, we now have automatic log saw blade changing within our new converting equipment, which is a much safer option than we had before."
As well as providing Kimberly-Clark with a substantial increase in production capacity – the site will now be able to manufacture 2.7 million toilet rolls per day – the upgraded Barrow mill will also serve to improve the company's sustainability credentials. New tissue machine technology makes use of the latest waste heat steam generator, which will help to reduce the company's carbon footprint, and in total, the Barrow investment will decrease Kimberly-Clark's Barrow Mill energy consumption by 30 per cent and water usage by 50 per cent, for every ton of tissue made.
As significant as the sustainability improvements at Barrow will be for Kimberly-Clark and its quest for a greener future, the site is just one element of the company's commitment to halving its global environmental footprint by 2030.
"Our purpose is to make lives better with as little impact on the environment as possible," Graham declares. "In the last 15 months, we have launched a number of initiatives surrounding the removal of hundreds of tons of plastics from our core brands' products, including the introduction of Huggies Pure Biodegradable Wipes, which are entirely plastic-free.
"We launched new sustainability targets in 2020 for the next decade and we will continue to review opportunities to reduce our carbon footprint. We recently secured a UK Government grant to replace our aging boilers with high efficiency assets and work on that will start in 2022.
"Overall, in the next ten years, our goal is to reduce absolute Scope 1 and Scope 2 emissions by 50 per cent, and absolute Scope 3 emissions by 20 per cent. Our objectives are approved by the Science Based Targets initiative, which means we are in-step with the latest climate science on this. It's going to be a big part of our future."
In what has been an unimaginably challenging year for many, Kimberly-Clark has offered vital support and protection to many people around the world. Over 2500 charitable organizations across the UK benefited from Andrex, Kleenex and Huggies donations in 2020, and the company continues to give back through its partnership with In Kind Direct. Whether through its charity work, sustainability measures or innovative products, Kimberly-Clark's dedication to changing lives for the better will persist – now, and for years to come.
Kimberly-Clark UK
Products: Personal care products
www.kimberly-clark.com