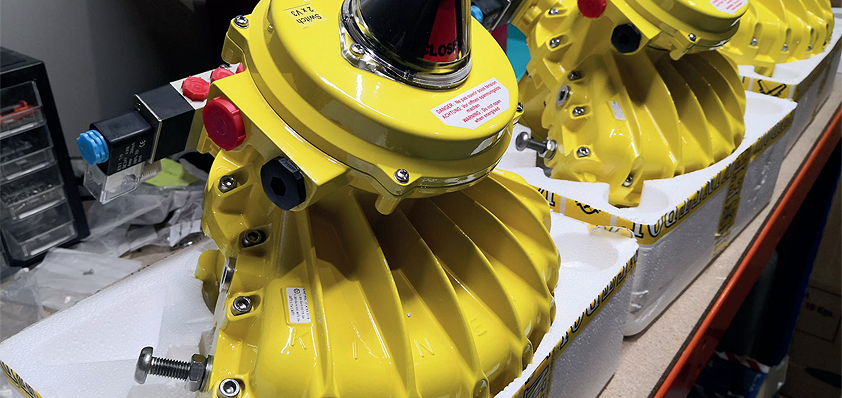 Complete control
Steeped in high-end engineering, innovation and technical competence, Kinetrol is a pneumatic actuators, controls and rotary hydraulic dampers manufacturer exploring new opportunities to diversify and expand, with some exciting innovations and expansions that will send shockwaves through the industry
'The stars aligned' is how Tim Bessex describes the situation surrounding his appointment as Group Sales & Marketing Director at Kinetrol in October 2020. Previously a Management Board Director of Rotork and a senior leader at
Norgren, Tim's track record of success piqued Kinetrol's interest and the Surrey-based manufacturer jumped at the chance to bring him onboard. The admiration, it's safe to say, is mutual. As he prepares to launch a new strategy of growth designed to take Kinetrol to the next level, Tim explains that, though he has only been at the company for a short time, he has already been blown away by the firm's strong culture and ideology.
"As a new person coming into this company, and someone who has a great deal of experience, I love Kinetrol's commitment to its values," Tim declares. "One can work in organizations with banners on walls and slogans on pens announcing that they care about values and family culture, but it is rarely put into action. In fact, all too often, a company with a strong cultural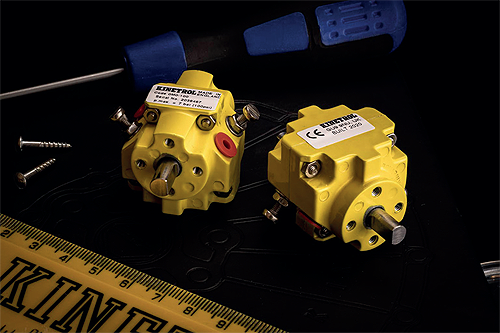 heritage can evolve to become little more than a corporate investment machine that will always put share price before people. Kinetrol, however, is different. It's massively refreshing to work for a company that genuinely puts people and customers first and actually lives out its professed culture. Kinetrol is proof that, when you truly value your people, customers and principles, success will always follow. I am incredibly proud to be associated with a company that thinks that way."
Established in 1958, Kinetrol has been owned and operated by the Nash family since its founding. Originally a firm of control engineers, the company soon developed rotary hydraulic dampers for smooth motion control, before later inventing a patented vane-type rotary pneumatic actuator that became its cornerstone of success.
Building on this history of innovation, Kinetrol's modern offering includes pneumatic actuators, spring-return technology, rotary dampers and a variety of actuator control modules, all fully tested and inspected onsite. Today, Managing Director John Nash leads the firm and the company counts his nephew George Nash – a skilled engineer, as well as an Olympic gold medalist at Rio 2016 – amongst its ranks.
Based across three sites in Farnham, Surrey, Kinetrol is a privately-owned British company, however, 80 per cent of its products are exported to strong global automation, water, oil & gas, power, and industrial automation markets including the USA, China, France, Spain, Germany, the UAE and Malaysia. To support this demand, Kinetrol boasts an ever-increasing number of overseas subsidiaries providing sales and service activity, as well as value adding valve automation centers in the UK (Powerite) and Dietrich Schwabe in Germany. The company's worldwide appeal does not come without good reason and Tim suggests that it all starts with Kinetrol's renowned technology.
"Kinetrol's foundations are built on breakthrough technologies, with the development of a range of innovations, namely the rotary hydraulic dampers and spring modules," Tim says. "A rotary hydraulic damper is basically a fluid contained rotary device that decelerates fast rotary movements. It was a true building block for this company's design portfolio and led to the development of the rotary vane actuator, which is now by far the most important part of our current product range.
"It is also critical to mention the success of the spring packs that give ultimate fail safe control. Our failsafe technology line is built upon simple spring return modules used to automatically and manually open valves," Tim remarks. "Also known as 'dead man's handles', this innovation means you can open a valve manually, but when you let go, the valve will automatically close, even if you forget to close it. The range includes an automated version that sits within the actuator module, and later in 2021, we'll be introducing a reversible spring. In simple terms, it's one spring that you can use for both clockwise and anti-clockwise motion.
"The fundamental philosophy of the rotary actuator device is that it's uniquely simple in its one-piece design, meaning the reliability is superior to other rotary technologies. From there, Kinetrol developed the positioners and the switch boxes used to control and receive feedback from the rotary movements. The solutions we offer can use any of the components I've mentioned – the rotary hydraulic dampers, the actuator, the spring packs or the positioners – either independently in solutions or combined.
"Ultra-precise and possessing unparalleled reliability," Tim adds, "the solutions we deliver often serve demands where the need for very high cycles and precise control is so significant that our competitors' technology would not suffice – we count our cycles in millions rather than tens of thousands. From a device that fits in the palm of your hand to one over a meter in radius, our solutions are suitable for a huge variety of situations and operate as a convenient answer for automation as well as valve control."
Kinetrol's reputation as an innovator and leading light in British engineering means the company is confident that it can solve problems that others can't. Typical issues the company's clients face include pipeline water hammer – a phenomenon that can occur in any piping system where valves are used, characterized by a pressure surge or high-pressure shockwave when fluid in motion is forced to change direction or stop. Encountered by customers on every continent, water hammer damages pipeline systems, causing bursting and dynamic forces that can
lead to serious cost implications and potentially even injury. Luckily, Kinetrol has the answer.
"Lots of companies have tried and failed to solve this issue, but the only firm that can do it effectively is Kinetrol," Tim states. "Benefitting from the combination of those parts I talked about earlier – a positioner, the actuator itself and then the hydraulic damper – Kinetrol can fix water hammer.
"Another completely different application is the use of actuators in pneumatic manipulators," he continues. "Due to the way these manipulators work, the shape, form, fit and function of Kinetrol solutions are perfect. A lot of these
solution providers say, 'If it wasn't for Kinetrol, how would I do this?'.
The solution would certainly be a lot more complex, whereas you can just install your Kinetrol rotary actuator at the elbow point of a manipulator and it replicates that elbow motion. No other pneumatic or electric actuator can reproduce that motion as easily or in such a cost-effective way."
In 2021, Kinetrol is set to launch a number of new exciting products and range extensions, including the Model 60 actuator, which will be the largest product the company offers upon release, as well as additional reversible spring technologies and further enhancements and innovations in adjacent markets.
With enormous opportunities on the horizon, Kinetrol expects to significantly grow in terms of turnover over the next five years. To help facilitate this expansion, Tim has laid out a three-year strategy that will see the company branch out into new markets and open offices in new locations.
"Our core competences are applicable to numerous markets and our solutions have the ability to cause a big shockwave in a host of sectors," Tim points out. "We are capable of taking our well-established building blocks and applying them effectively to what some people would assume are completely different markets to what we're used to. It might actually come as a surprise to some people to see the adjacency and compatibility our technology has in these areas."
Increasing Kinetrol's global footprint is also on Tim's strategy and a number of locations have already been earmarked in Asia, Europe and Latin America where the company hopes to increase its third-party distributors and agents, as well as significantly expand its own subsidiaries. Leveraging his 25 years of industry experience and long-term relationships built with third-party distributors worldwide, Tim is looking forward to searching out more people and companies interested in becoming a part of Kinetrol's journey, as well as overhauling the company's website and digital footprint.
"Kinetrol has always been a typically traditional company in the way that it markets itself," Tim reveals. "We want to seize more opportunities to broadcast our success of adding value to customers. One of my core priorities now is to change and improve our digital footprint, which will include a substantial investment into our website, alongside
increasing our presence on social media. Since I joined the company, our followers have now increased by two orders of magnitude. It's a good start, but it is only the beginning. We are embarking on an exciting digital transformation."
Vertically integrated and self-sufficient, Kinetrol will continue to design and manufacture market leading solutions in the years ahead, creating and delivering pneumatic actuators, controls and rotary dashpot technologies that set the firm apart from
the competition. According to Tim, the company's technical capacity and irrepressible spirit mean that no industry challenge is insurmountable.
"Kinetrol is the kind of company where, if we don't have the capabilities to deliver a project, we will acquire them and formulate a solution in-house," Tim asserts. "Kinetrol's philosophy revolves around self-performing, using our core competences, and making things happen."
Kinetrol
Products: Pneumatic actuators, controls and rotary hydraulic dampers
www.kinetrol.com