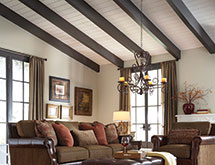 Knowing that each customer has unique tastes and needs, furniture manufacturer King Hickory specializes in providing customization and value while creating the highest-quality product.
As a family owned furniture manufacturer, King Hickory has served its customers for more than a half-century. It has always built and upholstered its furniture in the United States while competitors moved operations to China. John Palmer, owner and president of the company, says this is because of its enduring commitment to the highest American standards of quality and durability, which is made best through handmade craftsmanship. Also, creating furniture close to home has allowed it to further benefit the customer.
"The big difference is in how we sell sofas to retailers compared to the way the Chinese do now – in one fabric or one leather," Palmer says. "Our customers can get their pieces in over 900 fabrics or leathers delivered quickly to their specifications – sofa, sectional, etc. One style may have over 20 different pieces associated with it. So once the customer finds something they like, we can make it fit to those specifications, and China can't do that."
Making the Switch
Another reason the company has been able to offer such customization to the manufacturing process is through the use of new technologies. King Hickory began incorporating CAD and Cam technology and purchased Shoda CNC equipment to create intricate hardwood and plywood frames. It started with one CNC router and the company has recently added a third. The technology allows King Hickory designers to create frame shapes that were not possible in the past and in less time than traditional hardwood frame manufacturing.
"What used to take us two weeks to build a frame, we can now cut more efficiently," Palmer says. "So now we can manufacture our frames just in time and offer more than in the past. It allows the customer to DIY. They can change the arm, the back, or the leg, etc.
"It's common now, but it was very unique when we started, and it empowered the consumer to do what they want, which really helped our business," he adds.
Another investment that has allowed King Hickory to keep up with demand is automated cutting machinery to cut its fabric; it just added a fifth one to its production floor. These machines also help reduce waste in the cutting process, which is good for sustainability and environmental impact. Many fabrics and all leathers are still cut by hand, the old-fashioned way, to maintain high-quality in its pieces.
"A big part of our business is the leather and fabric combination, where half of the furniture is made of fabric and half is made of leather," Palmer says. "It's a nice, unique look and we sell a lot of it, especially in the West. The customers like to have leather in the places where the sofa sees a lot of wear and use fabric in places where it touches their skin. We did our first one in 1994 and even though it's not that unusual anymore, to do it on the scale that we do is. Not many do the numbers that we sell."
In Control
One of the reasons King Hickory keeps its leather cutting in-house is to give it more control of its operations as the upholstered furniture market bounces back. Another big consumer trend King Hickory is seeing is the gravitation toward sectionals rather than sofas, which is a switch that's been happening for the past five years. It used to be a small part of its business, but now "we refer to ourselves internally as a sectional company rather than a sofa company," Palmer says.
As consumer tastes continue to change, King Hickory wants to be ready to meet them all. The company already does its manufacturing in-house, and increasing its internal skills even more will position it to better "control the quality and the output of our business and allow us to control our own destiny," Palmer says.
If the current market signs are an indicator, King Hickory's destiny is looking good. Palmer says the industry has stabilized since the 2008 recession. That year began the demise of many furniture retailers in addition to furniture manufacturers.
"Without our retail base, we are nothing," Palmer says. "We have developed many strong, multigenerational relationships with retailers, of which we are very proud, and we constantly strive to improve the experiences of both retailers and consumers with King Hickory. The industry is stabilizing now and many of our retailers are adding stores again instead of closing them. This speaks to their resilience and their passion for providing quality service to consumers."