Tailor-made solutions
Specialising in the contract manufacturing of goods with electronic content, Kitron helps customers benefit from greater flexibility, costefficiency, innovation and accuracy across the entire value chain
The origins of Kitron date back to the 1960s with the establishment of Stratronic and Electronic Bureau in Arendal. During the 1980s, Kitron's business idea developed into contract manufacturing of electronics and went onto extend further, with the entire value chain surrounding the manufacturing and assembly of electrical products. Listed on the Oslo Stock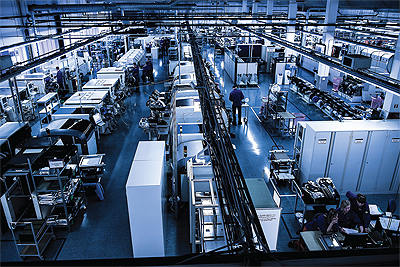 Exchange in 1997, Kitron strengthened its market position and competence through a number of mergers and acquisitions over the years and has since become one of Scandinavia's leading EMS companies.
"Today we have a global presence, with operations in six countries spread over three continents; a workforce of 1350 personnel and a turnover that is expected to land between NOK 2150 million and NOK 2350 million in 2017. Furthermore, in December 2016 we became one of 57 companies listed on the Oslo Bors Benchmark Index – OSEBX," says Israel Losada Salvador, COO at Kitron Group.
Headquartered in Asker, the company's core areas of expertise are in the defence and aerospace sectors as well as energy and telecoms, industry, medical devices and offshore and marine. "We are specialised in delivering solutions for companies that operate within market sectors demanding highly reliable products," says Tommy P Storstein, VP Sales and Marketing at Kitron Group.
He adds: "Our customers outsource to Kitron as we can deliver improved flexibility, cost efficiency and innovation power throughout the entire value chain. To give some examples, we make sure that our customers choose the right components, at the right price, from the right manufacturer to ensure availability throughout the entire planned life-cycle of the product. We also optimise the product design to safeguard manufacturing efficiency by providing prototypes, which means the product complies with its intended use and all applicable regulations. Last but not least, we test the product to make sure it will not fail under operation."
Customers also benefit from Kitron's global footprint, which includes operations in Norway, Sweden, Germany, Lithuania, China and the US; this presence provides strong coverage of Europe, Asia and North America and thus ensures the company can offer cost-efficient manufacturing and distribution models that enable customers to hit the time-to-market window for their products. "Thanks to our capabilities and strengths, customers such as Lockheed Martin and SAAB have outsourced to us to manufacture electronic modules for the F-35 and JAS 39 Gripen fighter jets, and GE has decided to let us manufacture its ultrasound machines," highlights Tommy. "Other proud references I can mention include respiratory machines for Getinge, electronic control units for Bombardier trains, control units for ABB robots and separation boosters to NAMMO for the Ariane space rockets."
To stay ahead of the competition, Kitron has invested more than NOK 230 million in its factories, as Israel notes: "We have expanded and upgraded our factory in Lithuania and built new factories in Norway and Sweden. On top of this, we have invested heavily in automation for all of our sites as well as manufacturing equipment such as five new surface-mount technology (SMT) lines." With these investments in place, Kitron has increased operational efficiency and its capacity to support planned growth; it has also decreased operational cost, as Israel continues: "One example of this is that we have built a new 'green building' in Sweden in accordance with future needs and available technology; this has resulted in an increase in capacity for this site by 50 per cent while at the same time reduced the opex by 30 per cent."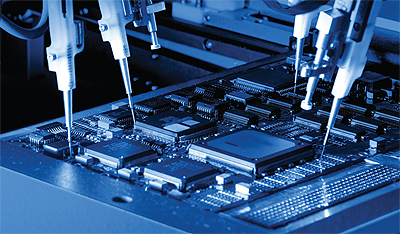 Aware that ongoing success is down to understanding the true needs of customers and the ability to adapt in a manner that will add value, Kitron gains insight into each client's specific intentions as well as the business conditions they operate within. "At the same time, you need to have a deep application knowledge of the customer's products and processes in place to be able to add value beyond manufacturing. Only then will you be able to grow the business through horizontal and vertical integration," comments Tommy. Further strengthening the company's ability to meet the needs of customers is its development of an operational excellence plan, which is based on having a clear strategy, accountability and real time business intelligence. "Combining this with state-of-the-art equipment and systems ensures that we deliver a flawless product in timely fashion at the best possible cost for the customer," highlights Israel.
"This strong focus on offering services that will add value for our customers in combination with our operational excellence programme has given us noticeable results," Israel continues. "Despite a general decline in the oil & gas market, which has impacted Kitron with more than NOK 200 million reduction since 2014, we have been able to generate growth on both the top line and profit for the last 14 consecutive quarters. In fact, the last financial report showed a staggering 15.2 per cent growth in revenue and 37.5 per cent growth in EBIT profit for the second quarter of 2017 in comparison to the same period in 2016."
As the business conditions for the EMS industry continue to evolve, so too will Kitron's diverse range of customers and the company's ongoing understanding of their developing needs. "This means that what our customers are appreciating as of today, it will be expected and taken for granted tomorrow. An example of this is expectations for yearly price reductions, which offers opportunities for companies like Kitron as we have the ability to adapt to new requirements and have processes in place for continuous improvements," says Tommy. "Hence, adding value for our customers will add value for Kitron and our shareholders. The share price development of Kitron is solid proof that we have been able to deliver according to our commitments to the market, with the share price increasing by 418 per cent since 31st December 2014!"
With a strategic agenda in place, Kitron is in an enviable position as it seeks to accelerate organic growth further, develop operational improvements and seek out targeted mergers and acquisitions. "We have clear and credible targets set for each area, which we have consistently met and even exceeded in some areas," concludes Israel.
Kitron ASA
Products: Manufacturer of electronic goods