A comfortable future
Embodying the latest technology and the best craftsmanship, Klöber GmbH represents a leading German supplier of office seating in terms of both form and comfort
Established in 1935 by Mrs. Margarete Klöber as a small-scale factory for the manufacture of chairs to promote healthy posture, Klöber today represents one of Germany's leading office seating manufacturers. The firm has grown impressively and today has approximately 140 employees based at its manufacturing and administrative facility in Owingen, on the shores of Lake Constance. The company has built a strong tradition of operating through close working relationships and teamwork, as well as a seemingly inexhaustible well of inventive talent, which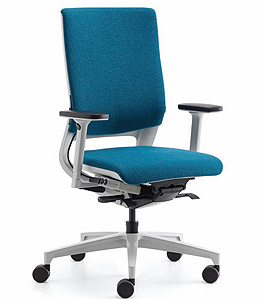 has allowed Klöber to successfully position its brand in more than 25 countries around the world.
"A Klöber customer is someone who appreciates quality, good ergonomics, value, innovative design and technical features. We work with a wide range of business competences ranging from large scale multinational clients to businesses run by a single person, all of which are supported by our inhouse sales team and an extensive distribution network," reveals International Sales Director, Greg Hartwell. "We focus on maintaining our core strengths of quality, innovation, design and ergonomics. It can be all too easy to be distracted by the latest fashions, but we strive to ensure that everything we do is underpinned by these fundamental principles and our customers value this commitment."
Klöber operates as part of the Sedus Stoll group of companies, which represents a significant strength for the business as it allows the company to retain a high level of independence whilst utilising the strengths of a well-managed and financed organisation. By leveraging more than eight decades of industry experience and the support of its parent company Klöber has developed an extensive product line that includes task, meeting, conference and lounge chairs – ensuring that the business is able to provide a relevant solution to each of its client's unique requirements.
During October 2016, Klöber announced the arrival of several new office products, comprised of its Klimastuhl® and Connex2 task chairs. Each of these innovative new designs was developed in-house using the latest science and experience to enable the company to deliver revolutionary office furniture that meets the intensively dynamic requirements of an increasingly digitalised office space, while continuing to promote both the motivation and wellbeing of employees.
The Klöber Klimastuhl® line was developed to provide a definitive solution to the problem of addressing the need for employee comfort in the face of differing perceptions of an ideal working temperature between employees. Typically there is always a general macroclimate within an office environment, which is primarily caused by influences that are controlled centrally, such as heating, air-conditioning, window ventilation and direct sunlight – but can also depend on the building structure. This means that it is only possible to influence this macroclimate to a certain extent – and everyone has a different perception of the ideal temperature at work. For this reason the room temperature is always going to be a compromise.
Now with the Klöber Klimastuhl®, each user can actively control the temperature because the heating and ventilation functions are integrated within the seat itself and backrest with each component incorporating two adjustment settings. The heating function warms the body contact surfaces through the seat and back up to a maximum of 37 degrees – normal human body temperature. The ventilation system conducts excess heat away from the body, as well as allowing up to 95 per cent of moisture from the seat and up to 74 per cent from the backrest to evaporate, which produces a pleasant cooling sensation. The overall effect is to increase workplace comfort, which can lead to a noticeable increase in output.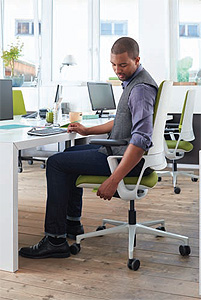 The Connex2 chair was designed was developed with ergonomics in mind and has functionality and aesthetics built into its design to bring a breath of fresh air into the office. The seat employs just three levers for adjustment, which can be clearly identified from the user's perspective. By using these levers it is possible to easily adapt the Connex2 to an individual's requirements, as well as adjusting seat height, depth and lumbar support to suit personal preferences. Everything else happens of its own accord thanks to the automatic point-synchro mechanism and threedimensional seat movement – the point-synchro mechanism takes the individual bodyweight into account, allowing a wide opening angle when leaning back without losing contact between the backrest and the sitter's body, while the threedimensional seat movement allows dynamic lateral left-right movement.
With these products and its existing line of seating solutions, Klöber is well positioned to continue to define itself in the competitive space of supplying furniture within the office environment, while further developing innovative designs to match the changing needs of its clients. "I think that the market is very encouraging and yet challenging at the same time. We are a growing business that enjoys year-on-year positive results, with ambitions to develop further in support of our existing core markets and forging new business elsewhere as the global economy evolves. The biggest challenge is ensuring that our core strengths and commitments are communicated effectively to all of our partners as this consistent message underpins our success," Greg concludes. "We must continue the journey started over 80 years ago and further develop our brand as one of the leading office seating manufacturers in the world."
Klöber GmbH
Products: Innovative seating solutions