Infinity and beyond
With 32 sites across 18 countries – four in Europe, nine in the Americas, and four more spread across Australia and Asia – Klöckner Pentaplast (kp) is a plastics manufacturer with a truly global presence
Founded in 1965, the firm has become renowned for delivering innovative films and trays for the food industry and medical sector, success that is manifested in an annual turnover of around two billion euros. Benefiting from a highly skilled workforce of close to 5900 employees, the sheer volume of the company's output is staggering.
"If you take the three main product groups that we operate in – trays, flexible film, and rigid film – we produce about 11.9 billion trays, 62,000 tonnes of flexible film, and 595,000 tonnes of rigid film a year," kp's Strategic Business Director Matt Richards reveals. "It goes to show that we are not only a global leader in innovation but also in serving our customers with high quality packaging."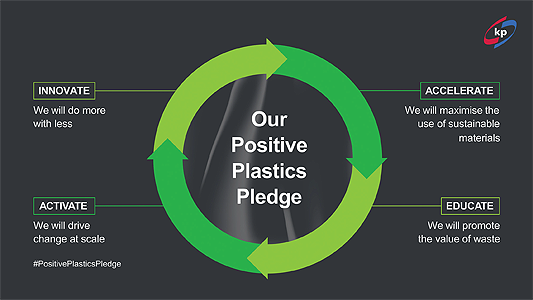 After more than 50 years in business, kp has become a specialist in the design and manufacture of sustainable film and trays that provide product and food safety and protection, help to avoid food waste, safeguard medication and medical devices, and protect the integrity of countless products. As of 2020, the company operates through two defined business channels – a pharmaceuticals, health, and specialities division and a food packaging division.
"The range of products we supply in terms of health, pharmaceuticals, and specialities is wide, varied and covers lots of different applications and marketplaces," Matt explains. "We supply materials for making credit cards, labels that shrink wrap round bottles, home and building products, laminated work surfaces, and the clear materials used for blister packs of razors and toothbrushes. Our activity in the pharmaceutical segment is even stronger, where we supply the materials that hold tablets, syringes, and a number of similar medical applications."
Performance packaging
kp's food packaging division makes up around half of the company's total business. Trays produced by the company are used for fresh protein packaging in the retail sector, salad and fruit packs, packaging for bakery, and for dairy, and food-to-go containers for kebabs, burgers, chips, and other takeaway foods. kp also supplies high barrier and stretch flexible film for the wrapping of cheese, meat, and fish at retail counters, and plastic sheets for form-fill-seal machines.
"Our trays are predominantly polyester," Matt states, "but we also produce some PVC, expanded polystyrene, and expanded polypropylene products too. The materials we use have helped us to become market-leading in terms of performance, as well as sustainability. Historically we've been heavily involved in expanded polystyrene, but one of our key innovations in recent times has been the award-winning kp InfinityTM, which is about moving from expanded polystyrene into expanded polypropylene, enabling us to manufacture a fully recyclable takeaway box."
Launched in November 2019, kp's expanded polypropylene-based kp InfinityTM range is not only fully recyclable but microwaveable, lightweight, durable, water and oil resistant, and proven to keep food hotter for longer. Widely recognised as a next generation packaging solution, kp InfinityTM has been proven via an independently run Life Cycle Assessment, to be the most sustainable packaging solution on the market, outperforming other material solutions with its significantly reduced energy requirements, lower water consumption and carbon footprint.
"When we developed kp InfinityTM, we spent time with independent experts who led consumer research surrounding the needs of a takeaway product to ensure that the packaging design and its technical functionality was going to be sufficient to meet the needs of the environment it had to operate in," Matt remarks. "It was clear to us that we needed to develop a sustainable solution for the takeaway marketplace, something that could be considered fully recyclable while maintaining all the technical attributes that the product line needed.
"When you're talking about takeaway packaging, and particularly a foam-based product like kp InfinityTM, keeping food hotter for longer is absolutely key. The change in the way we purchase takeaways is making that requirement even greater because the increase in companies like Deliveroo and Just Eat mean lots of takeaways are now delivered. As the need to keep a food product warm over a delivery journey has significantly increased, so have customer expectations increased regarding the performance of packaging."
As Matt alludes to, Research and Development plays a key role in the design of kp's new products. This task falls to company's Marketing and Innovation Department, whose responsibility it is to manage the company's existing product portfolio while ensuring that a pipeline of innovation remains in place, guaranteeing the firm is always ready to meet the needs of its customers.
Dedicated to research
"Our dedicated Product Managers look after key product groups, so, for example, we have one manager dedicated to trays, one dedicated to films, another looking after form-fill-seal materials," Matt reports. "Our experts are required to look two to five years into the future and predict what the innovation needs of that product are likely to be. What will our range of trays look like in three years' time? What innovations are going to be required to keep us ahead of the competition? How will we address changing costs or developments in sustainability? We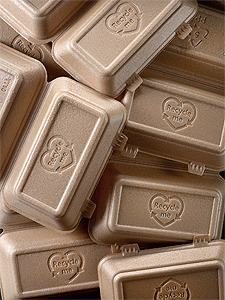 invest in market research and insight to guide us on megatrends and macro trends, in all the markets we serve.
"We believe that having a resource specifically allocated to looking at the future of our product portfolio gives us a distinct advantage over and above our competitors. I think it's something that sets us apart and enables solutions like kp InfinityTM to develop. Yes, we talk to our customers, and working collaboratively with our customers is hugely important to us, but we also look at what their customers want as well further down the value chain. We want to make sure that our products on the marketplace are fit for the total supply chain, now and in the future."
Of course, as consumers grow increasingly critical of single-use plastics, and demand the industry to be more eco-conscious, all kp's research is suggesting that the sector must offer more in terms of sustainability. Matt argues that this is nothing new for a firm eager to lead the way in the provision of sustainable rigid and flexible plastic solutions that improve lives, communities, and health, whilst protecting the planet.
"Consumer awareness around the environmental impact of packaging is far greater than it's ever been," Matt asserts. "Customers have always been aware, but I think a number of programmes and documentaries took sustainability from the pages of the corporate document and transferred it directly into people's homes, leading to a sudden surge in the levels of insight and demand for change.
"As a company, we like to think we've always been slightly ahead of the game on this. The requirement for sustainable packaging solutions was identified a number of years back and kp has invested vast amounts of time, money, and resources to help deliver solutions that meet those key sustainability needs. Our PET trays in the UK, of which we supply a lot, are all made from 100 per cent recycled polyester. We do not use virgin polyester in our food trays. The recent introduction of a tax on packaging made from less than 30 per cent recycled materials has seen companies scrambling to reach that 30 per cent target, but we've been 100 per cent recyclable for many years now."
kp's commitment to creating a circular plastics economy is reflected in the company's manufacturing practices. The firm invested heavily in technology and capabilities across its multiple sites around the globe that enable it to take recycled polyester flake from bottle and trays direct from recyclers, and then process it through onsite decontamination technology to ensure it meets food grade standards. kp then extrudes the recycled material into rigid film and thermoform to make a new food grade trays. The process goes hand-in-hand with an agreement kp struck in November 2019 with Viridor, the largest UK-owned recycling, renewable energy, and waste management company. Strengthening a long-standing partnership between the two businesses, the five-year deal will see Viridor supply kp with 8,000 tonnes of post-consumer PET annually in the UK.
"We set ambitious targets related to our sustainability profile. As a large packaging business, we have a responsibility to lead the way and provide solutions," Matt says. "Plastics have an important role to play in the food supply chain, but one thing is for sure, we want this valuable material back. We use 100 per cent recycled polyester so we would love to get more of our own product back and close the loop in terms of recyclability."
For kp, the innovation continues. A revolution in the packaging of meat and proteins, the company's Elite® range benefits from a patented coating and sealing system that prevents leakage, whilst maintaining full recyclability. Now in use across three continents, the Elite® range can be viewed as a result of kp's relentless pursuit of progress. Matt suggests that the firm's belief in advanced manufacturing processes is also to be thanked.
"It is new technology and new production lines that enable us to create products like Elite® and Infinity," he claims. "What sets us apart from our competitors is probably our investment in new product development and innovative sustainability."
Arguably, another distinguishing characteristic of kp's success is the firm's refusal to take its eyes off the future. Matt and his team are acutely aware that the conversation surrounding plastics will not disappear over the coming years, and as one of the industry's leading forces for positive change, kp is already working to ensure it remains a key voice in the debate.
"A lot of our focus moving forward will be around education," Matt declares. "Educating people about the real role of plastic, its benefits, and how we can work with plastics in a better way is absolutely key. We have seen some of the advantages of plastics in the current pandemic and that may have softened the stance in some areas. Used correctly, and with a focus on sustainability, plastics can play an instrumental role in maintaining the quality of food supplies and extending shelf life. They can serve an equally important purpose on the pharmaceutical and specialist side of our business too. The features and benefits of plastics today are unmatched.
"kp focus is to accelerate innovation and develop better solutions. Our commitment is outlined in our Positive Plastics Pledge – our strategy for the sustainable management of plastics framed within four pillars: Innovate using up to 100 per cent recycled content; Accelerate the design and manufacture of products and packaging for recyclability; Educate and engaging stakeholders, including consumers on the value of plastics and need for recycling; and Activate to drive change at scale to improve the infrastructure of the collection, sorting and recycling system, closing the loop on plastics. In the meantime, as a nation, as a European community, and as a global society, we must ensure that we do not make the wrong decisions about plastic, purely because no other option is available."
Klöckner Pentaplast (kp)
Products: kp is a global leader in rigid and flexible packaging, specialty film solutions, serving the pharmaceutical, medical device, food, beverage and card markets, amongst others