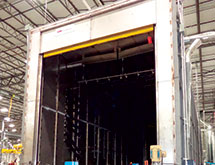 No two paint and porcelain enamel finishing systems designed by KMI Systems Inc. will ever be exactly the same. The company's engineers are continuously improving the processes and seeking the latest high- efficient equipment for its customers to achieve the greatest results.
The Crystal Lake, Ill.-based company was founded in 1984 to engineer, design and build paint and porcelain enamel finishing systems at a reasonable cost and on schedule. KMI Systems promises reliable, environmentally friendly and low-maintenance systems. "For us, it is an accomplishment that we have been able to maintain, thrive and grow over the past 30 years," President Kevin Coursin says.
KMI Systems' founders became involved in porcelain finishing systems in the mid-1960s when they were an integral part of Ferro Engineering Corp.'s porcelain enamel furnace team. The company's experience in paint began in the late 1980s as KMI Systems' engineers became involved with the design and development of E-coating, the electro-disposition of water-based paints and powder coating systems, for the appliance industry.
KMI Systems has remained successful over the years because its quality systems have resulted in many referrals and repeat customers – mainly Fortune 500 companies that include Whirlpool, Rheem, Daimler Truck and GE. The company believes that its key differentiator in the industry has been its ability to maintain relationships with its customers long after the installation of a paint or porcelain enamel finishing system.
"Our customers know first that the process and equipment designed and built for them is going to work and second, should they have a problem, we [will] go back and help them maintain the system so it stays operational," Coursin explains. "Our commitment to our customers doesn't end at system completion."
Custom Design
When a client requests a new paint or porcelain enamel finishing system, KMI Systems' engineers send them detailed drawings of a custom-designed system for approval. "Everything is customized," Coursin emphasizes. "We don't have a standard product." KMI Systems then purchases the components needed for fabrication.
What is unique about KMI Systems' process is that the company does not manufacture its systems in-house, but subcontracts the work. "That's one of the differences compared to most of our competitors," Coursin notes. "We have been working with the same fabrication companies and vendors since our inception. The long-term relationships we have are so familiar it's like me having my own shop, but I don't own it. I always know what is going on."
After the manufacturing process is complete, KMI Systems' field engineers assist in the on-site assembly of the paint or porcelain enamel finishing system. "We take full turnkey responsibility – from the beginning to the end," Coursin says.
Most projects can be designed in eight to 12 weeks and the entire process from the time of sale to start-up can take 20 to 26 weeks. Because the company's focus is on capital equipment, the sales cycle can last from six months to five years, Coursin notes. "We have to talk with the client early to get monies appropriated and approval by boards," he explains. "That is a pretty long process."
Finishing Systems
As a leader in porcelain enamel finishing systems, KMI Systems' furnaces are engineered to maximize efficiency, achieve an optimum firing curve and minimize dirt generation and maintenance. The heating system is designed to gradually and steadily raise the part temperature from ambient to set point or 1400 to 1600 F.
Cooling tunnels equipped with exhaust fans are used after the furnace to bring the temperature down for easy handling. The tunnels are counter current-type and fabricated from standing seam steel panels with support from a rigid framework.
KMI Systems installed five furnaces for Samsung at its South Korea, Thailand and Malaysia facilities. Most recently, it installed three high-efficient preheated combustion air furnaces for Samsung that are used to fire porcelain enamel coated oven and microwave cavities. The company also built a new furnace for Whirlpool's Cleveland, Tenn., facility. The furnace was designed with energy-saving options that use the waste heat of the furnace to supply supplemental heat to the dry-off oven.
Paint and powder coating  systems are designed for parts that are complex in shape, long, large or very small. KMI Systems typically installs powder coat booths in an environmental "clean room" to ensure no problems with application and dirt-free parts. Coating and paint booths are designed to efficiently apply low or high solvent-based or water-based paints while removing overspray particles from the spray booth exhaust.
The company worked with Whirlpool to build a powder paint system in its Monterrey, Mexico facility that features a zinc phosphate washer, elevated ovens, an environmental room and an overhead conveyor.
KMI Systems' E-coating systems are designed to work efficiently with paint from any major supplier. Its engineers work closely with clients and paint suppliers to ensure the E-coating equipment includes features necessary for high-quality, uniform paint to be applied at the lowest possible application cost.
The company installed a complete turnkey finishing E-coating system for Alliance Laundry in Ripon, Wis. The system was used for coating washing machine parts. KMI Systems recently completed a system for Daimler Truck for coating complete Class 8 truck cabs.
Maintaining Demand
Because KMI Systems focuses on capital equipment for its clients, the company has seen steady growth since 2009, but an increase in demand particularly in recent years. "There are industries as a whole that have grown and have pent-up demand," Coursin notes. "The last few years have been good and we see that continuing to trail out for the next couple of years."
KMI plans to expand its services into Europe and South America and also expects to add new clients by continuing to produce high-quality paint and porcelain enamel finishing systems. "We design and build the systems as if we were going to operate it ourselves," Coursin says. "We don't like taking shortcuts and take pride in our work."