Knorr-Bremse Systems for Commercial Vehicles Ltd
Braking down barriers
With customers that demand the highest of standards, Knorr-Bremse Systems for Commercial Vehicles Ltd understands that quality, innovation and service helps to make modern mobility safer
The world's leading manufacturer of braking systems for commercial vehicles, Knorr-Bremse has pioneered the development and production of modern braking systems for well over 100 years. An innovative developer of advanced electronic and pneumatic systems, it has become a key supplier to all original equipment (OE) manufacturers of truck, trailer and public service vehicles (PSVs), as well as many off-road and specialist applications.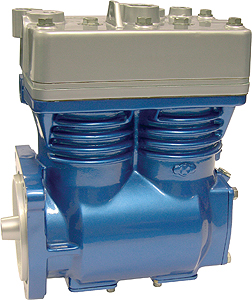 Knorr-Bremse Systems for Commercial Vehicles Ltd is the sales, support and distribution business of Knorr-Bremse truck division in the UK, and is one of two plants that support the truck market, alongside GT Emissions Systems, which designs and manufactures exhaust gas control systems. "Building on our extensive background, today we focus our activities on providing service and support in the UK and closely associated customers in the European Union and other global regions where UK vehicles are regularly utilised," begins Knorr-Bremse Managing Director, Mike Hall. "Due to the structure and specialist nature of many of our customers, we strive to provide localised support that is enhanced with access to global systems, tools and technical knowledge."
One highly important contributor to the business' success is the extensive stock portfolio it holds at its Bristol-based distribution centre, which itself boasts multiple feeds from Knorr-Bremse and external manufacturing plants across Europe and further afield. From here, it is able to offer a next day delivery service to the UK market, which is a support level that many competitors lack. "By taking this 'big brand' approach, we are able to provide the latest levels of braking technology and support systems, from the most basic of components right through to such areas as Advanced Driver Assistance systems (ADAS) and stability control, and ongoing development of future technologies such as platooning and autonomous yard manoeuvring," Mike continues.
"With access to a complete range of components, we offer our truck, bus and trailer OE customers a 'full platform system solution', and in doing so we can provide the added value elements of supporting their vehicle development and manufacturing process," Gary Brown, Head of SOE & Trailer Sales & Service explains. "We then follow this with 'in the field' support and comprehensive aftersales services. We also work to support the selection of sub system components from the Knorr-Bremse portfolio, resulting in a fully supported platform with a one-stop-shop support network."
Being able to recognise localised needs and offer solutions very close to the point of use is also of huge benefit to the company's OE customers, for instance those in the chassis and trailer kitting fields. Here it is able to develop full chassis braking and levelling control systems that are specifically tailored to the customer's vehicles and supply complete with associated fitting,
brackets and linkages in a single delivery unit, often specifically sequenced to a vehicle build ready for line side delivery. "We have multiple customers who utilise this service today, but who have arrived at this solution for differing reasons," Gary says. "The core benefits, however, remain the same, and they include reduced engineering resources, fewer part numbers, and the simplification of purchasing and logistics. Most of all though is the confidence they have in knowing that the full systems are backed up by Knorr-Bremse local support and its access to a global knowledge base."
"We have seen continued, as well as realistic, growth in recent years as a mature business operating in a well serviced market." It is with this in mind that Mike is right to describe 2018 as a very solid year with company's turnover up 12 per cent on its overall budgeted numbers. "We had a stronger year than anticipated in 2018, during which time manufacturing output among our UK-based customers remained mostly stable," he details. Tim Ford, Head of Aftermarket Sales & Services adds: "Where we did see very positive signs of activity was in the aftermarket side of the business, which is a pattern we hope to see continuing through the coming months in part due to our actions to significantly increase our UK based stock levels to support our customers though any possible Brexit impacts."
Speaking of the immediate future, Mike tells us that the company retains a realistic outlook for what 2019 may hold for Knorr-Bremse in the UK. "Generally, we are taking a 'business as usual' approach to this year. We know that some of the OE demand peaks seen in 2018 are unlikely to repeat themselves, however we will continue looking to better ourselves wherever possible, especially with a focus on possibilities in the Aftermarket. As a mature business with an already positive market share we don't often experience step change or rapid growth opportunities, but we are always looking for potential where we can provide increased services and added value."
Product development continues at an ever-increasing rate within the world of commercial vehicles, with a focus on expanding existing solutions, with a view to making significant breakthroughs in new technologies such as highly automated driving (HAD), autonomous yard manoeuvring, platooning and, ultimately, fully autonomous driving.
"I believe the key to this long-term goal, and to maintaining our competitive edge in the marketplace, is to make current products and systems as 'smart' as possible," Mike says.
"This could involve anything from electronically driven compressors that switch on and off automatically, to providing the market with self-diagnosing systems for vehicles that can forewarn drivers and the workshop of faults, safety risks or emissions issues that will supplement the already advanced platform systems we can provide today.
"With a vast number of Knorr-Bremse products being developed towards the goal of automated driving and improved safety, things are moving at a pace not seen in the commercial vehicle market before. Coupled with an expanding aftermarket portfolio, there are a great many opportunities ahead for us," Mike concludes
Knorr-Bremse Systems for Commercial Vehicles Ltd
Products: Braking systems for commercial vehicles