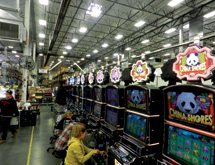 When it comes to the quality of its products, Konami Gaming Inc. stays away from gimmicks. As a leading innovator of slot machines and casino management systems for the global gaming market, Vice President of Sales Operations Ray Suarez says that no matter how many bells-and-whistles features come along with a product, quality remains the top priority.
"One of the things we're known for is quality," he says. "Our games are built well, they perform well and they are very low maintenance to casino operators. I believe that's what sets us apart from competitors. We take quality very seriously. We are interested in the design of the game and the play of the game. The quality of our games brings confidence to our customers that they will perform day in and day out."
This commitment to quality also brings confidence to the companies that partner with Konami. For instance, like its competitors, Konami partners with entertainment brands to create licensed casino game products. Unlike its competitors, however, Konami is extremely selective regarding the brands with which it chooses to partner. "We have done a few licensing deals," Suarez says. "Some of our competitors, on the other hand, enter licensing deals more frequently and appear to be very aggressive, but we have opted for a more conservative approach. There can be a significant investment associated with acquiring the use of IP [intellectual property], regardless whether the game does well, so it's a balancing act. We are very deliberate about entering into partnerships with world-class brands and long-term brands that have withstood the test of time."
Proud Partnership
Its newest licensing partnership is with the classic fantasy brand, Dungeons & Dragons, owned by entertainment company Hasbro. The agreement gives Konami the rights to design and manufacture slot machines using the popular Dungeons & Dragons brand. Just like the casinos that design spaces that resonate with patrons – think Las Vegas' New York, New York or the Venetian – Konami designs its products with the end-user in mind. Whether it's a partnership with a company like Hasbro or an original theme, the company produces games that appeal to the people playing them.
"We are proud to partner with Hasbro, one of the world's leading toy and game manufacturers, to bring the Dungeons & Dragons [D&D] brand to the gaming industry," says Ross O'Hanley, vice president of domestic game sales. "D&D is an iconic brand known for capturing the imagination of its fans through its seemingly limitless cast of characters, engaging stories and vast worlds. We plan to utilize those attributes to create a diverse product line which appeals to a wide variety of slot players."
Suarez says that Konami's innovation in game design has led to company growth. He credits the product offering and quality for spurring greater demand, resulting in increased output year over year. In 2004, Konami moved to its current 120,000-square-foot Las Vegas facility, but based on steady company growth, it has begun to outgrow the space's capacity. The company is developing plans with the intent to expand in the near future.
Internal Improvements
"We've used manufacturing techniques such as kanban and extended forecasts to ensure adequate supply is maintained," Suarez says. "We've established ways to forecast orders and strengthen partnerships. We also plan on doing more automation. We recently reviewed a proposal whereby an increased use of automation and current resources could generate an increase to our capacity and throughput which meets the necessary ROI [return on investment] for further discussions."
Suarez also says that its supply chain plays a key role in increasing Konami's business and maintaining product quality. He says Konami's commitment to quality begins with its vendors who supply it with high-quality products. Instead of focusing solely on price, the company forms partnerships with key suppliers based on shared goals and mutual wins for both parties. Taking a long-term view when it comes to its supply chain is reflective of Konami's operation.
"Quality starts at the beginning with suppliers," Suarez says. "We want our games to hold up because we are in it for the long term."