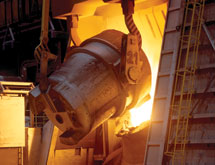 As the world's largest supplier of lifting equipment and related services for industry, everything Konecranes does is targeted at one goal: improving the performance of their customers' business. Konecranes' provides customers with its own complete line of overhead cranes, port and shipyard cranes, heavy duty lift trucks and other lifting devices as well as services for all brands and makes of lifting equipment and machine tools, including inspections, maintenance, upgrades, modernizations and spare parts. The organization has 11,700 employees at 609 locations in 47 countries offering global coverage backed by local expert knowledge.
"Over the years, we've introduced many technologies and concepts to the industry that have become widespread," says Scott Gilbey, director of marketing for market operations. "We constantly promote innovation and invest in R&D and training, and we have a formalized process that allows us to collect ideas and filter them out into product and process innovations."
Diverse Portfolio
Konecranes offers components, cranes and material-handling solutions to a wide range of customers. It serves many industries, including process industries, the nuclear power sector, mining, general manufacturing, industries handling heavy loads, ports, intermodal and rail terminals, shipyards and bulk material terminals.
The company is also a leading provider of Goliath gantry cranes. It has delivered more than 60 of them to shipyards in a number of global destinations and is in the process of delivering the world's largest Goliath gantry crane, rated at 2,000 tons, to a shipyard in Brazil.
"Having so many locations globally means we can serve customers locally, maintaining face-to-face contact with customers so we can understand their unique needs and come up with the right productivity enhancing arrangements for them," Gilbey says. "We can then support the local teams thanks to our large, global network of experts."
Its portfolio also includes automotive and other manufacturing, energy from waste, mining, petrochemical, pulp and paper, power, and steel. The company goes to market through a dual-channel strategy, selling directly to end-users and to independent crane builders and industrial distributors. Konecranes' global supply chain is scalable and flexible, and driven by customer demand.
"Steel is a very good industry for us, and we have a lot of business in the mining industry on a global scale," Gilbey says. "Shipbuilding is where some of our larger cranes are, and general manufacturing is a broad industrial category where our equipment is used for both heavy lifting and lighter lifting.
"Power generation is another strong market, especially nuclear power," he adds. "We have a group that addresses specifically the needs of nuclear power sites. Container handling is also a good business for us, and a good indicator of the strength of the global economy."
In addition to equipment, Konecranes' global service network is capable of providing specialized maintenance and modernization services for industrial cranes and machine tool equipment. Customers can take advantage of Konecranes' service offering on a single piece of equipment or through complete outsourcing of their operations, which helps them improve productivity and safety.
On the equipment side, Konecranes strives to develop innovative mechanical and electrical designs for overhead crane applications and apply the latest industrial manufacturing technology. It is the world's largest supplier of industrial cranes and a leader in explosion-protected crane technology and electrical overhead traveling cranes for process industries and shipyard gantry cranes. It supplies cranes and lift trucks for container handling and heavy unitized cargo and bulk material unloading on a global scale.
The company is well known for the reliability of its industrial cranes and lifting equipment thanks to a commitment to exceptional engineering. This has allowed the company to build a diverse global customer base in lifting businesses.
Commitment to Innovation
Each year, the company produces tens of thousands of standard cranes, wire rope hoists and electric chain hoists, as well as hundreds of heavy-duty cranes, hoisting trolleys and heavy-duty lift trucks. Konecranes offers standard or customized material-handling equipment ranging from overhead cranes, hoists, nuclear cranes and equipment, lift trucks and port cranes to container-handling equipment, shipyard cranes, bulk handling equipment and workstation lifting products.
The company's Konecranes Smarton is regarded as the most technologically advanced crane in the industry. Konecranes offers its corporate brand, as well as STAHL CraneSystems, SWF, Verlinde, R&M and Sanma Hoists & Cranes power brands.
As for service, the company says it operates the most extensive crane service network in the world. Among the largest international providers of machine tool service, the company has built an infrastructure that allows it to provide proactive, real-time service.
Overall, the company has a variety of service programs to meet each customer on a relationship level suited to them, covering inspections, preventive maintenance, repairs and improvements; on-call service; spare parts; modernizations; and special services, which include operational service, remote services and consultation. Roughly 410,000 units are covered by Konecranes maintenance contracts, 25 percent of which are manufactured by Konecranes.
Continuous research and development allows Konecranes to make regular improvements to its service offerings, as it has an extensive service development program. The company's Truconnect Remote monitoring and reporting service, soon to be available in the United States and Canada, allows for the collection of usage information of equipment through a remote connection.
"Remote monitoring and service offerings are an exciting new development, and they are changing the game," Gilbey says. "Customers can see exactly what is going on with their equipment. We are moving toward real time data that can be sent from equipment to customers through emails or SMS messages based on predetermined criteria."
As it has done in the past, Konecranes intends to continue developing its product portfolio and service offering to ensure that the customer experience remains at the highest possible level. It will rely on technology and innovation, increasing R&D investments and keeping safety and quality at the top of its priorities.
"We have grown organically and through acquisitions, and we've invested in our CRM system so customer information is accessible to the right people at the right time," Gilbey says.
Already possessing a strong global position in the lifting business, Konecranes plans to continue expanding around the world through a mix of organic growth and strategic acquisitions. The company believes it will be able to make the best possible decisions about its future direction and its approach to growth because it uses real-time information as part of a decentralized decision-making process that allows it to make decisions at a level that is close to the customers it serves.
"In our industry, we expect further consolidation, and there is no other company that provides the total range of equipment and services globally like we do," Gilbey says.
In fact, mergers, acquisitions and joint ventures have been a large part of the company's history, especially since the turn of the century. Konecranes has been involved in around 20 mergers, acquisitions and joint ventures since 2000 in all corners of the world. The most recent came in 2011 when the company acquired Saudi Cranes & Steel Works Factory Company Limited in the Middle East and WMI Cranes in India.
Emerging Opportunities
Konecranes is taking its commitments to emerging markets seriously. The company's president and CEO Pekka Lundmark relocated to Singapore in August for a year as part of a strategy to enhance the development of emerging market operations by placing top management close to customers in this important area.
Asia-Pacific is a key growth area for Konecranes, as it accounted for 21 percent of the company's net sales in 2011 and has seen its relative share triple during the last decade. The relocation should help build networking relationships with customers and stakeholders in the Asia-Pacific region, as the company is striving to get closer to customers and their needs.
Outside of Asia, one of its biggest current commitments has been delivering the world's largest Goliath gantry crane to Rio Grande do Sul in southern Brazil in August. The installation process will wrap up later this year. Engevix Construções Oceânicas ordered the crane in October 2011. It has a lifting capacity of 2,000 tons and rail span of 210 meters, and it will first be used to assemble eight hulls of floating production storage and offloading ships for offshore oil production projects.
Other recent happenings in developing markets include two orders in August for a total of nine rubber tired gantries (RTGs) from Bolloré Group, which will be delivered to MPS Container Terminal in Tema, Ghana and Benin Container Terminal in Cotonou, Benin. Konecranes also received its third RTG order from Turkey in June. It was an order for eight fully electric RTG cranes to be delivered to EVYAP Port in Istanbul.
The company continues to see strong order intake and financial performance, although it is concerned that there could be weakening global demand as the Eurozone economic crisis continues. Some emerging markets are also showing signs of slower economic growth. But the company expects that year 2012 sales and operating profit will be higher than in 2011.
"Emerging markets like Brazil, China, Southeast Asia and India will continue to be areas of concentration for us," Gilbey says. "Our plan is to keep investing in the company so we can stay agile and profitable." mt