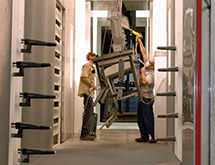 Kongskilde Industries Inc.
It is one thing to provide a quality product, but it is another to provide the exact thing that your customers need. Kongskilde Industries Inc. strives to do that with its equipment, President Hans Rasmussen says.
"[We try to] stay on the forefront of developing products that our customers are requesting," he says. "[That will] give them higher returns on investments in their businesses."
Rasmussen manages the Hudson, Ill.-based operations for Kongskilde, a Sorø, Denmark-based developer of agriculture equipment, and pneumatic and mechanical transport products for processing waste in the paper, packaging and plastic industries. The company started operations in Denmark in 1949, and opened a Canadian location in 1960.
In 2002, Kongskilde opened a U.S. location in Bloomington, Ill., that specialized in distribution and minor assembly. When it closed the Canadian location in 2010, "We purchased another location on the outskirts of Bloomington [in Hudson], and merged everything into one facility," he says.
Today, "We're the only North American location for Kongskilde," he adds, noting the Hudson office employs a staff of 69 and serves the agriculture, paper and plastics industries.
The market is experiencing a downturn, but Kongskilde's market share is still growing, Rasmussen reports. This has been thanks to its ability to "come up with unique products," he says.
Its latest products include a new line of cultivators that were introduced last year. "We're able to provide more crop residue clearance than anyone else and provide a uniform seed bed," Rasmussen adds. "We're now introducing a line of feed mixers for the beef and dairy industry that also has some unique features." Three of the biggest features are wireless scale controls, a mix auger design, and a modular concept.
All of Kongskilde's products are sold through a dealer network, which it is rapidly expanding. "We [still] have some geographic areas that are not covered," he says. "As we add sales staff over the next few years, we will ultimately gain full coverage of all North American agricultural areas."
A Giant Step
In the last year, Kongskilde performed a major expansion at its facility in Hudson with the addition of 75,000 square feet. "That brings us to approximately 180,000 square feet in total," Rasmussen says. "It's going to expand our production possibilities." The biggest part of the expansion is a state-of-the-art prep cleaning line and powder paint system.
Kongskilde long considered the expansion, Rasmussen recalls. "A year ago, we got to the point [where we needed it] for quality and for throughput," he says. "Our previous paint system couldn't keep up production-wise, and quality-wise, we wanted to take a giant step forward."
Kongskilde has kept its inventory management systems current in Hudson. "We monitor using a bar code scanner system tied into our network," Rasmussen says. "Anytime anything moves, we know exactly where it is.
"We have a little over 10,000 part numbers in various quantities," he says, noting that the company has divided its inventory into slow-, fast- and medium-moving items. "We want to turn the fast moving items four to six times a year, [and the slow moving items] one to two times a year."
The company also stays up-to-date with manufacturing techniques. "In the past two years, we've been really focused on [lean]," Rasmussen says, noting that this has include the use of Kaizen boards. "[We have] a real high focus on productivity, efficiency and quality control," he says. "Those things are reviewed daily with the staff."
These initiatives have paid off for Kongskilde, he says. Between its lean initiatives and changes in equipment, "We've had [an efficiency improvement] in the 20 percent range," he says.
Poised to Grow
Rasmussen joined Kongskilde in 1987 at the company's location in Canada. In 1998, he transferred to Europe and returned to North America four years later to open its Bloomington location.
After all these years, he is proud of "our employees and their dedication to producing quality products for customers and their can-do attitude," Rasmussen says. When hiring, "We're looking for people that will be team players that will focus on quality and throughput."
Going forward, Kongskilde hopes for continued growth. "As the economy returns and develops again, we're poised to grow with it," Rasmussen says.