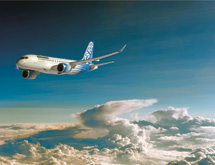 The Mississauga, Ontario-based company, founded in 1975, manufactures structural aircraft components and assemblies for many of the aerospace industry's most prominent names including Boeing, Bombardier and EADS and Gulfstream. "We have the ability to meet our customers' needs and have systems in place to meet their delivery requirements," President Alex Cajic says.
"We can offer our customers a completely machined component, fully processed and assembled, while controlling all aspects of the manufacturing cycle," he adds.
Parts manufactured by the company include winglets, ribs and spars, bulkheads, landing gear components and floor and cross beams found in both commercial and defense aircraft. The company manufactures parts specified for aircraft models including the new Bombardier Lear 85 jet Bombardier recognizes Koss Aerospace as a four-star preferred supplier. "Being noted as a preferred supplier and high performance supplier to one of our biggest customers is one of our prouder achievements," Cajic says.
Koss Aerospace is capable of producing parts for new as well as mature aircraft programs. "It's critical for us to position ourselves as a partner on the early stages of development," Cajic says.
"It is worth the investment in financing the low volume so we can benefit when the program goes into full production," Cajic adds.
Within the last year, Koss Aerospace added three new customers, including two Tier 1 suppliers. It also attained AS9100 Revision C certification, which it adds to its other quality certifications including NADCAP recognition and participation in the Canadian Controlled Goods program.
In addition to manufacturing, the company offers full processing capabilities including plating, painting, anodizing and heat-treating through a subsidiary company, Brampton Processing. Brampton Processing was formed in 1991 to address the processing bottleneck that resulted from the company's formerly outsourcing each individual function. "We are vertically integrated from machining and assembly to processing," Cajic says.
Efficient Manufacturing
Koss Aerospace specializes in high speed machining, which it accomplishes through the use of state-of-the-art technology including three-, four-, and five-axis CNC machinery. The largest of the company's machines are 10 feet in length and capable of operating at up to 22,000 rpm. Koss Aerospace works with materials including aluminum, stainless steel, titanium and aluminum-lithium.
Manufacturing operations are supported by a number of suppliers including F&J Cutter Grinding Service, who provides end mills and other grinding and sharpening tools used to extend the life of Koss Aerospace's tools, Cajic says. Koss Aerospace performs manufacturing on a low-volume, high-changeover basis, as the company produces up to 2,000 parts specified for different types of aircraft.
The company relies on lean manufacturing methods to achieve rapid changeover times and high quality rates. "We formally introduced lean methods in 2009 to remain competitive," Cajic says. "Lean affects our bottom line because it allow us to increase our capacity, find cost savings and reduce waste."
Lean methods used at Koss Aerospace include 5S methodology as well as the use of single-minute exchange of die (SMED) processes, cellular manufacturing and standardized tooling and set-ups. The company recently used SMED processes in particular to significantly reduce the setup time necessary to produce a part family of 18 ribs. Using the method, the company was able to reduce setup time from more than an hour to 8 minutes, Cajic says.
The company also uses ERP systems to measure performance and quality. Data is regularly collected and reviewed to improve quality and efficiency. These initiatives already have made a difference.
"We have made a firm commitment to operational excellence and continuous improvement," Cajic says. "Over the past two years we have also seen dramatic improvements in our overall performance and maintain more than 95 percent on-time delivery and a quality rating of 99.5 percent."