Viable plastic replacement
Kotkamills' revolutionary cupstock solution has had a fantastic last 12 months. As it is gaining a spot in the limelight, the company is looking to make it available in some bigger markets around the world
The imminent ban on single-use plastics in the EU puts the Finnish manufacturer of papers and wood-based products, Kotkamills, in an enviable position to change the market once and for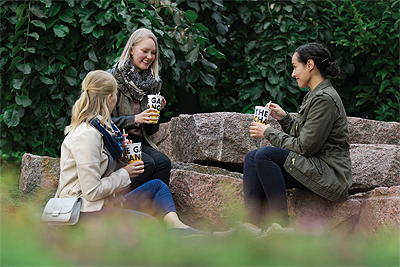 all. Specialising in the production of consumer boards, saturating base kraft papers for high-pressure laminates, and sawmill products, the company has made significant inroads into the introduction of a reliable, plastic-free alternative to disposable plastic cups that is now picking up pace across Finland.
It was in the closing months of 2018 that we first spoke with Kotkamills' CEO, Markku Hämäläinen. At that time, the company had just introduced its Isla® Duo cupstock solution, whose water-based dispersion coating demonstrated such strong liquids and grease resistance properties that the need for a barrier layer made of plastic was eliminated. Almost a year on, Kotkamills has successfully performed additional tests to validate the efficiency of the technology and has been selling the product to some of its regular customers since the beginning of 2019.
"The surface on the inside of a cup that is made using our technology, matches perfectly the properties of many types of drinks, including beer and other low-alcoholic beverages," Markku begins. "To give you an example, the way the beer foams in our cups and in polyethylene-coated ones is very different. It has proven very hard for the latter to enter the beer market as a result of that, but we can now offer a working solution that is also environmentally-friendly."
Among the many organisations that have already expressed a strong interest in Kotkamills' product, stands out the name of KooKoo – a local ice hockey team that competes in Finland's Elite League. Earlier this year, the two brands set up a partnership that will see all of the drinks at KooKoo's home games served in Kotkamills' cups. With ice hockey being the most popular sport in Finland, there is no doubt that the deal will direct the public's attention to what Kotkamills is up to.
"We are looking to be part of another event in a couple of months' time that will also get the product noticed more widely. Ultimately, our desire is to transcend the borders of Finland and pique the interest of larger countries, not just in Europe but all over the world," Markku adds.
One of these target markets for the company is the EU's most populated country – Germany. Also the largest consumer market in the Union, Germany is banning plastic yoghurt pots in
March 2021, which creates an opportunity for Kotkamills to provide a suitable replacement.
Markku comments: "Because yoghurt is an acidic product, there has to be an even greater emphasis on the coating. The polyethylene-coated pots that exist at the moment contain some 30-35 grammes of polyethylene, but this will no longer be acceptable in less than two years. Given the properties of yoghurt and in order for us to succeed in this market, we will focus heavily on getting the coating rate right, because it will differ substantially from what we have to do on coffee cups, for example."
A further source of encouragement for Kotkamills' prospects in the German market was the announcement made by Germany's Environment Minister, Svenja Schulze, in early September that she has drafted a bill for the complete ban of plastic bags. "The key thing is that she mentioned that bioplastic bags will also be banned," Markku highlights. "For a long time, these have been the packaging industry's only answer to the demands for moving away from plastics. Unfortunately, their properties are not too dissimilar to those of 'normal' plastics, in terms of biodegradability or recyclability. In contrast, our products contain no plastic and, hopefully, the consumers will recognise them as a genuine solution to the environmental issues we are facing."
Leaving the European continent, Kotkamills has also identified Australia as one of the biggest markets for its activities, due to the country valuing highly the wider use of environmentally-friendly products. It is, however, the US that offers an untapped potential for the company, hence its initial Kotkamillsefforts to establish a presence in America.
"We focus on delivering cupstock in containers, because this is the kind of barrier product that best suits us within this huge market," Markku reveals. "At this point in time, we are concentrating on the East Coast, but we have a strategic plan that involves our expansion to the West Coast, as well, should the need to grow arise. Ideally, we will build a new barrier board machine in North America in four-to-five years' time."
Going on to divulge the business' outlook for the future, he stresses the importance of Kotkamills securing a number of fixed yearly contracts, as opposed to one-off arrangements, with its customers by the end of 2019. "We want to have more long-term clarity over our commitments, going forward. Meanwhile, will continue to fill the capacity of our new board machine, so that our turnover can approach 500 million euros by 2022. It is definitely this side of the business that has generated the lion's share of our growth, but we do not forget about our laminating papers division, either, which, too, is developing very well. We have just increased the capacity of our line and we are now planning to build another small saturating base kraft machine in Kotka.
"Alongside our commercial growth, we will also remain environmentally conscious when it comes to the ways in which we run our mills," Markku insists, before concluding: "We firmly believe that if we are to market our products as environmentally-friendly, we have to set an example, by keeping our base clean and making sure that whatever we do here, respects nature. To this end, we will be implementing a solution to reduce the chemical oxygen demand of our wastewater treatment plant, having already previously invested in improving the evaporation process at the pulp mill. These are key investments in strengthening our environmental credentials and we are certain to continue keeping an eye on the possibilities that emerge for the further optimisation of our processes."
Kotkamills
Products: Consumer boards, laminating papers, and sawmill products