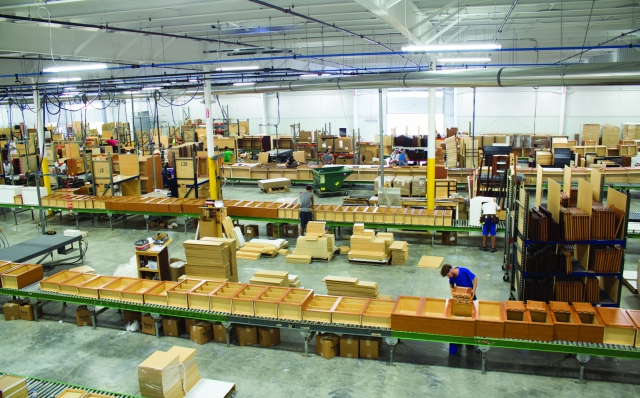 Kountry Wood Products founder, owner and CEO Ola Yoder has seen the company grow during its 20 years of existence from operating in his barn to producing more 1.4 million kitchen cabinets a year in more than 250,000 combined square feet of factory space.
Yoder established the company in 1998 as a maker of picture and mirror frames for major retailers and cabinet doors for the RV industry. Before starting Kountry Wood, he worked for 26 years at a manufactured housing company.
Two years after opening, Kountry Wood grew large enough that it needed to relocate from Yoder's barn to an industrial park in Nappanee, Ind. In 2001, the company discovered its niche when it began producing kitchen cabinets from the new facility.
In 2006, the Nappanee plant expanded both its physical footprint as well as its management team, which in addition to Yoder included President Perry Miller, Vice President Virgil Yoder, CFO Greg Shank and Production Manager Howard Miller. "As the company kept growing we put the right people in the right place," Ola Yoder says.
In 2009, the company opened its own store in downtown Nappanee to sell cabinets locally. Nationally, the company's products can be found at major retailers serving the remodeling and multifamily housing markets. The affordability of Kountry Wood's products helped it during the recession, when homeowners were largely shifting from new home construction to remodels, he notes.
Old-Fashioned Service
Kountry Wood in 2010 began to increase its production to compete directly with the import market. A year later, the company purchased a second manufacturing plant in Nappanee. That year the company also entered the high-quality furniture market when it acquired Borkholder Furniture, an Amish furniture maker also located in Nappanee.
By 2015, Kountry Wood was attracting attention of major wholesalers and distributors in some major markets that often competed with imports.
Yoder says his company offers its customers a number of advantages over imported cabinets. Kountry Wood typically takes roughly two weeks from the time an order is placed until the time it is ready for delivery. "We try to sell ourselves based on our ability to send complete shipments in less lead time," he notes.
The company is also able to personally respond to client needs. "Customer service is something we believe strongly in," Yoder says. "We do what we say we're going to do, and do things the old-fashioned way of having someone answering the phone who customers can talk to. Responding to customers' needs right away is something we still believe in doing, and that's been part of our success."
Modern Methods
Since 2016, Kountry Wood has added 58,000 square feet to its original facility and 9,000 square feet to its second facility. The company has also added two new finishing lines to its operations.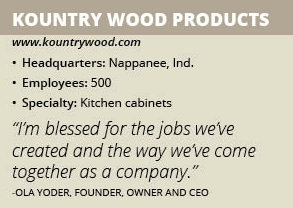 Kountry Wood uses modern computerized equipment such as panel saws, shape and sand machines and panel processors to produce up to 6,000 full cabinets a day. "We believe a lot in doing things the old-fashioned way but we do have the latest modern equipment to run," Yoder says. "We're building a product here that has to keep up with the latest trends but you also have to have the equipment to get the job done."
The company makes its cabinet fronts from solid wood. Front stiles are pocket-drilled and assembled with screws for durability. Side and back panels are made from 3/8-inch vinyl-covered particleboard or plywood, and base cabinets include wood hanging rails on the sides and back.
The Borkholder Furniture line is made using hand tools. Borkholder products are made in Kountry Wood's facilities as well as in local shops in Indiana and Ohio. The production of many of the components used in Kountry Wood cabinets is also outsourced.
Kountry Wood takes a hands-on approach to manufacturing that includes having a trained craftsman supervise the process from individual cabinet and drawer assembly through spraying, staining and finishing. Product quality is checked through in-line visual inspections. "Quality control is very important to us," Yoder says, noting the company maintains a less than 1 percent return rate on its products.
The company maintains an inventory of parts to meet the high demand of its products and ensure quick turnaround. "We work with our suppliers to maintain good communication regarding what we will need," he adds.
Driven by Demand
Kountry Wood's new finishing lines allow it to keep up with customer demand for white and gray finishes, which Yoder says are the two most popular cabinet colors.
"We're very much customer driven, what they like and what they're asking for," he adds.
The company recently unveiled a new gray color as well as new door styles during the Kitchen and Bath Industry Show Jan. 9 through 11 in Orlando.
Kountry Wood also regularly updates the styles of its cabinet doors. The company's recent door styles include the Rentown, a transitional door style that combines a wide Shaker rail with a traditional flat panel, mortise and tenon door. The door is offered in full overlay with two drawer front options – slab or upgraded five-piece.
Traditional Values
Yoder credits the company's success and growth during its 20 years in business to its positive internal culture. "We have a very good workforce, and want to provide them with a place they want to work," he says.
The company's culture reflects Yoder's traditional Amish heritage and values. "We try to have a clean workplace," he says, noting the company regularly drug tests its employees and prohibits swearing.
Kountry Wood offers an extensive benefits package to its employees including fully paid health insurance, a wellness program and a profit-sharing plan. The company also frequently hosts special employee events such as picnics. Upcoming events will include an open house later this year to commemorate the company's 20th anniversary.
"I'm blessed for the jobs we've created and the way we've come together as a company," Yoder says. "Everybody here is happy and works together to create good, quality products that people want to buy. It's the effort put in by the people here that makes the whole thing work."