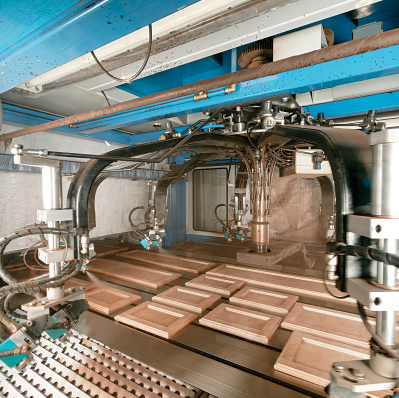 Kountry Wood Products keeps a close tab on the latest trends in the kitchen cabinet market. Greys and painted whites are in now so the Indiana-based manufacturer is installing a new finishing line to keep up with demand for our white finishes. "We try to research a lot of it," founder, owner and CEO Ola Yoder says. "We're very much customer driven, what they like and what they're asking for."
But even as it tracks industry trends, Kountry Wood keeps its focus on output. When considering whether to make a change in the style of its cabinet offerings, the company considers the impact on productivity. It knows it can't satisfy every individual style out there if it wants to serve the national market. "When you try to do everything for everybody it really cuts down on your productivity," Yoder says. "We are really a production oriented company."
Expanding Market
Yoder founded Kountry Wood in 1998 as a maker of picture and mirror frames for major retailers and cabinet doors for the RV industry. The first manufacturing facility was in Yoder's barn but by 2000, Kountry Wood grew large enough that it had to relocate to an industrial park in Nappanee, Ind. A year later the company found its niche when it began producing kitchen cabinets, which Yoder was experienced in when he was employed at a manufactured housing company.
The next major step for Kountry Wood occurred in 2006 when the plant underwent a large expansion. The company expanded its management team by naming Perry Miller as president, Virgil Yoder as vice president, Greg Shank as CFO and Howard Miller as production manager. "As the company kept growing we put the right people in the right place," Yoder says. In 2008 Kountry Wood Products was recognized as one of the 50 Indiana Companies To Watch in the list's first year. The company opened its own store in downtown Nappanee to sell cabinets locally in 2009.
By 2015, the company that started in Yoder's barn was producing more than a million cabinets a year at two facilities. That output drew the attention of major wholesalers and distributors in some major markets that often competed with imports. "Our job is to make our customers look good," Yoder proclaims. Even during the recession, the company grew and found new outlets. It's affordable cabinets, often sold at major retailers in the remodeling and multi-family housing markets were a perfect fit for the shift from new home construction to lower-cost remodels.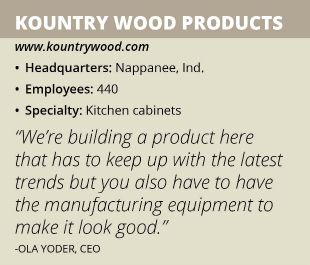 The next phase of Kountry Wood's expansion began in 2010 when the company's leaders developed a plan to compete with the import market. A year later it purchased a second plant in Nappanee, bringing its total manufacturing space to more than 250,000 square feet. An opportunity to enter a new market arose the next year. In 2011, Kountry Wood acquired Borkholder Furniture, an Amish furniture maker also located in Nappanee. The purchase gave the company a presence in the high-quality furniture market. "I always had a desire to get into wood furniture because I love woodworking," Yoder says.
The company continues to add on to its capabilities. Last fall, it added 9,000 square feet to its newer facility. This spring, Kountry Wood Products constructed a new 58,000-square-foot building to assemble kitchen cabinets, and brought in equipment such as a panel saw, shape and sand machine, and panel processor. An automatic new finish line will be installed this fall.
Building Capability
Although the image of Amish woodworking may bring to mind pictures of hand carved products and traditional methods, Kountry Wood is utilizing the latest machinery to compete in today's market. "We believe a lot in doing things the old fashioned way but we do have the latest modern equipment to run," Yoder explains. Having that machinery in place helps the company compete and enables Kountry Wood to make up to 5,600 cabinets each day. "We believe in quality," Yoder says. "We're building a product here that has to keep up with the latest trends but you also have to have the equipment to get the job done and have good quality."
Manufacturing for some of the furniture for the Borkholder line and most of the components for the cabinets are outsourced to other local shops in Indiana and Ohio. One of Yoder's sons, for example, makes the wood drawers for Kountry Wood. "We believe in getting other people to help us build," Yoder says.
When other businesses share the load and share the value, they share a part of the finished product, Yoder adds. All of the assembly is done by hand at Kountry Wood and quality control personnel ensure that every product is shipped out in top condition. All of the finishing is done by an automatic finish line.
In order to meet those high production numbers, Kountry Wood must keep a perpetual inventory. Parts come in and four or five days later they are part of a finished cabinet or piece of furniture and are being sent out for delivery across the United States. It typically takes about two weeks from the time an order is place until the product is ready for delivery. A short turnaround is key to Kountry Wood's reputation as a reliable manufacturer.
Productivity will continue to drive the company going forward. Yoder believes Kountry Wood can produce up to 6,500 cabinets a day within the next few years. Whether it's able to accomplish that goal will depend on its ability to create even stronger bonds with customers and suppliers. "What we can do better is build relationships," Yoder says. In today's manufacturing market, many companies look for only what they can get out of a business agreement. Yoder sees better results when both sides are a success. "There's more in business today than selling to people," he explains. "It's the relationships you build."