Where visions meet solutions
Major investments in new facilities in Europe and the US have marked the year of KP Components' 50th anniversary
The summer of 2019 was a hot one for Denmark-based manufacturer of high-precision and complex parts – KP Components. Characterised by a number of significant infrastructure developments and occasions for celebration, the months of June, July, and August were a time of milestones that laid the groundwork for even more impressive growth in the coming years.
To start with, midway through the year, KP Components celebrated its 50th anniversary. Either side of the jubilee, the company opened a new production hall in Sweden and a new warehouse in Denmark, and then announced its plans to build a second plant for its US operations.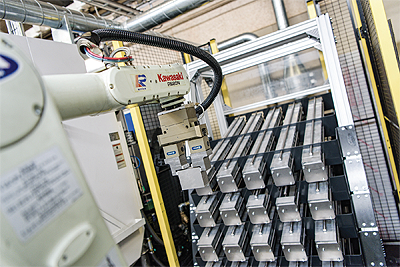 "We have almost doubled our production space in Sweden with the inauguration of the new factory in June. Since then, we have installed four new CNC machines, producing parts primarily for the mobile hydraulics and transportation segments," explains CEO, Søren Husted. "In Denmark, we took the decision to open a new dedicated warehouse, in order to create a better and more optimised logistics setup, as we have a lot of customers who depend on us to carry part of the inventory in their supply chain. It is a relatively high number of goods that we store and the automated system we have introduced to the warehouse is helping us to be a lot more efficient."
The completion of the warehouse in June coincided perfectly with KP Components' intention to hold a big party for its employees and acknowledge its half-a-century anniversary in a fitting manner. Therefore, the warehouse provided the venue for the internal celebrations, while the manufacturer also organised several other events for its external partners – customers and suppliers alike – inviting them to join in the festivities.
"Shortly after, in August, we also shared our plans to open a new 50,000 square feet building in Easley, South Carolina, to meet the increasing demand from the US," Søren continues. "This will be a $16 million investment that will create nearly 50 new jobs and will see us install several milling machines to serve the projects that we already have in the pipeline. Crucially, the land that we have bought will allow us to expand the new plant further, if necessary, to a size of 100,000 square feet. This way, we can future-proof our activities in America and have the confidence that we will be able to react in a timely fashion, if the requirements for our services there grow dramatically."
There has, indeed, been some strong growth from Sweden, Denmark, and the US in recent times. KP Components has continued to win new customers and increase its market share, which has also informed the investments in the new facilities. Nowhere has this been more evident than in Sweden, where the company has registered excellent results for a third year running since its acquisition of Trestads Precisionmekanik (TPM) in 2016.
"It has been an exciting few months, during which we also renamed TPM to KP Components, so that we could establish the KP brand in Sweden, as well," Søren says. "We supply various market sectors, such as hydraulics, transportation, marine, and energy, but out of these, the former two are the ones that have, both historically and in the present day, demonstrated the greatest demand for our products.
"We follow a very focused strategy where we aim to be the best in producing complex parts at a reasonable volume. It is key for us that we have a fairly high quantity of components to make, because this justifies the setting up of automated production.
More importantly, we always stress our capabilities in creating very complex and high-precision parts. As a turnkey supplier, we are a specialist in different types of machining, honing,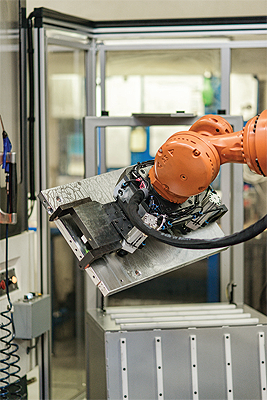 grinding and thermal deburring. Our aim is to deliver our products directly to the customer's assembly line, thus fulfilling our one-stop concept."
Serving some of the largest and best-known global OEMs, KP Components has been awarded the contract for multiple projects in Sweden and Denmark over the past 12 months. Notably, some of these include OEMs moving away from one supplier and going to KP Components, instead, recognising the better quality the Danish manufacturer can offer.
A lot of the large OEMs in question also have locations in the US and their common approach is to seek suppliers that have an operation in the country, as well. Consequently, the fact that KP Components has opened a plant in America, gives the company a strong advantage in the US market and determines its successful exploits.
Søren adds: "By definition, there is a very big demand for hydraulic components in the US. Another reason why we are in a very good position there, at the moment, is because we are not affected by the uncertainties caused by the China-US trade war. We can operate 49independent of these concerns, because our base in America has everything us and our customers need, which means that the OEMs can be assured that there will be no disruptions in their supply chain."
He wraps up by divulging the plans KP Components has for the foreseeable future: "First and foremost, our goal is to pursue additional growth in the US. Together with this, we will carry on bidding for new projects and, hopefully, winning them, which will enable us to gain more market share. It is hard to predict where the company will be in five years' time, but I do not see any reason why we should not stay on an upward trajectory, given the abundance of opportunities available in the global marketplace."
KP Components
Products: High-precision metal parts