Precision – a lifestyle
KP Group has increased the capacity of all of its manufacturing facilities by purchasing new CNC machines and robots, as the company aims at improving its proposition in the manufacturing of high-precision components
The 2010s have been a time of profound developments for KP Group, whose reverberations are set to have a significant effect on the company's activities in the coming years. Preparing to celebrate its 50th anniversary in 2019, the Danish manufacturer of components for all types of low and high-alloy steel and metal castings has enjoyed steady growth in recent times due to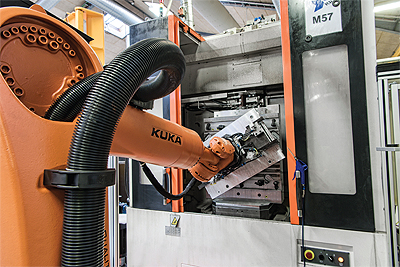 international expansion and a focused strategy.
Originally founded as a family business, in 2011, KP Group made a bold move opening a manufacturing facility in the US, in the city of Easley, South Carolina. Three years later, the firm had its majority share acquired by the Swedish private equity fund Segulah. Then, in 2016, KP Group executed a strategic acquisition itself, purchasing a Swedish subcontractor of complex machined components called Trestads Precisionmekanik (TPM).
The company registered a 16 per cent growth in turnover in 2017, with further rise projected for this year, as well. Group CEO, Søren Husted discusses the major factors that have led to these figures. "Certainly, the opening of our US facility has been met with success and we continue to see excellent possibilities for future growth in America. Furthermore, the acquisition of TPM has helped us strengthen our position in Scandinavia, which also contributed to our strong performance.
"If I were to single out the two main reasons for our growth, however, it must be the combined effect of our strategic focus on the mobile hydraulic segment and the upturn in the market that started in 2017," Søren notes. "We operate in six areas, but two-third of our activities are focused on the mobile hydraulics field, and this segment has definitely seen very positive development over the last two years. Taking advantage of our technical skills and know-how, we can produce hydraulic parts that go into motors, pumps and valves for off-highway equipment such as tractors for the agro industry and other vehicles used by the construction sector or similar industries."
Other sectors in which KP Group is active include marine, offshore, energy, consumer and process control. What is more, the business is also able to offer production of parts to customers, whose requirements do not clearly fit into any of these segments, never shying away from the opportunity to take on challenging projects in uncharted business territories. "Energy, in particular, used to be a really buoyant area for the company, primarily within the wind sector. It has now decreased a little, chiefly because more and more of the manufacturing process is being outsourced to China and other countries in the Far East," Søren states.
KP Group combines its many years of experience with the best machinery available in the market to provide its customers with competitively-priced products. The business has the most advanced technologies at its disposal, which, in addition to precision and quality, enable it to supply items with a unique degree of complexity. Committed to constantly improving its own capabilities, the company has engaged in equipping all of its facilities with new machines in the past couple of years. "In total, we have invested in 16 machining centres – nine in Denmark, six in the US, and one in Sweden; as comwell as in eight robots, of which five were installed in our Danish facility, two in the US plant, and the last one in the Swedish factory.
"We want to see ourselves as a one-stop shop, therefore, we have developed a capacity to deliver components that are ready for our customers' assembly line. We are skilled in running a wide range of processes such as milling/turning, honing, grinding, high pressure jet cleaning, ultrasonic cleaning and thermal deburring, that are required for the manufacturing of complex high-precision parts," Søren continues.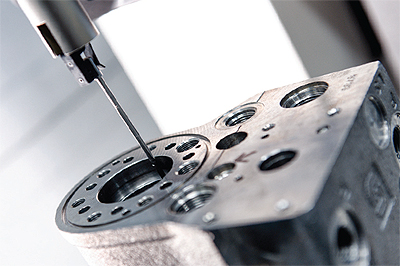 The production style adopted by KP Group also demands a highly-educated staff, which the company has succeeded in integrating in line with the business' technological development. By achieving this, the organisation has managed to expand its expertise and skilfully act as a trusted and strategic partner for its customers during their phases of development and production.
Moreover, the company considers its flexibility a cornerstone of its operation, drawing upon a rich experience in developing logistics solutions, tailored to meet the demands of its clients. Its just-in-time system has proven economically beneficial to customers and has enhanced reliability of supply, giving KP Group a significant advantage over its peers in the industry.
Demonstrating confidence in the prospects Scandinavia will continue to present in the future, the company has started the construction of a brand-new manufacturing facility in Sweden that will double the company's production space. Søren analyses the ways, in which the market might develop in the years to come: "It is always difficult to make a prediction, but every piece of market research shows that the mobile hydraulics segment will remain very strong in 2019 and, possibly, a bit beyond.
"There is a great potential for us in the US, in particular, where the need for high-quality construction equipment is growing, which, we feel, we can match with our set of capabilities," he envisages. "At the moment, we find ourselves in a strategic sweet spot, in terms of our customer relationships. A lot of the big OEMs we deal with, are looking for suppliers that can serve them in multiple countries around the world. Our strategic advantage over the competition is precisely that we are such a global service provider that stays close to its large clients wherever they happen to be."
Anticipating another successful year in 2019, KP Group is motivated to continue realising its vision of being the go-to company for the machining of complex high-precision parts. "Alongside developing our production skills, our strategy also involves us fostering the good working relationships we have with the aforementioned large OEMs, so that we can grow with them by handling their requirements all over the world," Søren concludes.
KP Group
Products: High-precision metal parts