A refined approach to continuously reinventing the company
Specialists in the design, manufacture and modification of tailored machines and equipment, independent family owned firm Kreber BV uses its 114 years of experience to deliver optimum quality equipment that ensure customer satisfaction each and every time
A designer and constructor of machines for more than a century, Kreber began operating in 1902 in the shipping industry in response to market demand for steam engines on fishery vessels. Since then, the company has diversified its markets and today develops unique machinery based on the research and innovation ambitions of its clients. Kreber specialises in engineering, manufacturing and commissioning of heavy machinery for customers within the petrochemical, food processing and maritime & offshore industries. In essence it concerns innovative heavy (process) equipment, high pressure machinery and vessels, skid constructions, manipulation and handling equipment, for which protection of intellectual property is paramount to their clients' competitiveness. With a focus on continuing the 114 year old company Kreber aims at long lasting relationships based on the highest customer satisfaction.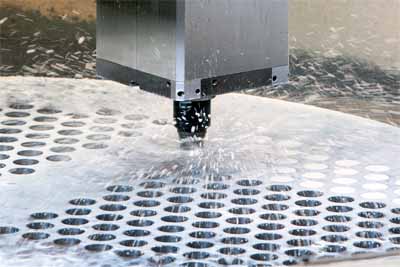 "Our first customers were within the local fishery sector as they were just beginning to be affected by the first industrial revolution. Following this, an opportunity opened up in the food processing industry during World War One. When the financial crisis hit in 1929 we faced challenging circumstances that forced us to reinvent ourselves again. A decision that resulted in our expansion into the dredging industry. This market grew over the years and reached a peak during the Delta Works in the 1980's. The Delta Works was a master plan of the Dutch government to never let the sea flood the Netherlands again after the big flood in 1953. It was the biggest maritime project in the world in that era. For Kreber this project lasted approximately 15 years and involved the design and manufacture of many dredging tools in extremely short times frames," begins Managing Director of Kreber BV Paul Dits.
"Another key development in our history took place when Dutch State Mines changed her business from coal mining to bulk chemical production in the 1960s," he continues. "The State Mines were closed and the company converted into one of the most innovative industrial chemical companies in the world; DSM. This development catapulted our expansion into the (petro)chemical industry. In close co-operation Kreber started to develop proprietary machinery for the production of bulk chemicals. This is how Kreber Prilling Equipment originated. A prill is a small globule of a material, most often a dry sphere, formed from a melted liquid. Prills are formed by allowing drops of the melted prill substance to congeal or freeze in mid-air after being sprayed from a tall prilling tower. A provider of prilling systems for more than 50 years, Kreber is able to deliver an innovative technique that results in high-quality and pure prills that can be used for the bulk production of chemicals such as urea, ammonium nitrate, nitro  phosphate and hisphenol-A." Proud that the first prilling machine ever made by the company in the 1960s is still in operation and making money for its customer, Kreber's prilling installation consists of state-of-the-art components, which provides the end user with a quality assured, uninterrupted process against optimal exploitation costs. Strengths such as high-level reliability, low operation expenses and high quality production are the result of decades of innovative developments.
Based in its 9500 square metre manufacturing plant in Vlaardingen, along the Nieuwe Maas river, 15 kilometres west from Rotterdam, Kreber is dedicated to seeking out innovative solutions that not only meet the stringent regulations of the petrochemical, offshore and food industries, but also meet the ever-growing demands of its customers. "Many of our clients are big multinational companies that we have developed long-lasting relationships with, in fact, we have been working with one of our customers for 90 years! Being active in various niche markets means we have noticed that, in general, pressure begins to rise when growth in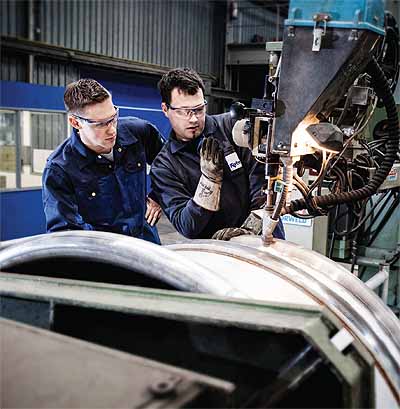 certain industries is coming to an end. With for example the oil and gas industry being challenged by low oil prices improving efficiency is no longer a good enough solution for our customers; transformation is coming, which means we don't need to improve on what we have always done, but instead focus to do things differently and be more innovative. Although this causes challenges for us, we have a unique selling point as we keep full manufacturing in-house and don't work for competing customers, which means each of these multinational companies knows we will protect their intellectual property," explains Paul.
One way the company has responded to this challenge is through establishing the five step Kreber Solution Cycle, a unique working method that results in machines that deliver the best performance while also being the most suitable to a customer's demands. Starting with discussing ideas, frustrations or challenges, the cycle continues with a thorough analysis of research results before Kreber works step-by-step through the design, engineering, manufacturing and testing of the product. To further ensure quality, the company also ensures customers do business with the same person: their project manager. With tests complete, the company delivers the machine and sets it up in the customer's company; results are tested and Kreber then runs through phase three again until complete satisfaction is guaranteed. Following the completion of the product, Kreber then takes care of all maintenance and repairs, which also enables the company to seek out improvements of the machinery.
"We work as a single point of contact during the five step solution cycle and have intelligent engineers who use their innovative insights combined with past experience to deliver a high quality solution. By having a continuous feedback loop between the engineers and our customer's engineers we provide regular gate reviews and progress reports; keeping the customer continually involved is a key part of our success," highlights Paul.
By listening to its clients and focusing on developing its capabilities to the most intricate of details in line with market changes and customer demand, Kreber is certain to continue delivering 'the thrill of first time right' to its global customer base.
Kreber BV
Products: Tailor made machines and equipment