A study in detection excellence
Kromek Group's unique expertise in the development and manufacturer of cadmium zinc telluride (CZT) continues to be used across various applications in order to promote safer environments and a better quality of life for all
Founded in 1832 and located in the North East of England, Durham University was one of the first universities to commence tuition in England and has been described as the third-oldest in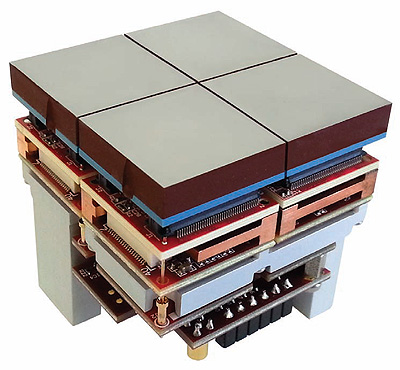 the country. It is also home to one of the UK's leading Physics and Astronomy departments, with a staff of 37 professors, 11 senior lecturers, 18 lecturers, and approximately 100 post-doctoral researchers and fellows.
In April 2003, the company known as Kromek Group (Kromek) was formed as a spin out of Durham University's Physics Department in order to commercialise the technology it had developed over a period of 20 years. "Originally set up to commercialise the production of single crystals of the CdTe family of materials, Kromek subsequently evolved to move up the value chain," explains Chief Executive Officer, Dr. Arnab Basu. "Today we develop high performance radiation detection solutions, consisting of OEM components, module and end user products, based on cadmium zinc telluride (CZT) and other advanced sensor materials for the medical, nuclear and security screening markets."
Having raised over $40 million through five rounds of private equity financing, and $60 million in the public markets following its listing on the AIM stock exchange in October 2013, Kromek now has 100 employees in the UK and the US, and provides its medical imaging, nuclear radiation detection and security screening solutions to clients on a global basis. Bringing with it a previously unattainable level of image quality and end-user system functionality, Kromek's disruptive technology is driving innovation across multiple applications, from detecting cancer more accurately to identifying the presence of a 'dirty bomb' across an entire city.
"We sell internationally with partnerships and distribution channels in Asia, Europe and North America to a global customer base ranging from national governments to international airports, and from major energy providers to the world's largest technology and medical equipment groups," Arnab continues. "What these customers all share in terms of a common thread is that our commercially-viable radiation detection solutions are enabling them to successfully launch their new generation of clearly differentiated products in their respective markets."
In the field of nuclear detection, the company supplies personal radiation detectors (D3S) to the Defense Advanced Research Projects Agency (DARPA), an agency of the US Department of Defense, in support of its SIGMA programme. This programme is aimed at preventing attacks involving radiological 'dirty bombs' and other nuclear threats by developing an automated, cloud augmented, wide area radiation detection network, combining fixed and portable sensors.
"Our first involvement with the project was under a development programme with DARPA in 2014, and then in February 2016 we were awarded a sole source supplier contract after a competitive pitch," Arnab says. "We then worked to achieve the $400 price point for the product and establish a high-volume manufacturing capability. This year we successfully completed the delivery of an initial 10,000 D3S units."
Kromek's detectors have been field-tested in Washington DC and are now deployed in major areas in the US such as the ports of New Jersey, with DARPA planning to roll-out the programme to further major cities. They were also recently deployed by the European Commission Counter Terrorism Unit of the Directorate General for Home Affairs in Brussels and Belgian Federal Police officers during the recent visit of the President of the United States to Brussels, where they were used at locations including Brussels airport and the headquarters of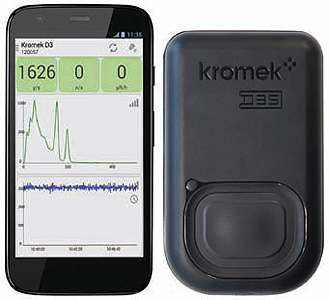 the European Council. "In further interaction with the US defence agencies, we have also been awarded a $1.6 million, two-year agreement by the Defense Threat Reduction Agency (DTRA), subject to final contract," Arnab adds. "This award is to build on, and further enhance, our technology platform to develop a ruggedised, high performance, isotope radiation detector that is capable for use in military, and other harsh, environments."
Kromek also specialises in providing detectors and subcomponents for OEM customers in the medical imaging market, including CT, SPECT and Bone Mineral Densitometry (BMD). The company provides a range of solutions, from cameras to components, to be included in new systems, as well as for retrofitting into existing systems. "Our solutions offer improvements in CT scanning, SPECT and BMD by adding an extra dimension of information to allow radiologists or physicians to make intelligent, critical decisions necessary for the treatment of patients," Arnab describes. "Colour imaging enables earlier, more reliable detection of cancer, cardiac conditions and osteoporosis with lower doses of radiation, resulting in better patient outcomes. As such, what we do is facilitate better, and earlier, diagnosis to benefit patients and reduce healthcare costs."
In recent years, considerable investment has been put into the company's manufacturing capabilities. In particular, Kromek successfully replicated in its UK facility the manufacturing processes that had previously been utilised at eV Products, its Pittsburg-based subsidiary that it acquired in 2013. This undertaking resulted in a doubling of the facility's then production capacity. The manufacturing processes incorporated provide improvements in efficiency and yield, enabling Kromek to scale up manufacturing in more than one site, while significantly reducing the supply chain risk for customers. In the time since, the company has continued to advance its production processes, in particular to establish high volume capability for manufacturing the D3S with capacity in excess of 30,000 units per year.
In February 2017, Kromek raised £21 million through a placing and open offer, which has considerably strengthened its balance sheet, and underpins its plans for the sustained growth of the business and supporting increasing commercial activity through the deployment of its proprietary technology.
"Kromek has market-leading technology and products, and we are well positioned to capture the large existing opportunities in our three key target areas of medical imaging, nuclear detection and security screening," Arnab says. "This is supported by our significant patent portfolio of over 265 patents, with six filed and 11 granted last year alone. Our goal now is to continue to deliver growth by progressing our product portfolio approach and advancing our strategy of becoming the preferred supplier to major OEMs in the SPECT market, the addressable market for which is $100 million alone, and in the supply of network sensors in nuclear markets.
"We are currently experiencing a step change in growth across all of our business segments and we expect to report revenue growth of approximately 40 per cent for the 2017/18 financial year. We continue to benefit from our customers launching next-generation CZT-based products into the market and in 2017/18 we expect OEM customers to launch further products incorporating our technology. We envision that Kromek will be recognised as the 'go-to' for CZT-based products worldwide and that the inclusion of Kromek's technology will be considered a mark of excellence for any such product on the market."
Kromek Group
Products: Radiation detection solutions