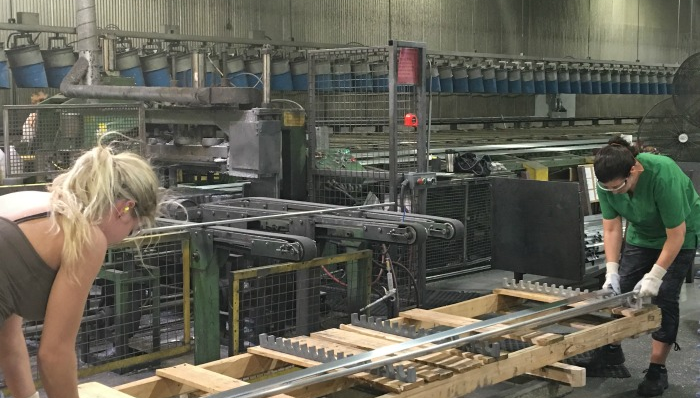 Some people underestimate aluminum. But the material best known as the primary metal in easily crushed soft drink cans, is also used in heat sinks, high-end appliances and decidedly durable military equipment. Still, it's a consumer mentality that Kromet CEO Mike Owens has seen throughout his career.
Owens was developing a steering wheel component for a major car manufacturer and suggested using aluminum instead of stainless steel. The car company was skeptical; after all, the steering wheel is the first thing a potential buyer sees when they sit in the driver's seat.
Owens' team was able to create a pristine finish that made the aluminum part look indistinguishable from stainless steel, thoroughly impressing the automaker. Owens strives to replicate that reaction every single day.
Kromet was originally founded in 1967 as a handle supplier for North American appliance makers, and has since expanded to offer a wide range of products for the home appliance industry. Many of the largest appliance OEMs in the world rely on Kromet to support their needs for decorative and functional components in aluminum, steel and multi-material assemblies.
Kromet's list of customers has also grown over the years. In addition to the appliance industry, Kromet now provides consumer-facing finished metal components and assemblies for furniture, automotive, urban transit and LED lighting manufacturers.
Kromet's global footprint enables it to provide customers with localized support for high-quality, low-cost manufacturing. "We're a one-stop shop that can provide everything from base aluminum extrusion to a fully finished multi-material assembly component," says Darcy Charron, vice president of Canadian operations. "That puts us ahead of most of our competition that has to outsource one of the operations."
Many of the products Kromet manufacturers are visible pieces of the end products. When the end user can see it, design and cosmetics become nearly as important as functionality. "In using finishing operations and aluminum processes we can adapt to the consumer trends that we're seeing," CFO Brent Mountford explains. "Consumers today prefer appliances with a stainless steel look, but with the reduced weight and fingerprint resistance of aluminum."
The company prides itself on creating finishes that make aluminum look as good as stainless steel. "We achieve a much better stainless steel look than other aluminum producers do and customers keep coming back to us because of our ability to produce handles that are of the highest cosmetic quality as well as maintain the design requirements," Owens says.
Kromet touts itself as an agile business partner that understands the multitude of complexities of product lifecycles in an ever-evolving market. "We try to align ourselves with the sources working at the design centers of our primary customers," says Mountford. Collaborating directly with the customer means that Kromet has input on the component's design, ensures good results and ultimately strengthens its relationship with customers.
Increasing Capabilities
But being a pleasure to work with is not enough to sustain a business, and component manufacturers must have the capabilities their OEM customers need. Its rapid prototyping and 3-D printing resources bolster Kromet's design work. Through additive manufacturing, Kromet can quickly create a model of a component that the company's engineers then use to refine the part. It can also provide physical samples to the client.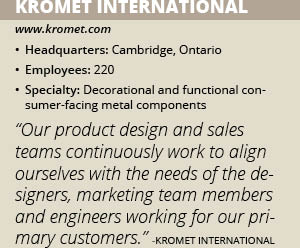 Speed is the key advantage with 3-D printing. A part that once took 14 to 16 weeks to prototype can now be made in as little as five days, according to Owens, condensing the entire design process and improving quality.
The largest of Kromet's three North American facilities is in Cambridge, Ontario, a 150,000-square-foot manufacturing plant with the capability to extrude, saw, machine, stamp, assemble and powder coat. The 68,000-square-foot Hamilton, Ontario, facility can machine, grind, bend, anodize and assemble finished products. Both Canadian locations are certified ISO 9001:2008. Kromet's third North America plant, a 25,000-square-foot facility in Saltillo, Mexico, focuses on machining and assembly.
In 2006, the company brought its manufacturing capabilities to the other side of the planet when it established Kromet Asia. The Asian facility is designed to support new product launch and development, manufacturing process control, quality assurance and logistics.
The company continues to invest in its manufacturing. Kromet recently began a $5.3 million expansion of the Cambridge facility that will be completed by 2020. The plan will increase the plant's capacity and modernize Kromet's fabrication equipment with the addition of robotic automation and 3-D printing. The expansion is expected to add 50 new jobs, which led to a $800,400 subsidy – about 15 percent of the total expansion cost – from the Southwestern Ontario Development Fund, a government-controlled economic development fund that supports businesses, municipalities and nonprofit organizations.
Automating the lower-skilled processes will allow Kromet to grow its workforce in other areas. "We have to accommodate the Ontario government for its 15 percent investment to grow our job count and we've chosen to do that with skilled labor," Owens says.
The decision to expand was fueled by Kromet's goal to double in size from a $48 million business to a $100 million company within the next five years. "We saw that our market was definitely there but we had to expand our capacity to handle that kind of growth," Owens adds.
To achieve that higher capacity, Kromet needed to improve its machining capabilities. Over the past two years, the company has increased its number of CNC machines from three to 12 and added equipment for powder coating, bending, roll-forming and assembly. "We're focused on growth and we have all the commitment of the ownership and financing in place to sponsor the growth," states Owens. "Now it's just a matter of execution."
Individualizing Quality
The people who make up Kromet are the force behind the company's success and evolution over the years, and are likewise relied upon to drive quality. To better support its quality goals, Kromet developed iKuality, an initiative that engages workers on a personal level at their stations. The initiative challenges employees to consider what they can do every day to improve the quality level of the parts under their responsibility.
"We try to drive everything from continuous improvement down to the individual operator level," Charron says. The attention Kromet gives its employees encourages longevity and builds the company's institutional knowledge – in fact, two employees recently celebrated 45 years at Kromet. "We've got a pretty strong, engaged workforce I'd say are happy to be here and continue to grow as the company grows," Charron adds.
After nearly a half-century of success, Kromet looks towards the future with confidence and excitement. And with innovation driving decision-making, Kromet is embracing technology and building on the strength of its leadership and its people, all while continuing to enhance its partnerships with existing customers. Kromet is also working to increase its focus in the auto market while researching future expansions into markets such as the Aerospace components industry.
With highly experienced and innovative teams within all areas of their organization, Kromet is extremely well positioned to leverage their internal expertise to continue to grow and prosper within its current and future markets.