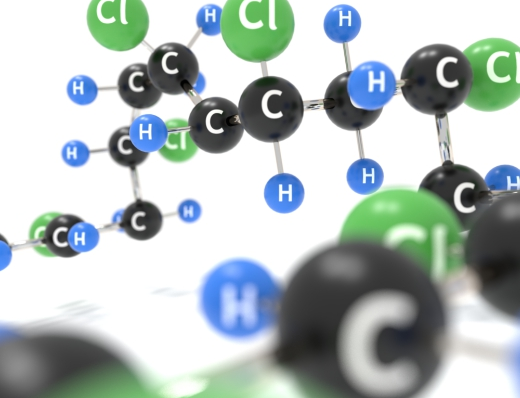 Torsten Kruse has a vision. After spending 23 years in the plastic injection molding industry, he knows how companies lose money if they fail to design a part effectively and with precision. Kruse is in the business of helping manufacturers, especially those in the medical and automotive industries, design and redesign plastic parts that can be molded more efficiently, effectively and to a higher quality.
"If you make a mistake in designing the part, it can be very costly," he says. "Steel molds can cost anywhere between $25,000 and several million."
More than two decades ago, Kruse founded Naples, Fla.-based Kruse Analysis that specializes in computer-aided engineering molding simulations. Mold filling analysis ensures that a part will fill properly and allow its engineers to have a smooth "art to part" development and manufacturing process.
Now Kruse is bringing his vision – a new interactive, goal-orientated cross-training program – to the injection molding industry. Kruse developed an online training and learning system that is designed to cross-train among part designers, mold designers and process engineers.
"If everyone knows the scope of the others' expertise, they can talk to each other more effectively, more intelligently and influence each other's part design," Kruse says. Launched in January under newly founded Kruse Training, the Circle of Knowledge is designed to help companies train and educate their employees.
"I've always been an educator," Kruse says. "And this is a combination of all of my knowledge. It's a very easy-to-understand, step-by-step guide for others to learn what I know."
Multimedia Platform
Kruse Training is a subscription-based and future- oriented interactive online program. It teaches both foundation and expert knowledge about plastic injection molding to corporate or individual clients.
"This is unique because it combines the different aspects of injection molding," Kruse says. "What we're trying to do is offer 24/7 online training. It's an ongoing personal training program for each employee."
The platform is designed to present information in a logical sequence. Its unique virtual learning assistant system combines animation, timelines, videos, interactive quizzes and multimedia presentations that build skills and increase confidence.
"It's not just a PowerPoint presentation," says Nathalie Fischer, director of web development and marketing. "You'll get a multimedia experience within the lessons."
The platform's goal is to develop synergistic teams of cross-trained professionals who can successfully design and mold plastic components. It's based on the principle that free-flowing knowledge among the part designer, mold designer and process engineer creates a "circle of knowledge."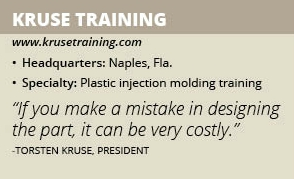 Entering The Circle
Kruse Training charges a fee of $5,000 per year for three users. It includes unlimited access to its Circle of Knowledge platform. 
The Circle of Knowledge certification program is comprised of five levels, including a master expert level. Each level consists of multiple lessons on topics including molding fundamentals, polymer materials, part design, mold design and processing. "The first level is fundamental," Kruse says. "And each level gets more complex."
Each lesson concludes with a quiz to test the trainee's understanding of the material. Progress can be tracked and monitored by a supervisor to ensure satisfactory completion, and then a final test will be administered to achieve certification for each level. "They will have to answer between 80 to 100 questions and if they get a passing grade, they will be certified," Kruse adds.
At this time, the program is not accredited. "We are not at that stage yet," he says. "But we intend to get accredited." At its launch, Kruse expects the platform to contain roughly 40 lessons. Each lesson is designed to take between 15 and 20 minutes to complete.
"Every year, we will add 25 to 30 lessons," Kruse says. "It's ongoing; this is going to be an endless program. We can add to it. We can modify it. There is so much possibility in this environment."
Level Up
Fundamental knowledge of the plastic injection molding industry is covered and reinforced in the first level with simulations, videos, animations, graphs/charts and quizzes. Examples use simple molded parts to lay the foundation for future understanding of concepts using more complex geometries.
Levels two through four are certification levels. Topics will contain more complex subject matter that builds on the foundational knowledge of the first level. Lessons will also be multifaceted with a mix of media to further explore subjects and build knowledge about increasingly complex topics.
They will continue to have quizzes for each lesson to test the trainee's understanding of the material and a final test to complete certification for each level. The master certification level will be available to trainees that have satisfactorily completed the first four levels with certification.
At its launch, the Circle of Knowledge will be available in English but Kruse plans to eventually add Spanish, Portuguese, Mandarin and a few major European languages. The platform will be unveiled Feb. 6 at the Plastec West conference in Anaheim, Calif., and later at the NPE Plastics Show in May in Orlando, Fla. "It's going to be a worldwide website that will reach a major audience eventually," Kruse says.
Kruse, who began developing the program two years ago, believes it will save companies time and money, deliver repeated product success and enhance an employee's overall expertise.