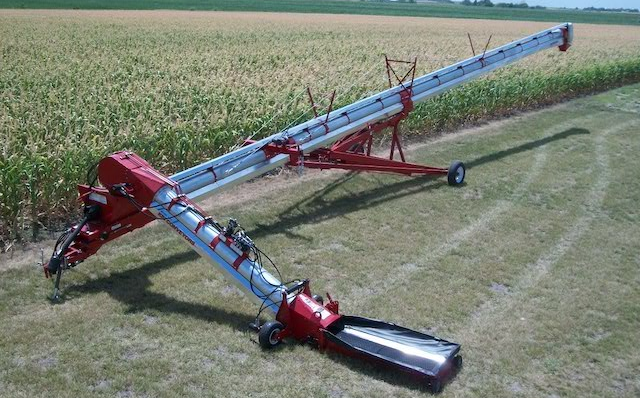 For farmers and others in the agriculture industry, a bag of seed represents a significant investment. Like all businesses, agricultural companies need to ensure this investment is protected and continues to yield dividends.
Since its founding in 2001, KSI Conveyors has helped agriculture industry leaders and growers get the most out of every single seed they plant. "A lot of people look to us to help them solve their problems, as they know that every seed has to grow, and every seed is seen as value-added," says Paul Kaeb, co-founder and CEO of the Sabetha, Kan.-based Company.
Kaeb and three brothers started the company after one of his siblings, Todd, was asked by a client to develop a way to handle 50 or more pounds of seed in bulk. Todd Kaeb at the time worked for a company that specialized in grain storage systems including grain bins and augers.
"Augers have the tendency to damage and break up seeds," Paul Kaeb says. "[Todd] was asked to build a bulk seed facility, and knew he would have to use a conveyor to do that, but no conveyor existed at the time that could effectively move this sort of product without damaging the goods."
In response to this challenge, Todd Kaeb developed and patented a cleated belt conveyor capable of moving seed at a steeper angle than augers while not damaging the seed. After initially questioning whether to sell the idea for the device to another manufacturer, the Kaeb brothers opted to develop and market it themselves. Paul Kaeb, KSI Conveyors' first official employee, says he applied his management experience from his previous employer to the new venture. "I was working for a family owned manufacturer that had a culture similar to what I believed could work if we started our own company," Paul Kaeb adds.
Today, KSI Conveyors are used to move seed and grain across North America as well as in Asia, Europe and Africa. Although the cleated belt conveyors are used primarily in the agriculture industry, they also have had manufacturing applications moving building aggregate products and nuts and bolts. The company's customers include large OEMs to whom it has either provided systems or licensed the patented technology to.
"We have been able to survive ups and downs in the agricultural market because we are leaders in the industry when it comes to seed quality," Paul Kaeb says. "Even when the market is down, people know they are getting the most return on their investment with our systems."
An Expanded Mission
KSI Conveyors has greatly expanded its mission and offerings in the years following its introduction of the cleated belt conveyor. "We are more than a conveyor company now," Kaeb says. "We saw a need to get into PLC automation controls for bulk seed systems and from there decided to get into seed treating equipment that fully integrates those systems." It also provides data collection and documentation services for accuracy and efficiency.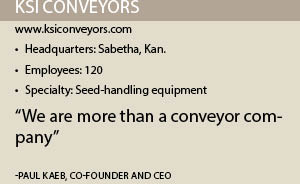 The company's seed treatment systems include cleated belt conveyors, hoppers, applicators, liquid stands and metering equipment. KSI Conveyors' automation offerings include bulk site control and seed control systems, which its technical staff supports with around-the-clock training and troubleshooting assistance. It also provides cloud-based data collection.
KSI Conveyors' expansion follows a similar model to Paul Kaeb's former company. "I spent 25 years working for a company that developed any type of product that would meet our customers' application," Kaeb says. "At KSI, I saw a way to be more sustainable in our work with seed handling facilities by listening to our customer base."
The company continues to expand its capabilities. "We invest heavily into research and development," he adds, noting the company owns roughly 10+ patents, many of which it co-credits to its employees. "We are always looking at ways that we can solve common problems, and right now have six to eight ideas for things that could benefit the industry."
A Custom Fit
Manufacturing job shops and other vendors produce most of the components for KSI's conveyor belts and other machines off-site. Final assembly is performed in either the company's facility in Cissna Park, Ill., or a plant in Sabetha, Kan. Between the two locations, KSI Conveyors operates roughly 90,000 square feet of production and office space. In addition to assembly, the company self-performs design and programs including the electrical wiring for its control equipment and operates engineering, sales, quality control and shipping departments.
The company's product line uses standard components that can be modified for its customers. "Our conveyors can be any length and work in a manner that is sufficient for our customers' needs," Kaeb says. "Using key components, we can build a product that fits their existing systems. That has been the key to our success."
KSI typically builds between 10 to 20 conveyor systems at a time along with control panels, hoppers, pumping systems and other components. The company maintains roughly $6 million worth of inventory, which it uses to assemble custom-designed systems. "We practice just-in-time manufacturing as much as we can, but keep a minimum amount of parts on hand for top-ticket items,"
CFO Neal Kellenberger says. "We let our sales drive our inventory, and that's what helps us keep it down." The company typically turns over its inventory 3.5 times a year.
All of the systems assembled and sold by the company are closely inspected and tested. KSI Conveyors also regularly conducts limited pilot releases of many of its products before they go into wider production.
"I think it's crucial that we stand behind our products, whether they are sold through our distribution and dealer network or direct to customers," Kaeb says. "We take responsibility for our products and make sure they meet customers' expectations."
Working Together
Kellenberger credits the company's internal culture with much of its success. "I'm proud of the fact that we care about our people," he says. "I come from a background in the accounting world where every person is a number; here, it's much more about caring about everyone as a person. Your fellow employees become a part of your regular work life here; our whole company works together like a single body. With over 100 employees, culture has been the key to maintaining our integrity and service edge."
KSI Conveyors' staff works to not only better the company and its customers, but also the communities in which it works. "One of our values is to put others first," Kaeb says.
Each staff member is given 40 hours of paid time off annually to participate in humanitarian-related programs. "We want our employees to take time to help others, and this is our way to make it possible for them to do that," he adds.