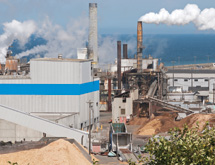 KWS Manufacturing Co. Ltd.
When KWS Manufacturing Co. Ltd. President and CEO Bill Mecke is asked what he is most proud of about his company, he thinks about it a little and lands on "something that is somewhat unique": the way in which KWS treats its people. KWS has the standard company picnics and seasonal parties that most organizations do, but it also has the KWS Cares program. When an employee is facing a crisis or catastrophic event in his or her life, the company's other employees are allowed to donate some of their vacation time to the employee in need.
KWS then converts that vacation time to dollars and matches the donations 3:1, using the money to pay bills for the employee in crisis. This doesn't happen often, but in the past, the company has raised $20,000 to $35,000 in a week.
"It's good to step in and help out," Mecke says. "We want to take care of our own people, not have someone else taking care of them. We love to do it and as a plus it builds loyalty, which, in a manufacturing environment, it can be hard to find people who are loyal. But we know that you have to be loyal to them first before you can ask for loyalty back."
This loyalty, he stresses, is a major aspect of the company's ongoing success. Based in Burleson, Texas, KWS is the market leader in the design and manufacture of conveying equipment for the bulk material handling industry. Serving power transmission distributors, engineering firms, system suppliers and OEMs, KWS is dedicated to delivering the highest quality, and in support of this, the company is the only ISO 9001:2008 manufacturer of its kind in the nation.
"To be the market leader, you have to define what quality is," Mecke says. "It's not just product quality – quality has to be defined by the customer, and that is the total experience the customer has with KWS. It starts with how we answer the phone, and the ISO quality mission is having a commitment to customer satisfaction and continuous improvement. Quality throughout the whole process is very important. The beauty of ISO is that it gives you a template of how to run a quality program, but not how to run your business – that you have to do on your own."
Responding to Market Needs
Building mechanical conveying and processing equipment in its 125,000-square-foot facility, KWS primarily focuses on the food, chemical, pulp and paper, and wastewater treatment markets. Its facility is self-sustained with a machine shop and steel fabrication capabilities, allowing it to manufacture conveyor screws and assemblies as small as two inches in diameter to as large as 168 inches in diameter.
"We focus on any industry that needs our equipment, but we were doing so much business for the wastewater treatment market that we formed KWS Environmental, which focuses solely on that market," Mecke says. "We offer special products that fit that marketplace. Our competitors don't do that – most of them don't have a specific division to focus on a certain industry."
KWS just finished a project in south Texas where an oilfield-drilling customer used its heat transfer screw processors, which can heat, cool or maintain a temperature while conveying the product. Mecke explains that the customer can run drilling mud through a dryer and recover some of the oil, vapors and gases. The dirt then goes to the KWS conveyor and is cooled from 500 F to 150 F.
"At this point, the dirt can be handled and our client can sell it for road construction," he says. "Our product helped the client take a hazardous substance, make it inert and allow it to be reused."
Repeat Business
Customers' speed-to-market demands continue to increase, so KWS is working to ensure it response time gets faster. From engineering drawings to the manufacturing process, everything has to be faster and more accurate. "Every day we have to find better ways to do things, and we are doing that through ISO," Mecke says.
Mecke has been in this business for about 25 years and purchased KWS 11 years ago, and since he took over the company has seen 500 percent growth. He wants that to continue, and he says this will happen due to his employees' ability to develop more products, attract more markets and customers, and improve performance with its current customers and sales markets. It is the employee loyalty, he emphasizes, that keeps it strong.
"We've achieved a significant amount of growth and that is due to customers liking us and continuing to come back," he says. "Having a lot of repeat business makes you feel really good, and our employees are a big part of that."