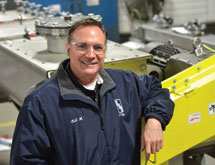 Based in Burleson, Texas, KWS has a 125,000-square-foot self-sustained manufacturing facility that includes a machine shop and steel fabrication. From there, the company manufactures products that are marketed globally to many industries and a diverse customer base.
"We are in the middle of some continuous improvement projects that will expand our capacity and square footage, as well as allowing us to better utilize existing space while adding additional capabilities," President Bill Mecke says.
Diverse Opportunities
The company's customers include end-users, power transmission distributors, engineering firms, system suppliers and original equipment manufacturers. The industries served by KWS include agriculture, chemicals, food products, lumber and wood products, mining, oil and gas, power, pulp and paper, wastewater, stone, glass and concrete.
"We've also seen a lot of growth related to the alternative fuels industry and have several big projects going on in that sector right now," Mecke says. "We are also doing more oilfield-related work, as well as doing a better job of penetrating our markets and seizing marketshare."
Its product line includes made-to-order components, engineered equipment, Conveyor Equipment Manufacturing Association (CEMA) standard components and OEM replacement parts. Made-to-order products include everything from modified CEMA standard components to custom-manufactured screw conveyor assemblies with special abrasion-resistant hardsurfacing. Engineered bulk material-handling equipment includes screw conveyors, shaftless screw conveyors, belt conveyors, bucket elevators, vertical screw conveyors, screw feeders, live bottoms, drag conveyors, heat transfer screw processors and pressure vessels.
In addition, KWS maintains a large inventory of CEMA standard components. It can also produce OEM replacement equipment and parts to exact customer specifications. All told, the company can manufacture conveyor screws and assemblies from two-inch to 168-inch diameter. It regularly uses carbon steel, 300 series stainless steels and abrasion-resistant alloys, as well as high-nickel alloys for corrosion resistance and aluminum if weight is a concern.
"We are finding better solutions for our customers, and we have a very rigid quality program and a progressive continuous improvement program," Mecke says. "We can respond to customer needs quickly, and our work doesn't end until the customer has functioning and installed equipment. Then we check with them to be sure they are satisfied."
Adding Value
The company's products are used in a variety of applications and under a wide array of conditions. The KWS engineering team is capable of determining the right solution for its customers' circumstances.
KWS designs conveyors for many harsh environments, including corrosion- or abrasion-resistant, explosion-proof and temperature-sensitive conditions. In many circumstances, these applications require the system to be sealed from the exterior atmosphere and to be fabricated from functionally specific alloys. Because the KWS sales and engineering staff understand how to properly apply their products in a varied array of industrial applications, they can design bulk material handling equipment that will provide a solution to satisfy customer needs.
"The type of work we do often requires custom-engineered solutions for our customers," Mecke says. "Our equipment is conveying products that are often powdered or granular. We have 10 degreed mechanical engineers and four professional engineers on our staff. That is more engineers than our competitors combined."
That engineering know-how is part of KWS's value-added services, which can improve plant processes while reducing maintenance and downtime and increasing profitability. Engineering services include system design, process engineering, process layout drawings, equipment drawings, general arrangement drawings and engineering analysis. The company uses state-of-the-art 3-D parametric technology to design equipment and provide layout drawings to customers. KWS can also provide structural analysis for hoppers, bins, silos, supports and other equipment.
Other services include process improvement, troubleshooting and plant survey services. On the process improvement side, KWS personnel can observe customers' processes in action, helping to determine current process issues and find possible solutions. Troubleshooting services can help customers nail down issues related to equipment failure and provide long-term solutions.
Finally, plant survey services can measure and document all of the components and assemblies for the bulk material-handling equipment in a customer's plant. KWS can provide dimensional component and assembly drawings of equipment, and can manufacture and inventory spare parts.
Looking for More
KWS continues to look for ways it can enhance its operations. About a year-and-a-half ago, it invested in a new CRM software solution that allows it to better document every touch of the customer.
"That allows us to get better feedback from customers and to review it," Mecke says. "If there are any issues, we can be notified immediately and solve the problem. Those are things that customers remember."
The company is also investing in the support of its standard product offerings. Although around 90 percent of its products are custom-designed for customers, the remaining standardized stock product market is a growing area for KWS.
"We've built manufacturing cells for each stock product," Mecke says. "That way, we can build the products in a short period of time, doing a lot of build-to-order instead of having to inventory large product quantities."
Ensuring the quality of its labor pool is another ongoing focus for KWS. Mecke says there is a shortage of skilled labor, and KWS is working with local community colleges to help develop programs that can help to fill the void. Good pay, benefits, equipment and advancement opportunities are how Mecke says the company retains people once it gets them in the door.
Mecke says KWS still only has about 15 percent of its market, meaning it has plenty of room to grow. The company will look to build its salesforce so it can grow its customer base while also adding capacity so its sales efforts don't overwhelm its manufacturing capabilities.
"We are committed to customer satisfaction," Mecke explains. "We know we are pretty good, but we want to be even better."