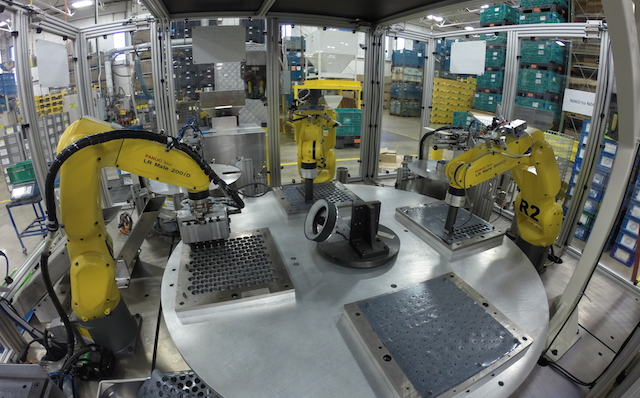 When they founded L&L Products in 1958, Bob Ligon and Gene Lane established a set of values they felt they and their employees should embody. Nearly 60 years later, those values continue to guide not only L&L's work with customers and suppliers but also the way the company treats its employees.
"Our corporate purpose is to be a good place for all who touch it, where the quality of work, products and our relationships is our priority," President Tom Kleino says. "We treat each other with dignity and respect – that is the pinnacle of our culture."
L&L Products lives out its founding values in a variety of ways. "We do a lot for our employees, because they are our No. 1 asset," he adds.
The company offers a number of benefits to its employees. These include full medical insurance at no cost; a medical clinic at its Romeo, Mich., headquarters where employees and family members can receive, wellness visits, annual physicals as well as chiropractic services; and an on-site cafeteria that offers healthy meals to all employees at a fair cost.
Employees are also offered  tuition reimbursement for college courses or additional training. Staff members' children and family members qualify for scholarships awarded annually by the company's education foundation. "We are looking to hire great people, and the talent market for the people we are looking for is very competitive," Kleino says. "We want to be an employer of choice wherever we chose to locate."
The company regularly recognizes employee achievements such as work anniversaries, and hosts a number of other employee appreciation events such as parties, picnics and luncheons each year.
Staff members are informed of the company's activities through monthly all-employee meetings. "There are a lot of new things happening here, so we want to make sure everyone knows what's next," Kleino says, citing the company's recent addition of 72,000 square feet of manufacturing space and new equipment installations as examples.
L&L Products' staff is also given the opportunity to travel and work in the company's production facility in France. Five to eight people annually participate in the company's international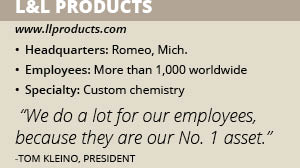 employee exchange program, which the company plans to expand to include its other facilities around the world. The company operates sites in other European countries as well as in China, India, Australia, Turkey and Brazil.
Many of the company's employees are also involved in community outreach programs. These include Adopt A Family programs that benefit local families in need during the holiday season, local high school robotics teams and Manufacturing Day events, where it hosts local students.
L&L Products' positive culture recently earned it a Best and Brightest Wellness Award from the National Association for Business Resources.
"I'm proud of the guiding principles our shareholders brought to the company, and think we've taken those to the next level," Kleino says. "Now that we are an international organization, we want to expound on those values.
Combining Disciplines
L&L Products designs and manufactures custom chemistry. It forms this into components used in applications including static sealing, acoustics, vibration reduction and structural reinforcement. The company uses proprietary chemical blending processes to mix together elements and other raw materials. L&L Products' other manufacturing processes include injection molding, extrusion and laser cutting. Much of the company's manufacturing and assembly processes are automated, Kleino notes.
The ISO 9000-certified company holds more than 400 patents on its products and blending processes. The company's patents and unique processes have earned it recognition on Crain's Detroit Business' "Eureka Index," which notes companies' level of innovation.
"We're unique in that we combine the disciplines of chemical engineering and mechanical engineering," Kleino says. "Our chemistry can come in a drum or in a tube, or  in an engineered component, which reacts within a customer's manufacturing process to make something quieter, stronger or lighter."
The components made by L&L are assembled within a vehicle body, and then cured while the vehicle is painted. L&L Products' staff is closely involved in the design of the vehicles that use its products, and regularly follow up with customers long after they are applied.
"Our goal is to be in touch with our customers every day," he adds. "This isn't just a sales guy calling someone for lunch; we involve our engineers, plant representatives, research and development [and others]. Someone in a technical capacity at L&L is reaching out to our customers every day."
The company's main market is the automotive industry, but it is rapidly expanding into other sectors including aerospace, commercial vehicle and industrial applications.
"We have teams dedicated to those markets, and are increasing our research and development in those areas so we can design products specific to those markets," Kleino says. "We have a vision of innovation and operational excellence that allows us to be uniquely positioned in many different marketplaces."