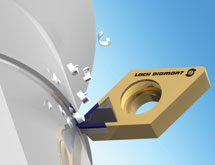 Finding a tool that works and finding a tool that works best are two completely different things. In the manufacturing industry, even slight differences in tools can affect quality, productivity and efficiency. At Lach Diamond – following the model of its affiliated predecessor Lach Diamant of Germany founded in 1922 – the company strives to give its customers the best possible tools for their specific applications.
As a developer of tools employing polycrystalline diamond (PCD) and cubic boron nitride (CBN) technology, Lach Diamond manufactures cutting tools used by the woodworking, metalworking, automotive, aerospace and wind power industries to manufacture specific components.
Now in its 30th year, the Grand Rapids, Mich.-based Lach Diamond will showcase new drills for composite machining at this year's International Manufacturing Technology Tradeshow (IMTS). It also will introduce innovative technologies that can enhance manufacturing productivity.
One of those is the company's patented PCD chipbreaker, which aids the automated cutting process by reducing downtime. During the machining process, metal chips machined off components can get stuck inside the tool instead of flushing out. Operators have to shutdown the machine and manually pull the chips from tools and workpiece. Randy Prafke, manager of operations says that it's a very common problem, but automated technology integrated into the actual tool to fix the issue is difficult to design.
"It's a very simple idea but it was very complicated to do on our end," Prafke says. "But we want the tool to be as performance oriented as it can be right out of the box and continue that way whether it's the first shift, second shift or third shift, we want to make sure the tool has all the capabilities for each operator."
The chipbreaker is fixed inextricably to the PCD cutting insert and can be designed for different aluminum workpiece types, such as thick-walled, stable components or thin walled, unstable components made from a combination of aluminum and other non-ferrous metals.
Another tool enhancement capability is Lach Diamond's cool injection system that can be fitted to a variety of tools such as PCD and CBN contour milling cutters for mold and tool making. A muzzle opening on the PCD cutting edge allows for a coolant stream – either air or liquid – to immediately cool the cutting tool. It dissipates any damaging heat from the PCD segment, allowing for easier chipbreaking and less material buildup on the edge.
The cooling injection system helps to constantly maintain the tool while in production, which, like the chipbreaker, leads to less downtime and longer tool life. "One of our claims to fame here is that no matter what market we're talking about, we design around applications that are already being done," Prafke explains. "The companies are already drilling and producing but they have inherent issues. One thing we have always done here is to try and solve those production problems. For woodworking that may mean tweaking something to have a cleaner cut that requires less sanding and in  metalworking it can be something as simple as a better diamond grade."
The Customer in Mind
With each customer, Lach Diamond designs custom-made tools with specific applications in mind. The company takes into account the exact material being cut, the geometry of the cut and a host of specifications that define what tool should be used.
"If you were to look on our website, it may look like we have a catalog of products," Controller Jon Cade explains. "But they are more just reference guides because almost everything we do is custom made to exact specifications."
Cade explains that having the right tool will "increase productivity and reduce the cost of operations," which is important to purchasers of PCD tools, since they are inherently more expensive than other types of cutting tools made from materials such as high speed steel and carbide.
"When we send out tool costs, it will be significantly higher than a carbide tool," explains PJ Agnew, metalworking sales manager. "But it also results in less tool wear over time and more parts per tool so it becomes cost efficient down the road. We have one customer that switched from carbide tooling to our tooling and saved $60,000 last year. Carbide wears out quicker in abrasive materials, like graphite. So, if you are replacing tools all the time, that means you are shutting down production and spending more money in that manufacturing cell."
Cade says the key for manufacturers is to approach cutting tools by looking at cost per part. "Because these tools last longer, the cost per part is less than other types of tooling," he explains. This quality is a major selling aspect for Lach Diamond and something they will definitely highlight at this year's IMTS where they will get to speak with new and long-term clients. Lach Diamond says it is looking forward to hearing about its customers' needs.
"With the way the economy has gone, attendance over the last three shows, which is six years, has changed," Prafke says. "I think we've noticed it along with everyone else. Six years ago, it was everybody and anybody. Four years ago it was more of the head honchos but in the last show that completely changed. We got to meet people from the shop floor, the people who had problems with their machines and needed them solved. It's exciting when we get to speak with the people that are actually experiencing the problems that we are here to solve."